Syria war: Mother and children killed in suspected chlorine gas attack on Aleppo
The attack came as fighting continues between rebels and the regime in the divided city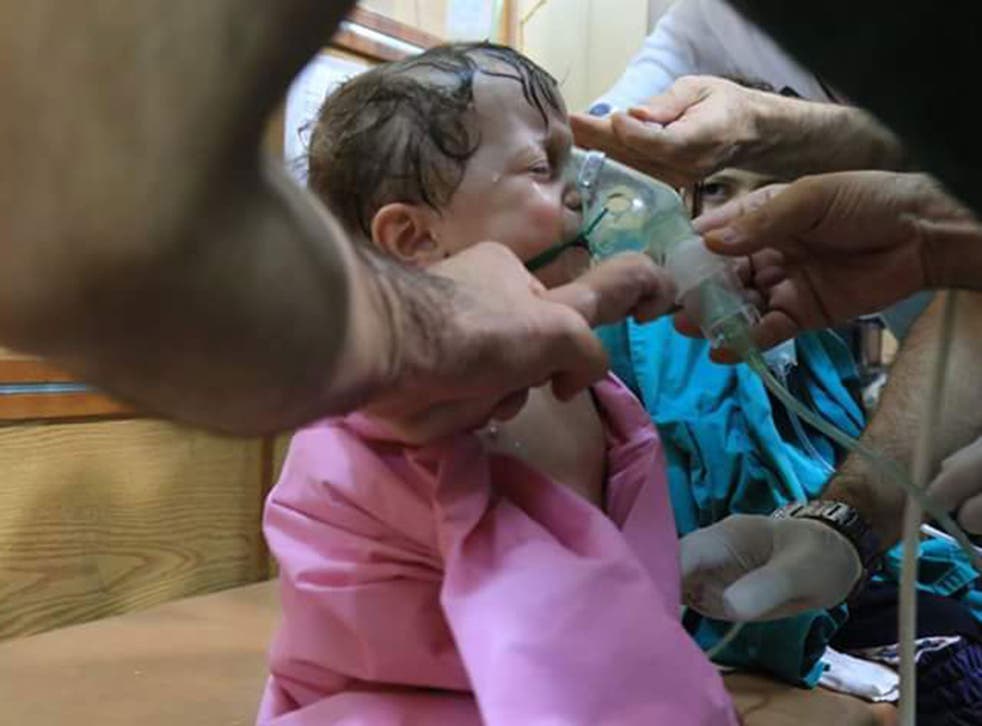 At least three civilians have died in a suspected chlorine gas attack on a rebel-held district of Aleppo as battles continue in the divided Syrian city.
Rescue workers said a mother and her two children were killed in Wednesday night's bombing, with toddlers and young children among those pictured being given emergency treatment and oxygen masks in hospital.
Khaled Harah, a first responder, said a regime helicopter dropped four barrel bombs on Wednesday night on al-Zebdia district, with one releasing chlorine gas.
Mahmoud Rashwani, a pro-rebel activist living in eastern Aleppo, photographed casualties being rushed into hospital on Wednesday night.
He described a six-year-old girl screaming "I can't breathe" and said he was told of at least 70 people injured. The total could not be independently verified.
A father told how he and his family attempted to take cover in their flat as a choking gas filled the building.
Abdelkafi al-Hamdu, a resident of eastern Aleppo, said he saw two air strikes hit from his in-law's balcony just 30 metres away and that he could see the gas being released.
He told the Associated Press he started struggling to breathe as the smell of chlorine became stronger, trying to leave the flat with his wife and children but being forced to return after finding the gas worsening downstairs.
Last week, the Syrian government and the opposition traded accusations of using chlorine, also in Aleppo.
The crude weapon is fatal in high concentrations and can damage lungs or cause severe breathing difficulties, vomiting and nausea in lower concentrations.
The Organisation for the Prohibition of Chemical Weapons (OPCW) said reports of its use "are of great concern" and that it would continue to examine any credible reports it received.
A Syrian military official denied the allegations and accused militants of fabricating the news, which came a week after the Syrian government and the opposition traded accusations of using elsewhere in Aleppo.
The UK-based Syrian Observatory for Human Rights said Bashar al-Assad's forces dropped barrel bombs struck the area and had reports of two people killed and several suffering breathing difficulties, although the cause was unclear.
Doctor: The situation in Aleppo is 'catastrophic'
Numerous chlorine gas attacks have been reported during the Syrian civil war, as well as the use of other chemical weapons, with opposition forces targeted in the vast majority of reported cases.
Aleppo has also been the site of numerous air strikes and shelling blamed on both the regime and rebels causing civilian casualties on both sides.
The city, divided between government and opposition control, is the scene of fierce fighting after Islamist rebels fought through regime lines to break a two-month siege on Friday.
Jaish al-Fath, an alliance of Islamist rebels headed by former al-Qaeda affiliate Jabhat al-Nusra, is being targeted by the Syrian regime and its Russian allies as a designated terrorist organisation.
There has not yet been a sign of promised three-hour ceasefires scheduled for Thursday by Russia, which said it would allow humanitarian convoys to enter the city safely following months of desperate shortages of food and medical supplies.
The United Nations has repeatedly called for all parties in the conflict to protect around 250,000 people believed to be trapped in eastern Aleppo and allow supplies to reach them.
Lieutenant General Sergei Rudskoi, a senior Russian Defence Ministry official, said the Kremlin would work with Damascus to ensure safe delivery of the aid.
Stephen O'Brien, a UN aid co-ordinator, said he was willing to consider the Russian plan but that a 48-hour pause in fighting was needed to meet all the humanitarian needs in the Syrian city, which was the country's most populous before the war.
"When we're offered three hours then you have to ask what could be achieved in that three hours – is it to meet the need, or would it only just meet a very small part of the need?" he asked.
Two weeks ago Russia and the Syrian government declared the opening of "humanitarian corridors" out of besieged areas but they were met with distrust by civilians fearing a ruse to arrest men and seize the city, and it was unclear how many people had left.
In pictures: Aleppo bombing

Show all 14
Air strikes continued across the country on Thursday, reportedly killing at least 20 civilians in Isis' de-facto capital of Raqqa and disrupted the water supply, according to local activists.
It came as the Turkish foreign minister announced that the country would resume its own air operation, suggesting it could increase co-operation with Russia over its former allies in the US-led coalition.
Mevlut Cavusoglu said Turkey had "made a call to Russia" to work together on strikes against Isis, adding: "We said we have a common enemy which we can struggle against together."
Relations between the two countries soured after a Russian fighter jet was shot down by Turkey but are now seemingly approving amid anger in Ankara over the response by the US and Europe to last month's failed coup.
Additional reporting by agencies
Join our new commenting forum
Join thought-provoking conversations, follow other Independent readers and see their replies