After six years of war, Syria's rebels reflect on whether revolution has been worth it
'I have too much and too little to say. I was on the side of freedom in 2011, and I am on the side of freedom now… But how many more will have to die?'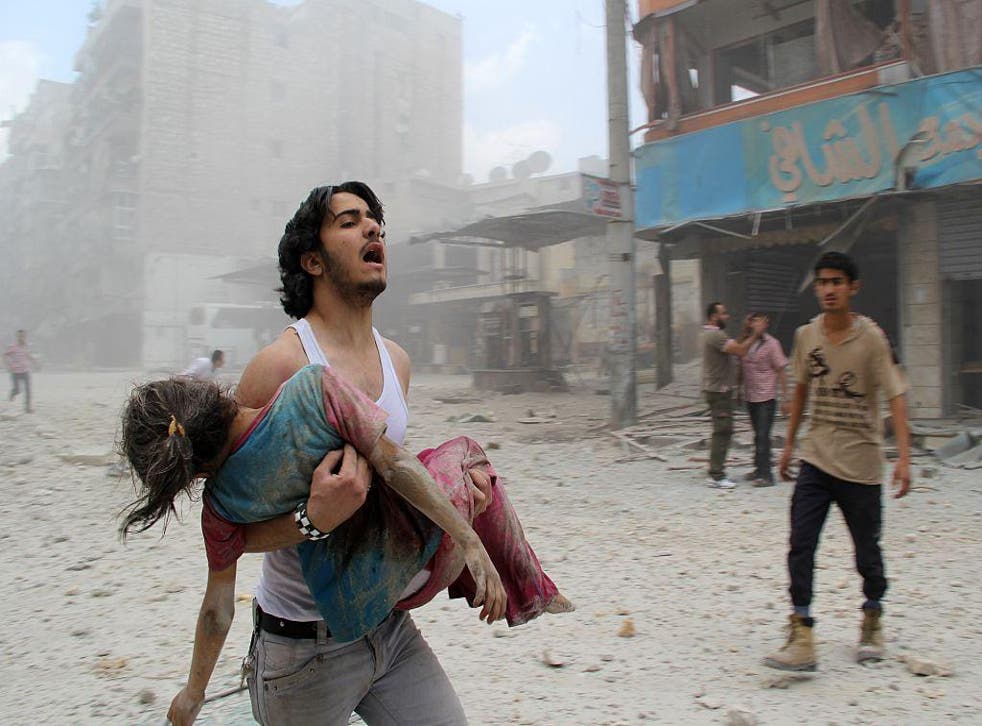 Almost half a million dead. More than 10.9 million forced to flee their homes, many into the arms of traffickers or graves at the bottom of the Mediterranean.
Cities starved into submission by government sieges, tens of thousands disappeared in regime prisons, and the rampant growth of extremist ideology intent on sucking the little life and joy left out of Syria.
An entire generation of children who don't flinch at explosions or artillery fire in the distance.
Such is the state of the Syrian revolution, six years on since the hopes of the Arab Spring.
No one who took to the streets of Damascus and Aleppo in a "Day of Rage" on 15 March 2011, demanding the release of 15 Deraa teenagers arrested for daubing walls with anti-government graffiti, could foresee the scale of the war to come.
"Your turn, Doctor [Bashar al-Assad]," demonstrators chanted, drawing courage from the recent fall of Hosni Mubarak in Egypt and Zine El Abidine Ben Ali in Tunisia.
Arrests and beatings did not deter them. After three days of the exceptionally rare protests against authority, the government had had enough. On March 18, four protesters in Deraa – most reports say they were unarmed – were shot by security forces which opened fire on a crowd.
The killings provided the catalyst for a revolution which has morphed into a conflict unlike any other modern war.
Its full repercussions are still yet to be understood.
On the sixth anniversary of the uprising, Syria now shows dangerous signs of descending into an entrenched state of warfare such as that suffered by Iraq and Afghanistan, subject to the whims of internal warlords and proxy powers.
Syria conflict: Six years of war in numbers
In diplomatic circles, once-strident calls that "Assad must go" are no longer very loud.
Despite round after round of failed peace talks, the UN is adamant a diplomatic solution to the crisis must be agreed, even as Russian and Iranian intervention on the battlefield has once again put a military victory within the Assad government's reach.
The fall of Aleppo at the end of the last year and election of US President Donald Trump means that 2017 is a turning point for Syria's opposition.
Most Western players in Syria's war now operate on the understanding that the best outcome rebel fighters can hope for is free elections in which the embattled ruler agrees to step down.
"The extent to which the West is willing to continue to provide military support for the rebels is uncertain, particularly with Trump so narrowly focused on defeating Isis," said Tim Eaton, a research fellow with the Middle East and North Africa Programme at Chatham House.
"Without significantly increased backing, which is not forthcoming, the rebels are in a position where they can't win.
"That doesn't mean, though, that they won't continue to fight, and that there aren't things to fight for. But six years in, the rebels may be forced to reign in some of their ambitions."
Most of those either involved in the original peaceful protest movement or the armed resistance to the Assad regime that The Independent spoke to, whether still in Syria or abroad, were initially hesitant to share their thoughts on the country's future.
Some said they could not possibly put into words what the revolution means to them now.
"I have too much and too little to say," said one Istanbul-based activist, who asked not to be named. "I was on the side of freedom in 2011, and I am on the side of freedom now. But how many more will have to die? How do I judge that? It's impossible."
Aleppo before the Syrian Civil War

Show all 12
Survivor's guilt weighs heavily on most of those who were lucky enough to escape the conflict.
Amer Doko managed to flee Syria for Jordan in 2013 after being released from one of the regime's notorious prisons for dissenters.
Now based in Washington DC with his young family, Amer originally wanted to return to Syria after finishing a Masters degree at Georgetown University in 2014, but his hopes of going home died when he realised the war was still far from being over.
He feels nothing but bitterness, he said, at the role he unwittingly played in Syria's unravelling.
"The peaceful uprising was worth it, not the armed rebellion," he said. "The militarisation of our revolution led to its self-destruction and the worst humanitarian catastrophe of our time. Nothing is worth that price."
Others – particularly those still inside Syria – see no alternative to resistance now.
"We knew that the road to freedom is not decorated with flowers," said Abdulkafi al-Hamdo, an English teacher turned media activist who lived through the siege of east Aleppo with his wife and baby daughter.
With no electricity to cook and no baby food left in shops, he was often forced to mash up wet rice by torchlight to give her something to eat as war planes rumbled overhead.
Now living in neighbouring rebel-held Idlib, his wife is still afraid to sleep at night for fear of Syrian and Russian government bombing. And yet, if he could have told his younger self of the horrors to come, Abdulkafi says he would still have fought for "freedom from the dictator".
"If anything, I did not do enough. We should have told the world of our suffering before 2011. We should have fought earlier," he said.
"Today I can be proud knowing I did not betray my ideals, or my friends, and all oppressed Syrians. We can only go forward."
In pictures: A day of refugee rescues in the Mediterranean Sea

Show all 7
While Abdulkafi's desire for a peaceful future is stronger than ever, there is unlikely to be a clean end to the bloodshed on Syria's multiple front lines.
Increased infighting between rebel groups has only strengthened the Syrian opposition's jihadi elements and the regime is more unlikely than ever to make concessions to such a weakened force.
"I just miss the past," said Noura al-Yafi, a Damascene who has worked with refugee women in Beirut since 2013. "We all do.
"No one will ever achieve what they see as victory now. Whichever side you're on, we have all lost our country forever."
Join our new commenting forum
Join thought-provoking conversations, follow other Independent readers and see their replies