Syrian ceasefire: Isis car bomb kills two and rebels claim government is dropping barrel bombs hours into 'truce'
Isis claimed the car bomb attack in an online statement
Caroline Mortimer
Saturday 27 February 2016 10:22 Comments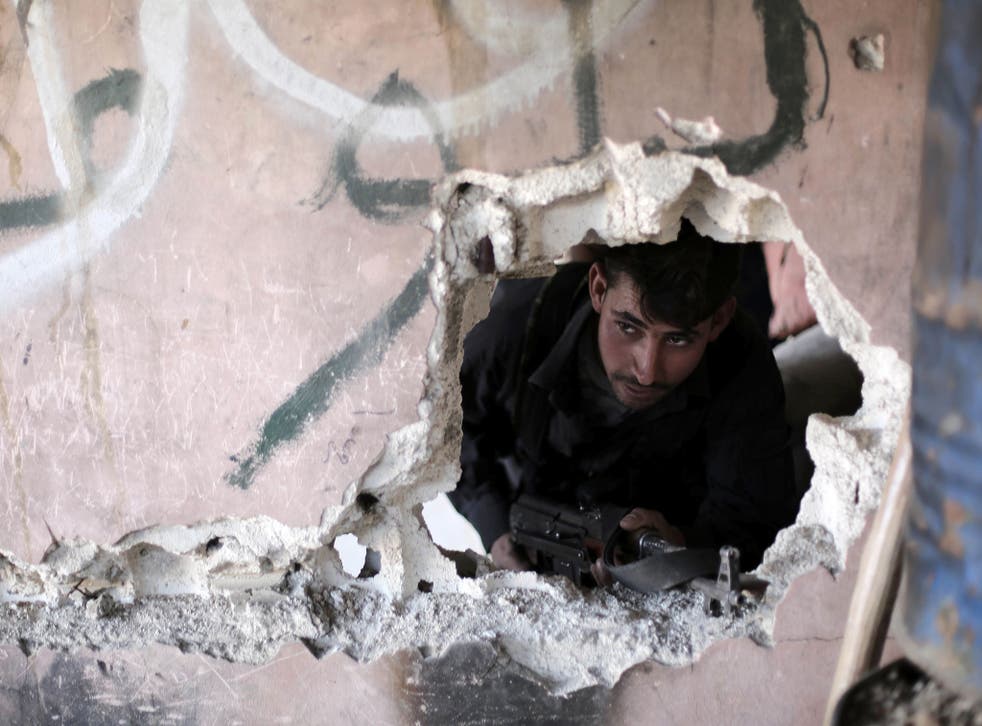 Hours into a ceasefire brokered by Russia and the US, an Isis car bomb killed at least two people in Syria, and rebels claim government forces dropped barrel bombs near Damascus.
Isis militants claimed responsibility for the car bomb attack on the government-held town of Salamiyeh in an online statement. The group said in an online statement that one of its fighters had driven a car loaded with explosives to a Syrian army gathering in the area and blown himself up among them, killing 20 people and wounding 35 others.
Near Damascus, the rebel group Jaish al-Islam said government forces dropped two barrel bombs and opened fire on its positions during several violations of a cessation of hostilities agreement in the Eastern Ghouta.
Citing field reports from the group's commanders, Jaish al-Islam spokesman Islam Alloush told Reuters that in one incident government forces trying to advance "were dealt with with machine guns".
Syrian military officials could not immediately be reached for comment.
Monitoring groups had earlier said there has been a "cautious calm" in the country since the truce went into effect at midnight on Friday.
The agreement does not include Isis or their rival, the al-Qaeda backed Jabhat al-Nusra.
All 97 Syrian groups involved in the negotiations said they would abide by the ceasefire but rebel group Second Coastal Division said Assad forces have already attacked them in the northern Latakia province near the Turkish border.
Three fighters were killed by pro-government ground troops at 4am, the group says.
The United Nations said it expected breaches in the temporary truce and urged restraint in curbing any new outbreaks of fighting.
In pictures: Russian air strikes in Syria

Show all 19
UN Syria envoy Staffan de Mistura said: "Let's pray that this works because frankly this is the best opportunity we can imagine the Syrian people has had for the last five years in order to see something better and hopefully something related to peace".
The agreement has not been signed by the warring groups and is not as binding an official ceasefire but is needed to get aid to besieged areas in the country.
The UN hopes the informal ceasefire will lead to a more permanent ending to the civil war which has dragged on for five years and killed at least 250,000 people - with some monitoring groups saying the figure could be as high as 470,000.
Additional reporting by agencies
Register for free to continue reading
Registration is a free and easy way to support our truly independent journalism
By registering, you will also enjoy limited access to Premium articles, exclusive newsletters, commenting, and virtual events with our leading journalists
Already have an account? sign in
Register for free to continue reading
Registration is a free and easy way to support our truly independent journalism
By registering, you will also enjoy limited access to Premium articles, exclusive newsletters, commenting, and virtual events with our leading journalists
Already have an account? sign in
Join our new commenting forum
Join thought-provoking conversations, follow other Independent readers and see their replies