Syrian civil war: Hospital in regime-controlled Aleppo partly destroyed by rebel shelling as more civilians killed
At least 19 people died in both sides of the divided city on Tuesday, monitors said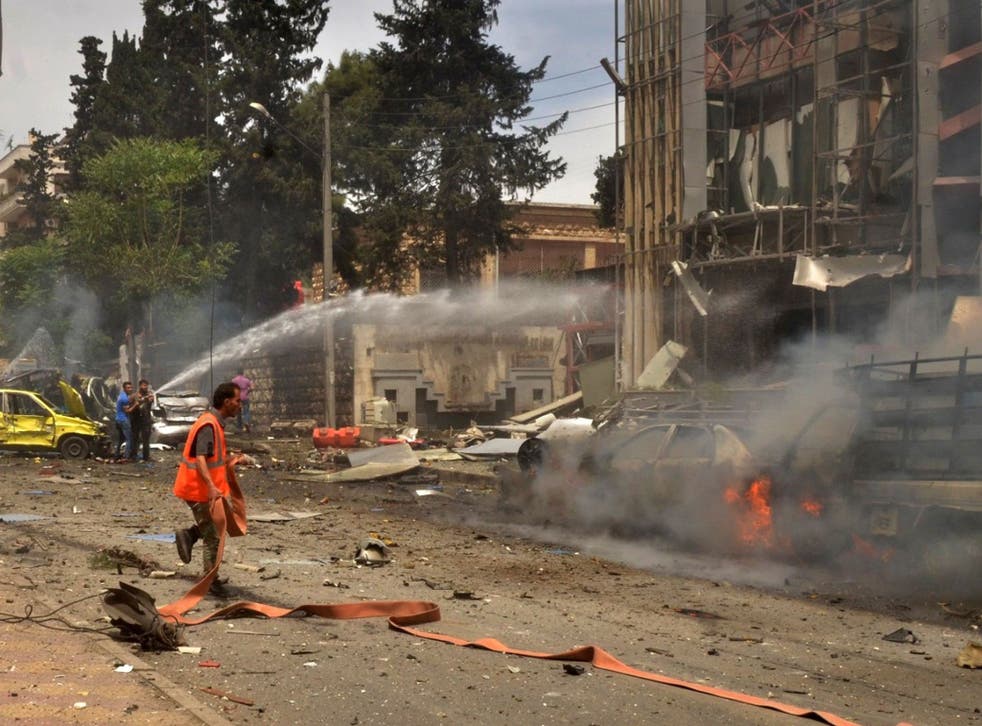 At least 19 civilians have been killed at a hospital and other parts of government-controlled Aleppo in shelling attributed to Islamist rebels.
Al-Dabit Hospital, which lies less than a kilometre from territory held by opposition groups, was partly destroyed on Tuesday, with footage showing its frontage collapsed and overturned cars burning in the street outside.
Ikhbariya, a state-run Syrian news channel, said three women were killed and 17 wounded but other reports but the death toll as high as 24.
The government-controlled Syrian Arab News Agency (Sana) said Islamist rebels including the al-Qaeda affiliated Jabhat al-Nusra fired shells at the hospital amid an assault on regime-controlled parts of Aleppo.
"The General Command said saying that that the army and armed forces are currently repelling the attacks and responding to the sources of fire, inflicting heavy losses upon terrorists," a statement said.
It claimed "international and local efforts" were being made to reinforce the cessation of hostilities agreed in February but classed the rebels as terrorist organisations, meaning they would be exempt from the agreement.
Charles Lister, a senior fellow at the Middle East Institute, said claims Jabhat al-Nusra was the dominant rebel force in Aleppo were wrong, although the group had a strong presence to the south of the city.
Talks on Aleppo ceasefire on the point of collapse
The UK-based Syrian Observatory for Human Rights said 19 people were killed in regime-controlled parts of Aleppo on Tuesday, while several government air strikes had hit rebel areas, killing an unconfirmed number of people.
According to its count, 279 civilians have died in bombardment in the city since 22 April - 155 in opposition-held parts and 124 killed in government-held districts.
"Shells and mortar rounds are raining down on every neighbourhood in Aleppo," said health official Mohammad Hazouri, speaking from Al-Razi Hospital on Tuesday.
Information Minister Omran al-Zoubi warned militants they will face harsh retaliation for the attacks, saying the government's "patience is running out and if they don't stop targeting civilians in the coming hours...they will pay a high price."
The Local Coordination Committees group said at least two people were killed in regime bombardment of rebel-held parts of the city on Tuesday.
In pictures: Aleppo bombing

Show all 14
The escalation came as the UN envoy to Syria started talks attempting to restore the ceasefire in Aleppo, which has been excluded from a new temporary peace agreement.
Staffan de Mistura was meeting with Sergey Lavrov, the Russian foreign minister, in Moscow a day after talks with the US Secretary of State, John Kerry.
"We all hope that in a few hours we can relaunch the cessation of hostilities," Mr de Mistura said. "If we can do this, we will be back on the right track."
Syrian authorities excluded Aleppo from a temporary truce implemented on Saturday in parts of Damascus and Latakia provinces despite international calls to de-escalate the violence.
Rebel areas of Aleppo are almost surrounded by the Syrian regime, leaving only one major road in and out, raising fears that Assad's forces are preparing to cut it off for a final assault.
A strike on the Al-Quds Hospital on Wednesday night killed around 50 civilians, including a leading paediatrician, sparking global condemnation and calls for medical facilities to be protected.
The United Nations said all parties in the Syrian civil war were displaying a "monstrous disregard for civilian lives".
Zeid Ra'ad Al Hussein, the High Commissioner for Human Rights, said violence in Aleppo was worsening to levels seen before the fragile truce struck in February.
"There are deeply disturbing reports of military build-ups indicating preparations for a lethal escalation," he added.
Mr Kerry, the US Secretary of State, said American authorities believed the Al Quds strike was a "deliberate" attack by Syrian forces but officials in Damascus and Moscow denied involvement.
Intense air strikes were also reported in the Isis stronghold of Raqqa overnight on Monday, although it was unclear whether they were carried out by the US-led coalition or Russia.
Raqqa is being Slaughtered Silently, an anti-Isis activist group, said calls for blood donations were sent out from mosques after at least 10 people were killed and dozens wounded.
Additional reporting by agencies
Register for free to continue reading
Registration is a free and easy way to support our truly independent journalism
By registering, you will also enjoy limited access to Premium articles, exclusive newsletters, commenting, and virtual events with our leading journalists
Already have an account? sign in
Register for free to continue reading
Registration is a free and easy way to support our truly independent journalism
By registering, you will also enjoy limited access to Premium articles, exclusive newsletters, commenting, and virtual events with our leading journalists
Already have an account? sign in
Join our new commenting forum
Join thought-provoking conversations, follow other Independent readers and see their replies