Syrian civil war: Islamist rebels claim to have broken siege of Aleppo
However, pro-government outlets deny the siege has been ended as fighting continues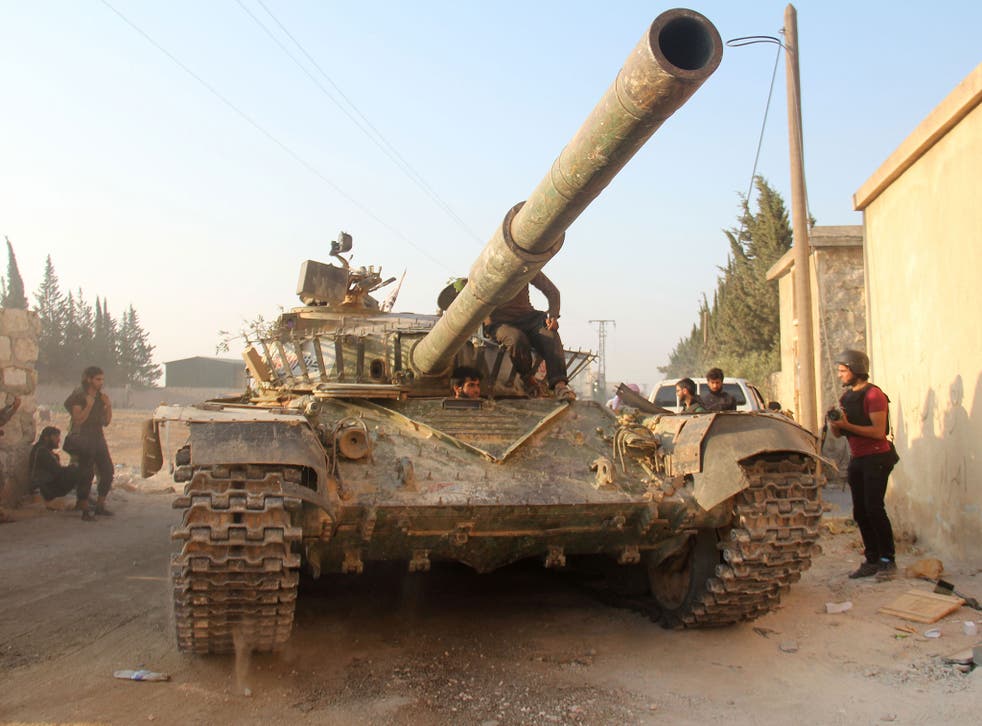 Islamist rebels claim to have broken a siege by Syrian government troops on opposition-held areas in Aleppo, after launching a major offensive.
However, battles continued on Saturday night with pro-government media outlets denying the siege had been broken. Reports of air strikes from the area seemed to indicate any passage that may have been opened between besieged opposition-controlled areas would be far from secure enough for civilians to travel through.
The Jaish al-Fath alliance, which includes jihadist groups and militants linked to al-Qaeda, launched the offensive on Friday but were partially pushed back by government forces and supporters.
Intense fighting centred on a major artillery base and military college in the regime-held Ramousah district, which divides territory controlled by rebels. If the rebels take control of Ramousah and link up with eastern Aleppo, it would isolate government-held western Aleppo by cutting the southern route out toward the capital Damascus.
Aid groups warn of 'slaughter' as fighting intensifies in Syria's Aleppo
Abu al-Walid, a fighter with the Ahrar al-Sham faction told Reuters at least two suicide bombers drove vehicles laden with explosives into regime checkpoints during the attack.
Jabhat al-Nusra – which has rebranded itself as Jabhat Fateh al-Sham after formally splitting from al-Qaeda – posting videos online showing its fighters inside an artillery base and military academy.
But Syrian state media carried claims from Bashar al-Assad's army saying it had "repelled a wide-scale attack by terrorists", killing more than 300 militants and destroying their tanks and weapons.
Footage showed what appeared to be Syrian air strikes hitting the artillery base following battles on Friday night, showing buildings exploding into flames and vehicles on fire.
During the battle, Jabhat al-Nusra posted videos and photos over its propaganda channels showing Islamist fighters advancing past the bodies of regime soldiers in an attack using shells, rockets, machine guns, grenades and tanks flying jihadist flags.
Militants were seen roaming around government recruits' sleeping quarters and taking down, smashing and ripping up framed photos of President Assad.
The Syrian military news agency also claimed on Saturday that control had been restored over the artillary base.
A commander from one more moderate rebel group told Reuters the siege had been broken but said it was early days and matters were "not easy".
The United Kingdom-based Syrian Observatory for Human Rights, which monitors the war, said intense fighting and heavy air strikes meant no secure corridor had yet been established between the two rebel-held territories.
An estimated quarter of a million civilians live Aleppo's opposition-held eastern quarters.
The United Nations has repeatedly raised repeated concerns over Syrian and Russian air strikes on civilian areas, where the humanitarian situation has worsened dramatically since government forces and Iranian-backed militias including Hezbollah cut the last road out of rebel districts in July.
Rebel shelling has also reportedly killed scores of civilians in regime-held areas.
The artillery base is little over a mile from the besieged area and carries a huge supply of ammunitions that have been used by government forces to shell rebels.
The city was the most populous in Syria before the outbreak of the civil war five years ago, and has been divided between government forces and rebels since the summer of 2012.
Seizing full control would be the biggest victory for Assad in five years of fighting and demonstrate the dramatic shift of fortunes in his favour since Russia joined the war on his side last year.
But Islamist rebels have been consolidating their ranks since Jabhat al-Nusra rebranded last month.
In pictures: Aleppo bombing

Show all 14
The group, from which Isis seceded in 2013, is regarded as one of the most effective and well-funded rebel factions but drew international fire and local distrust because of its links with al-Qaeda.
Since claiming it had broken ties with the terror organisation last month, several Syrian opposition groups have announced their support, unifying disparate rebel forces.
Fighters have been pulled from Jabhat al-Nusra's strongholds in Idlib province for the continuing campaign, while Free Syrian Army groups remain in besieged areas.
Foreign opponents of Assad including Saudi Arabia and Turkey have been supplying vetted rebel groups with weapons via a Turkey-based operations centre, while some have received training funded by the US and overseen by the CIA.
The Syrian regime and its Russian and Iranian allies see the outcome of the battle over Aleppo as decisive, hoping for a crushing blow to insurgents.
Join our new commenting forum
Join thought-provoking conversations, follow other Independent readers and see their replies