Aleppo's children return to school despite continued shelling
Teachers and charities say attendance is down on last year as east Aleppo continues to face unprecedented bombardment by Russian-backed Syrian government airforce 
Monday 03 October 2016 12:09 Comments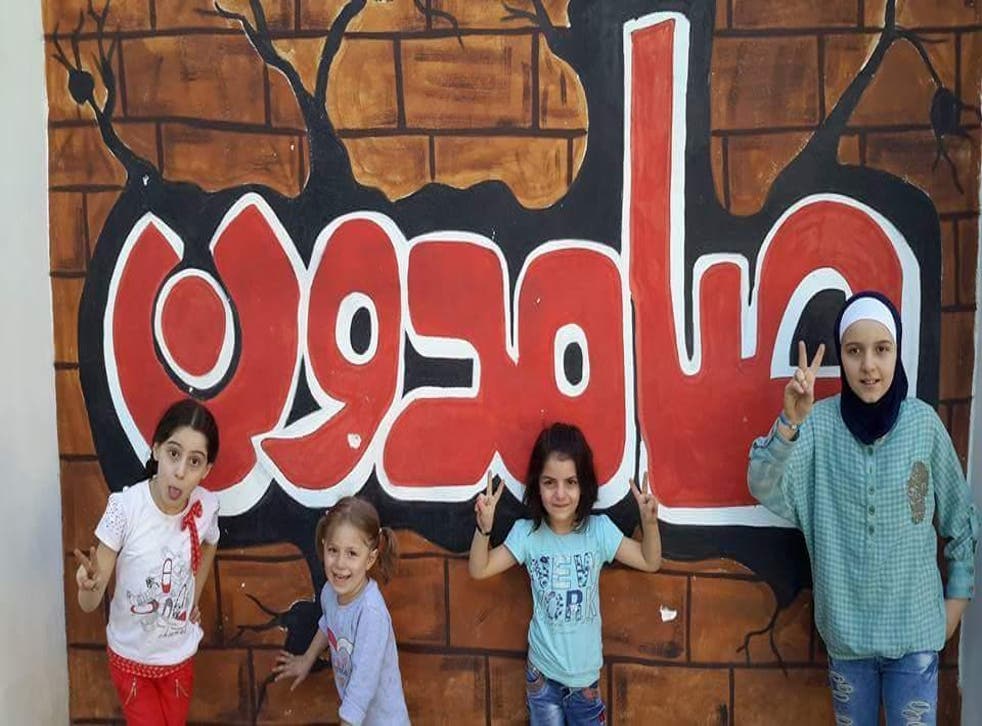 Children in besieged east Aleppo returned to school over the weekend despite the current bombardment of rebel-held neighbourhoods by Russian-backed Syrian forces.
The new school year began on Saturday in the midst of a bombing campaign which has killed hundreds and destroyed civilian infrastructure such as hospitals, bakeries and emergency response centres. Schools have also been regime targets in the past.
The Syrian military announced a fresh campaign to retake the entire city on 22nd September, after the collapse of an internationally brokered ceasefire. Since then, east Aleppo residents report that cluster munitions, white phosphorus, napalm and basement-penetrating 'bunker buster' bombs have been dropped on opposition-held areas where 250,000 civilians are trapped.
Secondary school teacher Abdulkami al-Hamdo said he was pleasantly surprised by how many children showed up when his school reopened on Sunday. His own class consisted of 30 students, and he estimated around 70 in total came to school.
"It was good to see the students and despite all the things that happen here they still come because they want to learn," he told The Independent.
"They told me they couldn't wait to come back because at home all they think about is the siege, the same food everyday, that there is no electricity. At least when they come to school they can see their friends and teachers."
Several local teachers posted pictures and audio recordings of school restarting on the weekend. Teacher Wissam Zarqa said that he used to hate the sounds of noisy children in the playground. "Now I love it. The noise the students make… has become a sign of life."
While Mr al-Hamdo reported good attendance, Mr Zarqa said in some classes at his school only five children showed up. Save the Children estimate that of east Aleppo's approximately 100,000 children, only six per cent enrolled in the first few days of classes this year. Many schools remain shut.
Aleppo children swim and play in craters left by bombs
Mr Zarqa remains hopeful that more will arrive this week, as parents figure out where the altered locations for school facilities are this year. "It's the journey to and from school that has parents worried, if the shelling continues it will be difficult for them to send their children," he said.
Mr Zarqa was forced to stop his classes from leaving when school ended on Sunday because of a new strike, he said. "But then, it is not safe at home either. There is no point in children not getting an education because of the bombs."
The unprecedented air strikes on east Aleppo were followed up with a ground offensive last week which the UN's special envoy to Syria Staffan de Mistura warned could be a "slow, grinding, street-by-street fight, over the course of months, if not years."
A week in Aleppo - witnessing the fierce battle for Syria's largest city

Show all 6
Retaking the city would be a major victory for Syrian president Bashar al-Assad, effectively eliminating US-backed rebels from Syria's major urban centres. Aleppo, Syria's largest city and at one point in the six-year-long war a major rebel stronghold, has been besieged by regime forces and government-allied militias since July.
East Aleppo's children have suffered under the renewed campaign: Save the Children estimates that half of reported casualties from air strikes are children.
Charities are calling for the cessation of hostilities, and for roads to be opened into rebel neighbourhoods to bring food and supplies to bolster east Aleppo's medical facilities, which are on the verge of collapse.
"We are witnessing an appalling atrocity being perpetuated against the children of Aleppo in front of our eyes today. The failure to protect them and children across Syria will haunt the international community for decades to come," Sonia Khush, Save the Children's Syria Director, said in a statement.
Register for free to continue reading
Registration is a free and easy way to support our truly independent journalism
By registering, you will also enjoy limited access to Premium articles, exclusive newsletters, commenting, and virtual events with our leading journalists
Already have an account? sign in
Join our new commenting forum
Join thought-provoking conversations, follow other Independent readers and see their replies