Syrian girl, five, among civilians killed by Russian air strikes on rebel-held areas
Raghat died in the bombing, alongside her grandfather and cousin who tried to shield her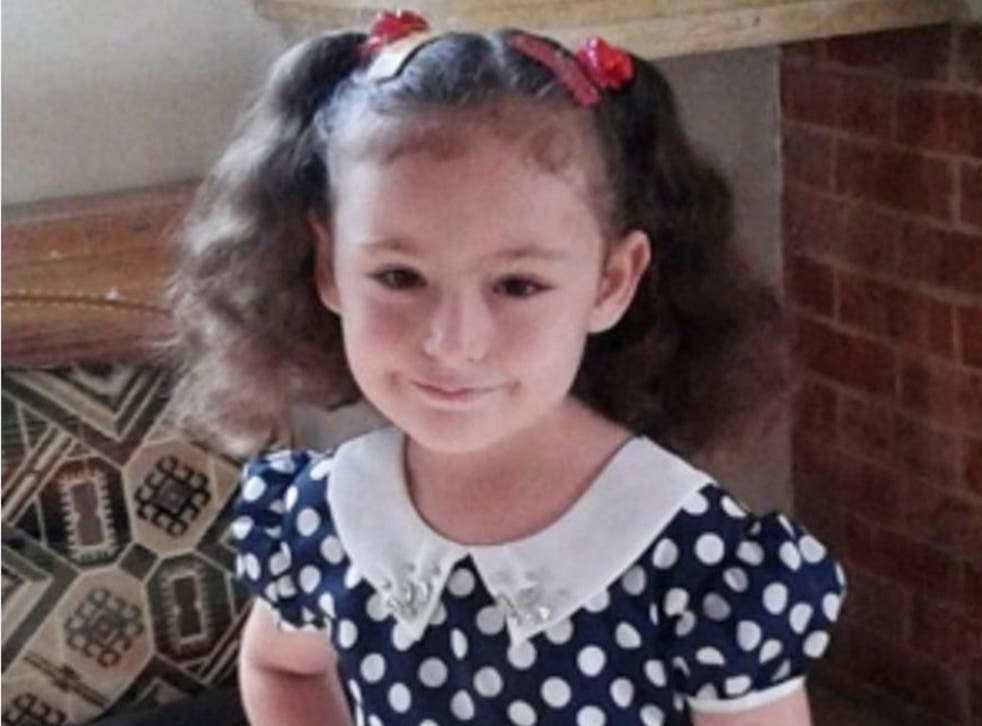 The devastated mother of a five-year-old girl killed in a Russian air strike in Syria has told how a family holiday to see relatives turned into a massacre that left three of her loved ones dead.
Suheer, who did not want her second name to be published, spoke to The Guardian from Turkey, where the remaining family have now returned to in an attempt to reach safety.
Her daughter, Raghat, died in alleged Russian bombing in October, alongside her grandfather and cousin.
The family fled the brutal conflict to live in Turkey in 2011 but returned for a brief visit to see Raghat's grandparents for Eid, reassured that the rebel-held area they lived in had not been targeted by bombing raids.
"I only took my children back to Syria for six days," Suheer said. "We were supposed to be going home the next day. My husband never saw his daughter again."
Video: Russian air strikes hit Syria as 'civilians killed'
Raghat had been out shopping with her aunt when they returned to her grandparents' house in the town of Habeet, in the rebel-held province of Idlib, where she died little over an hour later.
Photos captured some of the little girl's last moments, showing her posing happily in a new polka dot dress and new bracelet.
Shortly afterwards, the family heard military jets approaching and Rahad's grandmother Zahra, scooped the girl up and ran for a shelter in the garden.
Relatives told the Associated Press that as Zahra handed the girl to a cousin in the shelter, the missiles hit the house.
The grandmother survived with serious injuries and burns but her husband was found on the top floor of the building with a fatal stomach wound. He died in hospital.
Raghat was found face down, with severe damage to her skull, held in her cousin Ahmed's arms. The family believe he tried to shield the girl as a blast hit the family's shelter and died almost instantly.
Her mother was in another part of the house when the missile struck and survived uninjured.
The air strike on 1 October came just two days after the Russian military started its bombing campaign in Syria, where it has been criticised for targeting all opponents of President Assad, rather than Isis and jihadist groups being bombed by the US-led coalition.
Raghat's grandfather, Abdul-Razzaq, was a defector from Bashar al-Assad's Syrian forces who founded the Ahbab al-Mustafa Brigade, one of the early factions that made up the Free Syrian Army.
His family said he retired and stopped all rebel activities earlier this year and it was unclear if he was the target of the attack.
The Russian military has denied claims of hundreds of civilian casualties, saying they use various intelligence sources to plan each strike to make sure there is no collateral damage.
In pictures: Syria air strikes (2014)

Show all 20
But Raghat's death was documented by the UK-based Syrian Observatory for Human Rights, as well as activists in the area and other groups who distinguish Russian air strikes by planes' formation and altitude, as well as the ordnance used.
The Observatory reported that three civilians were killed in Habeet on the day and opposition activist Hadi al-Abdullah said listed a five-year-old girl among the dead, telling Al Jazeera: "The destruction caused by the strike was massive. A two-storey house was completely flattened to the ground."
In its own list of targets, the Russian Defence Ministry listed the town, claiming it struck "a facility used by the rebels as a temporary base and ammunition depot".
American authorities have also admitted civilian casualties and continue to investigate several alleged incidents. There have been no reports of collateral damage in the British air campaign that started earlier this week against Isis in Syria.
Additional reporting by AP
Join our new commenting forum
Join thought-provoking conversations, follow other Independent readers and see their replies