Syrian photographer who rescued child from Aleppo bus bombing speaks out
'The scene was horrible - especially seeing children wailing and dying in front of you,' says Abd Alkader Habak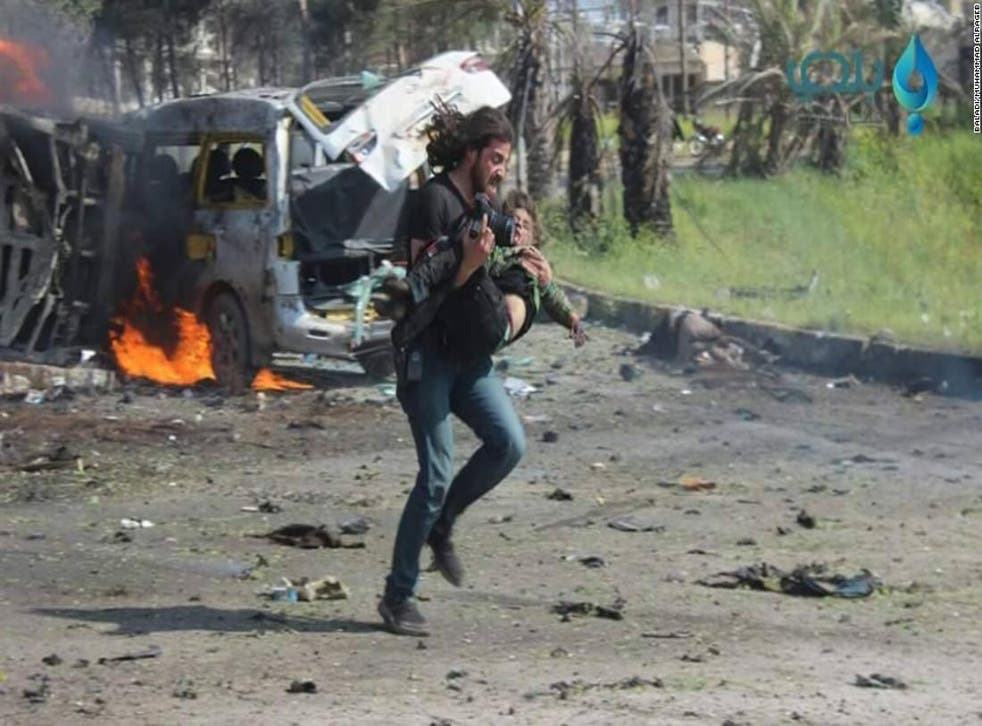 Distressing images of a man carrying an injured child away from a burning vehicle and another of him weeping next to a boy's body have emerged from a bombing of a bus convoy that targeted Syrian civilians over the weekend.
Photographer Abd Alkader Habak can be seen in one of the images, running away from the scene of the attack with a small boy in his arms. The pictures were shared by the Aleppo Media Centre, an umbrella group of anti-regime journalists and activists.
Mr Habak told CNN that he had been documenting the evacuation of civilians from the besieged towns of Kefraya and Foua, held by forces loyal to the Syrian president, Bashar al-Assad.
As buses passed through Rashidin in rebel territory to a town near Aleppo, the blast occured, briefly knocking him unconscious, he said.
"The scene was horrible - especially seeing children wailing and dying in front of you," he said. "So I decided along with my colleagues that we'd put our cameras aside and start rescuing injured people."
The first child he checked was dead, he added. The next was breathing raggedly, so Mr Habak picked him up and ran towards the nearest ambulance.
In a second image, Mr Habak is seen kneeling and sobbinh next to the corpse of a dead child, unable to take in what he is witnessing.
The heartbreaking photos, which have been shared online thousands of times, are just one insight into the horrors faced by the Syrian families that day.
Families which left the two towns besieged by al Qaeda affiliated rebels after more than two years of enduring mortar fire, snipers and limited food and medical supplies did not make the decision lightly. Many had to leave loved ones behind.
The Qatar and Russia brokered deal also allowed the reciprocal passage of citizens of opposition towns Madaya and Zabadani to pass safely to rebel-controlled Idlib province.
The suicide car bomb attack was reportedly carried out by a man who enticed children waiting near the buses at a checkpoint to come closer to his vehicle by handing out crisps and sweets, several rebel and regime media sources said.
The bombing - which killed 126 people, among them 80 children - has not been claimed. While both sides have blamed the other for the attack, it is likely to have been carried out by extremist factions of Jaish al-Fatah, a rebel umbrella group with al Qaeda links, which was reportedly unhappy that the regime was allegedly bussing out more fighters than agreed.
More than 100 killed in Syria bus blast
By midweek the full evacuation programme appeared to have restarted, both rebel and state media said, with 3,000 residents of the pro-government villages Foua and Kefraya leaving on 45 buses.
Another 11 buses carrying some 500 people, including opposition fighters, left Madaya and Zabadani, near Damascus, heading toward northern rebel-held Idlib province.
The multiple-stage transfer deal, which could see 30,000 in total moved across front lines, has been widely criticised as not meeting base-level safety standards.
The UN has said the swaps of mostly Shia and Sunni populations amounts to forced displacement along political and sectarian lines.
Syria's civil war is now in its seventh year. The complex conflict has left 500,000 people dead.
Join our new commenting forum
Join thought-provoking conversations, follow other Independent readers and see their replies