The battle for Fallujah: Fighting returns to Iraqi city as al-Qa'ida-linked rebels gain stronghold
Civilians are deserting the city amid heavy fighting. They fear an all-out assault by the Iraqi army seeking to root out al-Qa'ida-linked rebels, which have gained control of the Sunni city
Patrick Cockburn Comments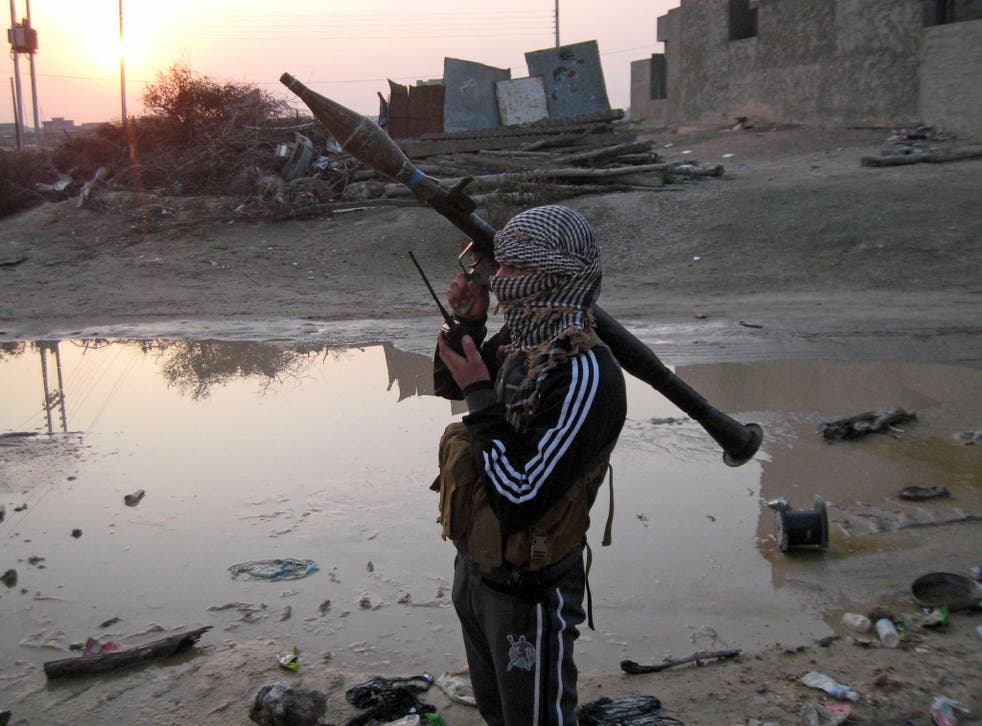 Thousands of civilians are fleeing Fallujah as the rebel-held city just west of Baghdad comes under heavy bombardment amid fears that the Iraqi army might launch an all-out assault. Some 42,000 Iraqi security forces are reported to be taking part in operations in the Fallujah area where there has been heavy fighting over the last four months.
Refugees from Fallujah expect a repeat of the assault by the US Marines in November 2004 when much of the city was destroyed by artillery and air attack. Some 60,000 families or about 300,000 people have fled on foot, mostly making for the western part of Anbar province according to a local council member.
As government ground forces face difficulties fighting their way into Fallujah against an entrenched resistance, officials have told agencies that they are relying increasingly on bombardment from conventional artillery and "barrel bombs", which are large quantities of explosives packed into containers and dropped from helicopters. The use of barrel bombs, which have become notorious because of their use by government forces in Syria, is denied by government spokesmen in Baghdad, but residents are quoted as saying that they are causing heavy destruction in Fallujah.
A mid-level security officer is quoted by Reuters as confirming that barrel bombs have been used in Fallujah. He said: "It's the scorched earth policy – the destruction of a whole area. The army is less experienced in house-to-house fighting which the rebels have mastered. That's why they've resorted to this."
The army has five divisions in Anbar province which should mean 100,000 soldiers, but the real figure is lower because of casualties and desertions, said an Iraqi source.
Some 6,000 soldiers are reported to have been killed and 12,000 deserted during the months of fighting in Anbar. The mid-level officer said "the commanders are telling their leaders what they want to hear not what they should hear, only to keep their positions and further their greed."
Fallujah has come increasingly under the control of the Islamic State of Iraq and the Levant (Isis), formerly al-Qa'ida in Iraq, since it took over the city in alliance with Sunni tribal fighters in early January. Since then Isis has grown in strength as it expands its power in a swathe of territory in western Iraq and eastern Syria. It has even held a military parade in Abu Ghraib on the western outskirts of Baghdad, forcing the hasty evacuation of the famous prison.
Isis says it has carried out bomb attacks in Baghdad in retaliation for bombardment of Fallujah using car bombs, at least 10 of which exploded in the capital last week, killing 21 and injuring 73 people.
These were detonated in predominantly Shia areas and an Isis statement said they were the beginning of operations called "Revenge Campaign for Fallujah". Isis, which regards Shia as heretics who should be killed, says it is targeting "the headquarters and gatherings of the apostate government, its parties and militias". In practice, Isis bombs are most usually directed at civilians in markets and bus queues in Shia areas.
Isis acted with greater moderation in Fallujah when its fighters first arrived and when it still had to act in concert with the Sunni tribal militias. But residents say that Isis is now the dominant party in its alliance with other groups and can prevent them from negotiating. Fighting is increasingly ferocious with 22 soldiers kidnapped 10 days ago being killed the following day. However, Iraqi police who pledge allegiance to Isis are allowed to keep their weapons.
Isis, which was a much depleted force in 2010, has successfully rebuilt its military power over the last three years. The two main reasons for its growth are the Sunni uprising in Syria since 2011 and the protest movement of Iraqi Sunnis, who make up a fifth of Iraq's population, against political and economic discrimination. After a peace camp was attacked by the army in Hawijah in April 2013 and some 50 protesters killed the protests have mutated into armed resistance.
The Sunni armed groups are dominated by Isis to an extent that was not true in 2006-7 when it was previously at the height of its influence. It contains many former members of Saddam Hussein's security forces who have military training and experience of fighting a guerrilla war.
In a well-planned attack on Abu Ghraib and Taji prisons last year it succeeded in freeing many militants. It has also stepped up its suicide bombing campaign making an average of one attack a day.
The escalation in the war in Anbar dates from a successful Isis ambush on 21 December last year in which a number of senior Iraqi army officers, including Gen Mohamed al-Rawi, the commander of the 7th Division, was killed.
Isis was not only able to take over Fallujah but to gain control of Fallujah dam on the Euphrates enabling it to flood areas further south and prevent the army occupying them.
The blowing up of an oil pipeline at Baiji on the Tigris has polluted the water of the river making it impossible for water treatment plants to clean it so it can be used as drinking water in Baghdad.
Despite its current success Isis will find it impossible to expand outside areas where there are Sunni Arab communities. The government is relying increasingly on Asa'ib Ahl al-Haq, a Shia militia group.
The main oilfields, on which Iraq relies for its $100bn in annual oil revenue, are in the south of the country far from the fighting, though even these may be vulnerable to raiders coming across the desert from Anbar province.
Register for free to continue reading
Registration is a free and easy way to support our truly independent journalism
By registering, you will also enjoy limited access to Premium articles, exclusive newsletters, commenting, and virtual events with our leading journalists
Already have an account? sign in
Join our new commenting forum
Join thought-provoking conversations, follow other Independent readers and see their replies