The Bosnian who made the pilgrimage to Mecca – on foot
He had been advised to go through Iraq instead of Syria but said God told him otherwise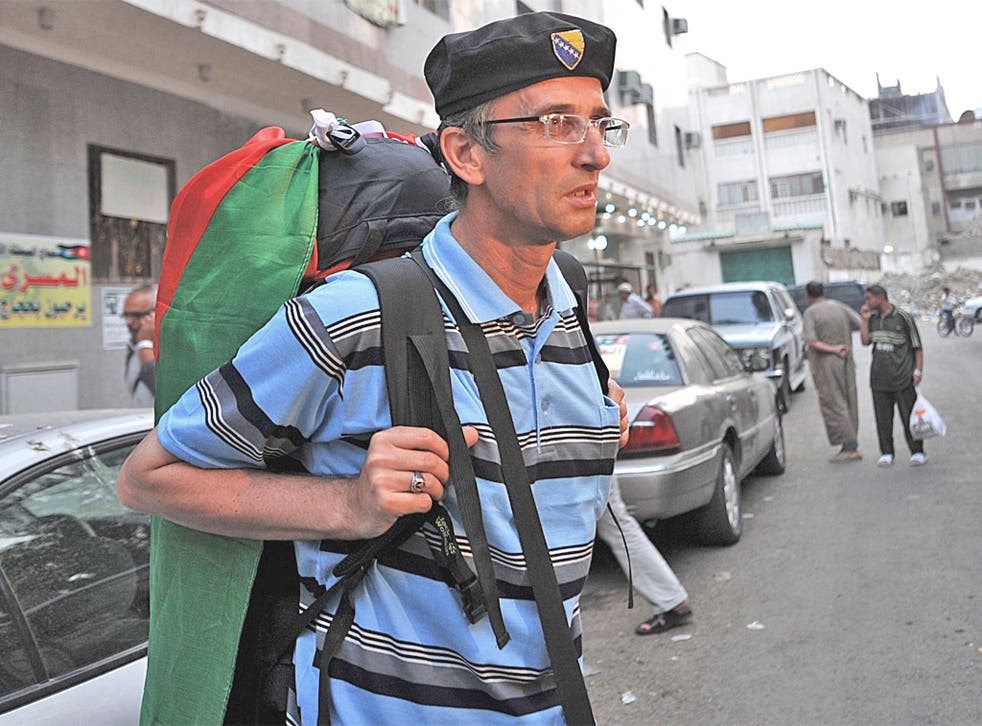 Among the millions of pilgrims pouring into the Saudi city of Mecca to take part in Islam's annual Hajj pilgrimage this year is one who certainly embraced the importance of the journey. Senad Hadzic, a 47-year-old Muslim from Bosnia-Herzegovina, has made the entire trip on foot.
The Hajj pilgrimage is one of the five pillars of Islam and, according to Islamic teachings, has to be undertaken by Muslims who can afford it at least once in their lifetime. Mr Hadzic was one of those who ordinarily couldn't raise the cash, but said he was "invited [to Mecca] by God" in his dreams.
As such, he left his home town, Banovici, in north-eastern Bosnia, last December and walked the 3,540 miles across Bosnia, Serbia, Bulgaria, Turkey, Syria, Jordan and Saudi Arabia to finally reach Mecca a few days ago, on time to perform Hajj. Equipped with just a 20kg backpack, containing only basic equipment, Mr Hadzic said the journey was sometimes a challenge. He left his home with just €200 (£160) and slept mostly in mosques, parks and occasionally in the streets. But to him it was worth it: "I'm really very happy and this is the most beautiful place in the world," he told The Independent over the phone from Mecca.
He took "no water, no food", but some clothes, a torch for walking at night, maps and flags of the seven countries he walked through – and, naturally, a Koran, which he said helped him avoid getting into trouble when crossing Syria last April. He had been strongly advised to go through Iraq instead of troubled Syria but dreamed of Damascus and said he thought: "God wanted him to go this way." He admitted to being particularly worried about the Syrian leg of the journey, saying: "I knew there was a war. You can get killed every 10 minutes there." In the 11 days it took Hadzic to walk through Syria, he said he was arrested 10 times at checkpoints by both the regular and opposition army but was never detained. "At the first [regular army] checkpoint I was asked to empty my backpack. When I pulled out the Koran and the Bosnian flag, the officer told me to put my stuff back in and to continue my journey."
He said "the Koran was my visa", explaining that the regular and the opposition army showed "a lot of respect for what I was doing".
He described Bashar al-Assad's soldiers as polite and welcoming, "greeting me in English or Russian", and said both sides "expressed a wish that I would not to get killed in Syria. They were telling which way I should go not to get killed by the other side. Thank God I'm alive".
He praised the "wonderful" Syrian people who live in "great fear" but showed him the safest routes, fed him, and gave him "oranges and apples" in the streets. "In Damascus, when I said what I was doing, everything was cheaper for me," he said, smiling. When he tells his story in Mecca, "people are amazed at how well I was treated in time of war". He paused. "It was really incredible."
Mr Hadzic liked walking at night and tried it in Syria, assuming it would be safer as the fighting would stop. He quickly gave up. "It's impossible, anyone can get shot, including me," he said.
If he left Syria in one piece, things didn't go as well in Serbia. "Two times I was beaten up, two other times people threw stones."
With a Facebook following of nearly 8,000 people, Mr Hadzic, often seen wearing a red shirt and black beret with Bosnian insignia, shared the pictures of his journey including photos with friends, his entry visa to Syria and, naturally, many pictures of his injured feet.
Register for free to continue reading
Registration is a free and easy way to support our truly independent journalism
By registering, you will also enjoy limited access to Premium articles, exclusive newsletters, commenting, and virtual events with our leading journalists
Already have an account? sign in
Register for free to continue reading
Registration is a free and easy way to support our truly independent journalism
By registering, you will also enjoy limited access to Premium articles, exclusive newsletters, commenting, and virtual events with our leading journalists
Already have an account? sign in
Join our new commenting forum
Join thought-provoking conversations, follow other Independent readers and see their replies