The Palestinian village erased from the map: Demolition of Makhul shows how Israelis are transforming the Jordan Valley, despite international condemnation
Ben Lynfield meets those losing their homes - and a way of life
Ben Lynfield
Thursday 26 September 2013 22:19 Comments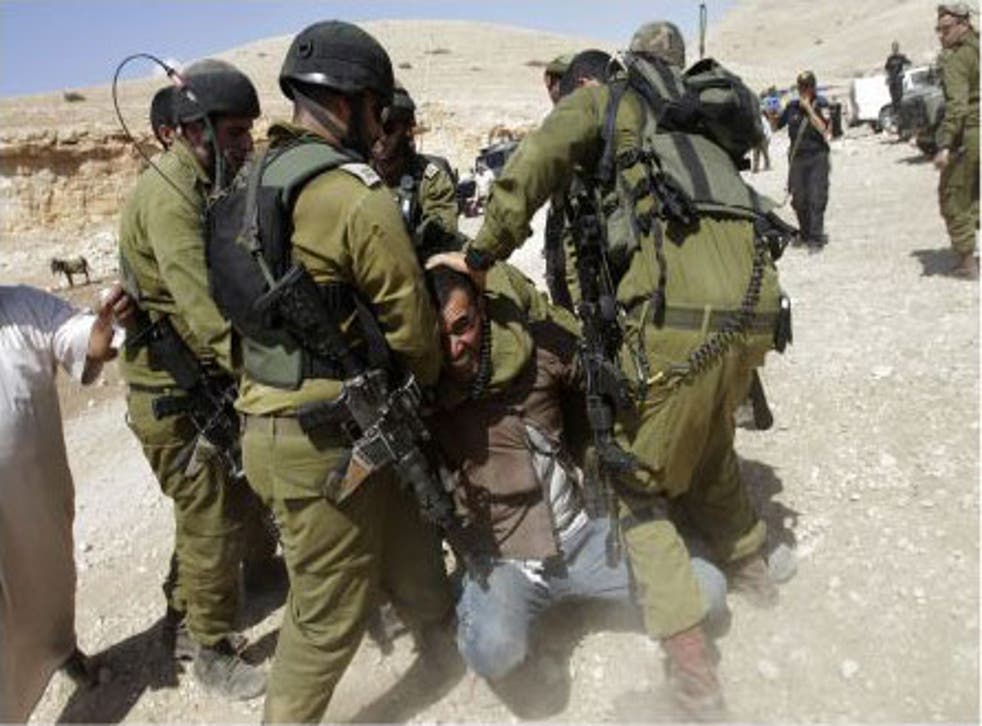 Burhan Bisharat lost his home last week to an Israeli army bulldozer, but he retains the Palestinian ethos of hospitality, pressing his interviewer to drink more tea as he recounts how he has slept amid the ruins of the dwellings and sheep pens of this tiny village demolished by the Israeli military in the occupied West Bank.
''Living on the ground with no cover is hard,'' says the 40-year-old father of eight who, like a dozen other men from Makhul, has been sleeping out in the open because the army blocked them from pitching tents after the demolition.
Israeli defence ministry officials say the demolition of Makhul was a necessary law enforcement measure against unlicensed construction and stress that the Israeli Supreme Court last month rejected a petition against the demolition orders.
But human rights groups are condemning the demolitions. They say the army's barring of EU and Red Cross efforts to supply relief tents marks a dangerous precedent and grave breach of international humanitarian law. After criticism of Israel by the EU over the weekend, on Tuesday Israel's high court of justice indicated the army went too far in stopping relief aid. It issued a temporary injunction specifying that the military cannot evict residents during the next two weeks, something that will enable Mr Bisharat and others to pitch tents there at least for that period, according to their lawyer.
On Tuesday, a scorching summer day, Makhul's men – they had sent their families to other villages – crowded under the only tree in sight for shade, watched by a Israeli soldiers lest they attempt to rebuild shelter for themselves or their sheep. At night, when temperatures fell, they lit a fire, sounding more worried about the wellbeing of their flocks than themselves. "This weather is very bad for the newborn sheep. I have six newborns, and heat during the daytime and coldness at night can harm the sheep. If the situation continues, it is very threatening, even tragic," Mr Bisharat said.
On 16 September the army destroyed Makhul at 5am, ordering residents to vacate so that the bulldozers could demolish the corrugated-metal dwellings and animal sheds. Some residents trace their presence at the site to before Israel's victory in the 1967 war, though Israeli officials said most had dwellings in other locales and lived there just part of the year.
The remnants of the demolition were visible on the hillside on Tuesday, piles of scrap that had been the ramshackle homes for just over a hundred people, from nine families, according to their lawyer, Tawfik Jabarin.
The injunction will prevent the army from acting against tents for the next two weeks; then a court session will be held on the matter, Mr Jabarin says.
In the meantime, Makhul will continue to be a microcosm of Israeli efforts to impose what is seen as its illegal transformation of the strategic and fertile Jordan Valley, which comprises more than a quarter of the West Bank, from a Palestinian to an Israeli area. Rights groups and the Palestinian Authority charge that this is being done by advantaging settlers and trying to cause Palestinians to move elsewhere. Israel denies the latter charge.
Mr Bisharat and others in Makhul, who rent land owned by Palestinian landowners, are being forced to pay the price for the transformation.
"I rent 7,000 sq m," says Mr Bisharat. "We plant our land with wheat, barley, lentils and other grains. We produce milk, cheese, butter, eggs and meat. This is our style of life and we are not going to change it." Ahmad Bani Odeh, a 75-year-old man with white stubble, says: ''Since 1967 I have been living here. I have a hundred sheep. Where will I go? I am here, I remain here and, God willing, I will die here.''
Guy Inbar, an Israeli defence ministry official, says the dwellings that made up Makhul were illegally built and that their destruction was an act of law enforcement that came four years after demolition notices were first issued. But rights groups say it is virtually impossible to get Israeli building permits due to discriminatory planning practices.
Human Rights Watch representative Bill Van Esveld said the interdiction of tents needed by Makhul residents to stay on the land amounted to a forced transfer of the population in the occupied territory, a violation of the Geneva Convention. ''All the criteria appear to be met for this to be considered forcible transfer, which is a war crime,'' he said. Foreign ministry spokesman Paul Hirschson denied there was any violation of international law.
Sarit Michaeli, spokeswoman of B'tselem, the Israeli human rights group, said before the high court's intervention that a dangerous precedent was being set: "One of the worrying aspects of Makhul is that it is the first time in the Jordan Valley that authorities demolished all structures without allowing the community to at least rebuild some structures for shelter."
Arif Daraghmeh, head of a council of 13 small villages in the northern Jordan Valley including Makhul, says that about 10 of the area's 450 Palestinian families leave every year "because of the Israeli policies including demolitions, taking our water resources and stealing our land".
'"The idea is to empty this area of Arabs and build more settlements and army camps," he said.
But David Elhayani, chairman of the council representing 21 settlements in the Jordan Valley, denied there is any effort to reduce the Arab population. On the contrary, he said, he knew of plans to build a new town for Arabs on public land in the valley. Mr Elhayani says there is a lot of room for more settlers to come, especially in the northern Jordan Valley, the area where Makhul was located. He claims: "There are no Palestinian villages there."
Register for free to continue reading
Registration is a free and easy way to support our truly independent journalism
By registering, you will also enjoy limited access to Premium articles, exclusive newsletters, commenting, and virtual events with our leading journalists
Already have an account? sign in
Register for free to continue reading
Registration is a free and easy way to support our truly independent journalism
By registering, you will also enjoy limited access to Premium articles, exclusive newsletters, commenting, and virtual events with our leading journalists
Already have an account? sign in
Join our new commenting forum
Join thought-provoking conversations, follow other Independent readers and see their replies