Tony Blair and Hamas: Militant Palestinian group confirms meetings with former PM – and says ceasefire deal with Israel is possible
Senior Hamas figure tells The Independent why Blair has become a key go-between in the increasingly positive negotiations with Benjamin Netanyahu's government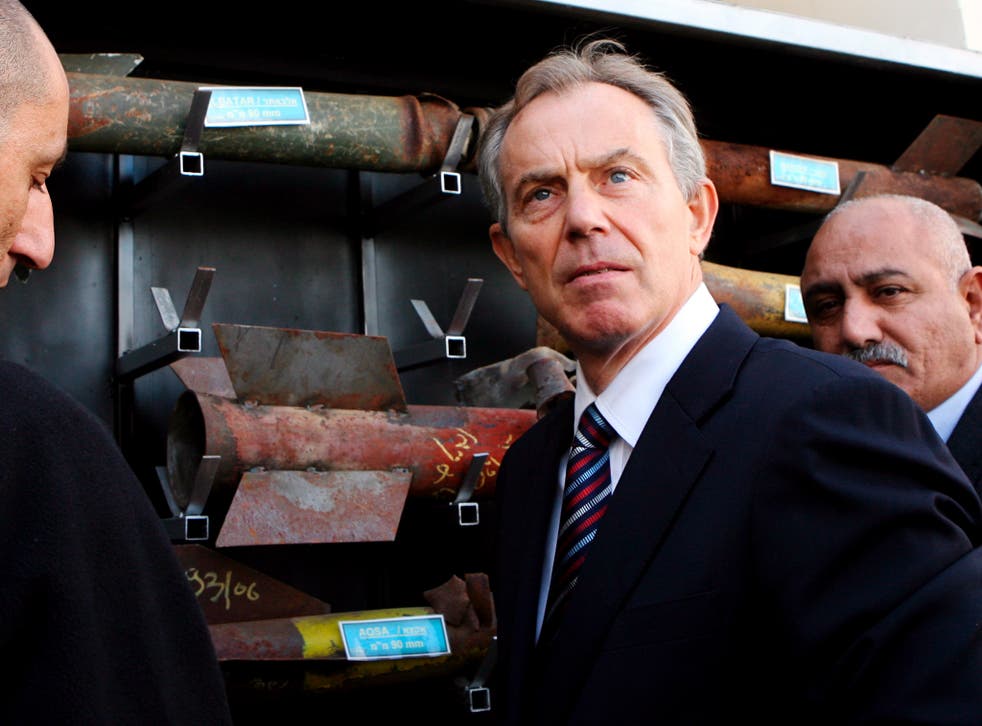 Hamas, the militant Palestinian group in control of Gaza, believes there is a chance to reach a long-term ceasefire deal with Israel if the Jewish state takes steps to improve the lives of Gazans, a senior figure within the organisation has told The Independent.
Hassan Yousef, a founder of the group and one of its senior leaders in the West Bank, said Israel's agreement to its demands would need to be backed up by international guarantees, as he confirmed reports that Hamas had held meetings with Tony Blair over the past three months. "We are waiting for Israeli answers," he said, after the exiled Hamas political chief Khaled Meshaal set out the group's conditions in contacts that included two meetings with Mr Blair.
The former Prime Minister, who stepped down in May as the official Middle East envoy of the "Quartet" group – the United Nations, the US, the European Union and Russia – had been previously unable to meet Hamas, which is officially regarded as a terror organisation. Mr Yousef described the talks with him as an "exchange of ideas".
Mr Yousef said there were also contacts and exchanges of views earlier this year with Robert Serry, the former UN co-ordinator for the Middle East peace process but he insisted there were no negotiations with Israel currently under way. Rather, he said: "There are some European parties that observe the situation in Gaza very closely. They know the danger of it and they made their moves for a truce to prevent a potential explosion.
"There were ideas that were presented to Hamas, and the Hamas leadership gave ideas and proposals and said that an agreement would have to be according to our conditions, to be written and to have international guarantees." Asked whether the ball was now in Israel's court, Mr Yousef said: "Certainly." Mr Yousef, 61, a Palestinian MP who was expelled by Israel to Lebanon in 1992, has spent a total of 17 years in Israeli jails and only in May was released from a year of detention without charge. He has nine children, the oldest of whom, Mosab, became an informer to Shin Bet, the Israeli intelligence service, converted to Christianity and in 2010 was granted political asylum in the US.
Considered a relative moderate within the militant fundamentalist movement, Mr Yousef received The Independent in his office, his manner warm and self-assured despite the very real possibility that he could be rearrested at any moment.
The Israeli army, which retains security dominance in the West Bank despite nominal Palestinian self rule, often enters Palestinian areas to carry out arrests.
Mr Yousef listed Hamas's conditions for a Gaza truce as: Israel ending the siege it has imposed on the coastal enclave since Hamas seized power there in 2007; "finding a solution to the difficult living conditions" of Gaza's 1.8 million inhabitants; reconstruction of Gaza after the damage wrought during last summer's devastating war; establishing a naval passage for goods and people to move freely in and out of the enclave by sea, "so that people won't be at the mercy of the occupation which shuts down borders".
"There is a need to solve the problems of the people in Gaza because the situation there is like a big barrel of explosives and gunpowder," Mr Yousef said. "It could explode at any second, and this is not in the interest of anyone. Practically, if the Israeli occupation agrees on solving these problems, there is a chance for a truce."
Mr Yousef said international guarantees would be necessary because Israel had violated previous deals with Hamas, including the rearrest of some 70 Palestinians freed in a 2011 swap, in which 1,027 prisoners were freed in exchange for the return of the captured Israeli army Corporal Gilad Shalit.
"The guarantees could come from Turkey, or any European party or country that can guarantee that Israel will respect its pledges," he said. Turkey is also playing a role in attempts to reach a long-term ceasefire deal and Mr Meshaal held talks on it in discussions in Ankara last week, according to Turkish officials.
The Israeli government denies that it has entered negotiations with Hamas, though the Haaretz newspaper reported that Mr Netanyahu had made clear to Mr Blair that he was willing to listen to any results of his efforts. Israeli analysts note that for Mr Netanyahu, a Gaza truce with Hamas would have the advantage of buying Israel respite from the rocket attacks that afflict its civilians, without requiring any territorial concessions.
Israel would need to cede occupied land to the Palestinians in order to forge an agreement with the more moderate Palestinian President, Mahmoud Abbas.
Mr Yousef conceded that Hamas was not insisting on some of the demands made by Mr Abbas as its price for a Gaza truce – including that Israel halt its expansion of settlements in the occupied West Bank.
"We are talking about a solution to the daily life problems of the people of the Gaza Strip," he said.
He gave credit to Mr Blair for departing from his stance as Quartet envoy, when he followed its policy of shunning Hamas.
"For him to reach the conviction that the Quartet's conditions were unjust, and to look for another way that recognises the reality of Gaza and the need to solve the people's problems and reach a truce with Israel – this is undoubtedly progress," he said.
"We don't care about it being Blair or other people, we only care about solving the people's problems. We are interested in calmness and a truce, and we are not interested in any way in another war or escalation.
"You can call it a calming, a ceasefire or a small peace process – the name is not important. The most important thing is that we won't have war, we won't have confrontation or explosion and people won't suffer more. We want our people to live in normal conditions fit for humans in any other place in the world."
Register for free to continue reading
Registration is a free and easy way to support our truly independent journalism
By registering, you will also enjoy limited access to Premium articles, exclusive newsletters, commenting, and virtual events with our leading journalists
Already have an account? sign in
Register for free to continue reading
Registration is a free and easy way to support our truly independent journalism
By registering, you will also enjoy limited access to Premium articles, exclusive newsletters, commenting, and virtual events with our leading journalists
Already have an account? sign in
Join our new commenting forum
Join thought-provoking conversations, follow other Independent readers and see their replies