Tunisia marks seven years since Arab Spring uprising as fresh protests take place
'The revolution brought nothing concrete to our daily lives, which only get worse and worse'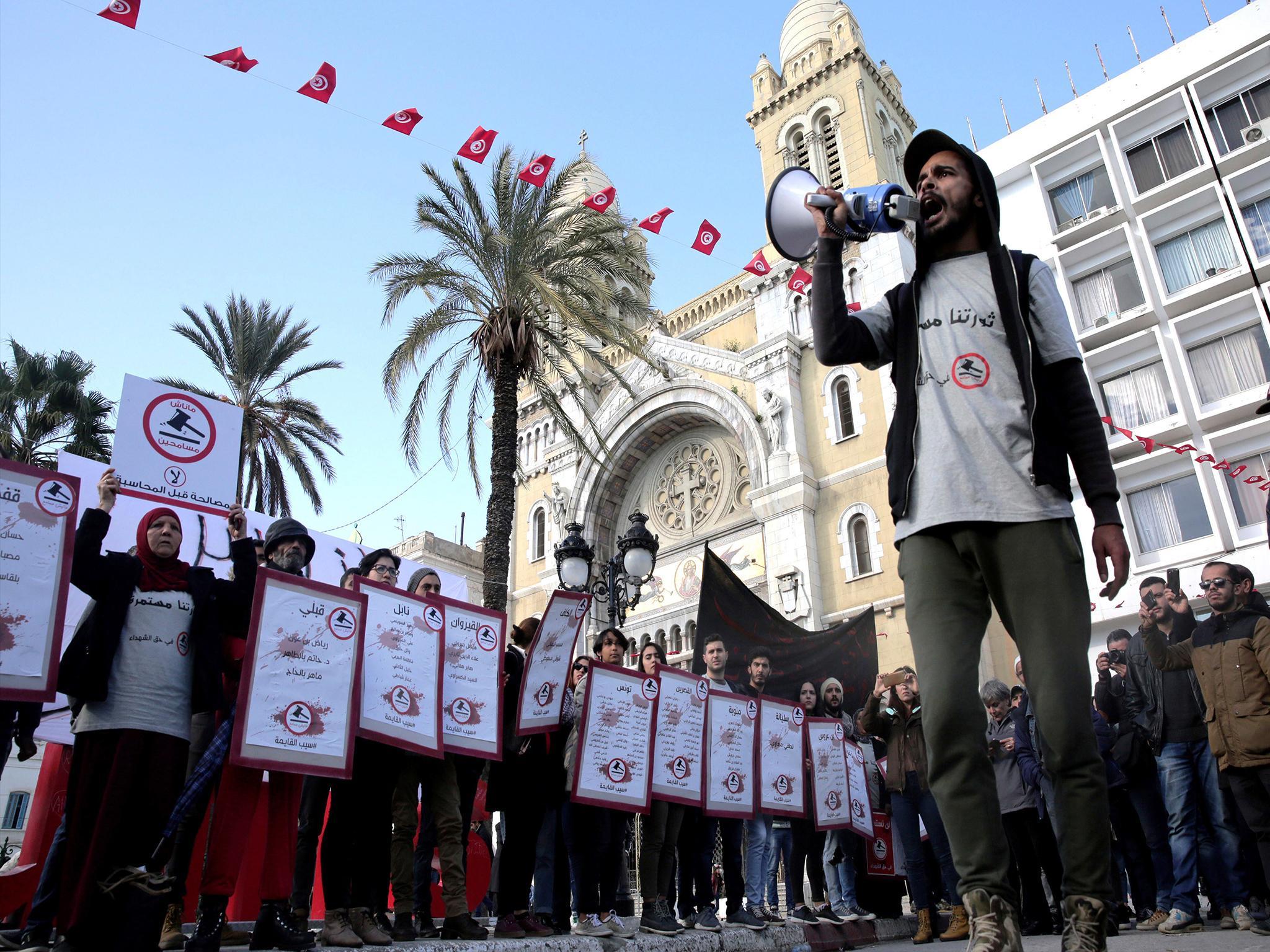 Tunisia, shaken by days of nationwide unrest over price hikes, is marking seven years since the North African nation drove out its long-time autocratic ruler.
Tunisians are calling for peaceful protests on the anniversary to tell the country's new leaders that they have failed to fix problems that stirred the revolution.
President Zine el-Abidine Ben Ali fled into exile on 14 January 2011, transforming the country into a budding democracy that inspired the Arab Spring — then defied it by being the only country to keep its transition peaceful.
Now, protesters are driving home the message that they believe that six governments in power since then have crushed hopes of social and economic justice and left them feeling betrayed.
Frustration was in full view last week when small demonstrations erupted around the country before ballooning and degenerating into theft, pillaging and car-burning in some places as momentum grew.
A police crackdown stemmed the protests by week's end. But it was unclear whether the call by organisations and some politicians for peaceful demonstrations would fan passions.
One person died in unrest outside the capital, Tunis and scores were injured, including 97 security officers in five days of unrest that began a week ago, interior ministry spokesman Khlifa Chibani said Friday. Dozens of police cars were damaged, two police stations burned and eight others ransacked. Arrests were put at nearly 780, including 16 religious extremists, for vandalism and looting.
"I've been out of work for seven years and see nothing ahead, no flicker of hope for a better future," said Ali Ben Mahmoud, a university graduate from Tunis who took part in the initial demonstration last week organised by the group Fest Nestanaou (What Are We Waiting For).
Fatma Ben Hassine, a nearly empty shopping basket in hand, echoed that complaint.
"The revolution brought nothing concrete to our daily lives, which only get worse and worse," she said. "The politicians, whose only concern is their comfort, leave us in despair."
World news in pictures
Show all 50
The revolution was sparked by the death of a fruit and vegetable seller in the central town of Sidi Bouzid who set himself afire on 10 December 2010, in apparent anger and despair over mistreatment by police who upset his cart. That region and others outside the capital have a history of neglect by central authorities — and were the focus of promises for economic and social justice by leaders of Tunisia's new era, along with guarantees of freedom of expression stifled under Ben Ali.
The democratic transition gave Tunisia a new constitution, opened the way to free elections and reinforced equality among sexes — all while Tunisia battled deadly extremist attacks, including on tourists at the famed Bardo Museum and at a resort hotel outside the seaside town of Sousse.
A four-way group, known as the Quartet and charged with dialogue to avert change from derailing, was awarded the 2015 Nobel Peace Prize "for its decisive contribution to the building of a pluralistic democracy in Tunisia," the Norwegian Nobel Committee stated.
But some essential motives behind the revolution were being ignored, experts say.
The jobless rate is above 15 per cent, according to official figures, and above 25 per cent in some regions, with vast areas of the interior still marginalised.
The flashing lights of economic and social indicators were all red, "even bright red," economist Azzeddine Saidane said.
With inflation officially above 6 per cent, evaluated at plus 9 per cent by some experts, the 2018 finance law raising prices and adding new taxes brought people into the streets.
"By giving the absolute priority to the electoral process since 2011, political parties continually pushed back fulfilling social and economic goals," analyst Habib Touhami, wrote on his Facebook page. And party officials, he contended, have been "more motivated by their partisan and personal ambitions."
AP
Join our commenting forum
Join thought-provoking conversations, follow other Independent readers and see their replies