Turkey's President Erdogan attacks Barack Obama for criticising press crackdown 'behind my back'
Obama had voiced criticism of Turkey's media clampdown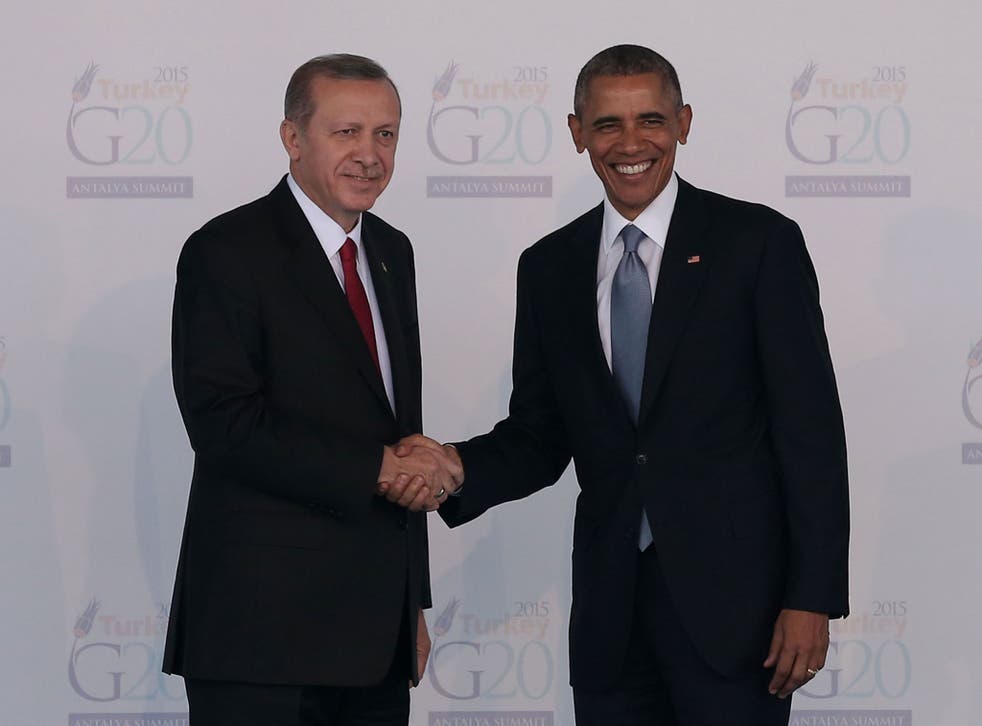 President Tayyip Erdogan has hit back at comments made by Barack Obama about press freedom in Turkey, saying the US President spoke out "behind my back".
Mr Obama said on Friday that he was "troubled" by the Turkish government's control of the media, while attending the Nuclear Security Summit in Washington.
Turkey ranks 149th out of 180 countries on the 2015 World Press Freedom Index and has been subject to strong criticism by media advocacy groups over the clampdown on journalism.
"I was saddened to hear that statement made behind my back," Mr Erdogan told reporters. "During my talk with Obama, those [press freedom] issues did not come up."
He added: "You cannot consider insults and threats [to be covered by] press freedom."
On Friday, Mr Obama admitted he was concerned by the crackdown.
"It's no secret that there are some trends within Turkey that I have been troubled with," Mr Obama said.
"I think the approach they have been taking toward the press is one that could lead Turkey down a path that would be very troubling."
World news in pictures

Show all 50
Mr Obama said he had expressed these sentiments to Erdogan "directly" but this was denied by Mr Erdogan.
Mr Erdogan also referred to a mysterious foreign 'mastermind' seeking to destroy Turkey.
He said criticism of Turkey's press record was an attempt to "divide, shatter and if they could, swallow up Turkey". "This is what I mean by mastermind. A mastermind is playing games over Turkey."
Recently, the Turkish state has seized control of opposition newspapers and TV channels and cut the satellite feed of a pro-Kurdish channel, accusing them of terrorism-related activities.
Turkey's Zaman: Editorial tone changes after takeover
Turkey has also drawn international condemnation for charging two journalists with treason for publishing footage that allegedly showed intelligence officers shipping truckloads of weapons to opposition fighters in Syria in early 2014. Can Dundar and Erdem Gul of Cumhuriyet newspaper face life in prison if found guilty, but their court hearing will be done in secret.
The Committee to Protect Journalists has said at least 13 reporters are in jail in Turkey for their reporting and spoken of a "massive crackdown" and harassment of media-business owners.
Mr Erdogan has personally brought more than 1,800 criminal suits against individuals, including journalists and children, for insulting him since becoming president in 2014.
Even on the trip to Washington, there were reports of journalists trying to cover the summit being physically and verbally assaulted by Mr Erdogan's security team.
Join our new commenting forum
Join thought-provoking conversations, follow other Independent readers and see their replies