Turkey-Kurdish conflict: President Erdogan's double-edged war against the PKK and Isis brings accusations of electioneering
Mr Erdogan is facing claims he is more focused on engineering a snap election that could wipe out the pro-Kurdish HDP than on his country's security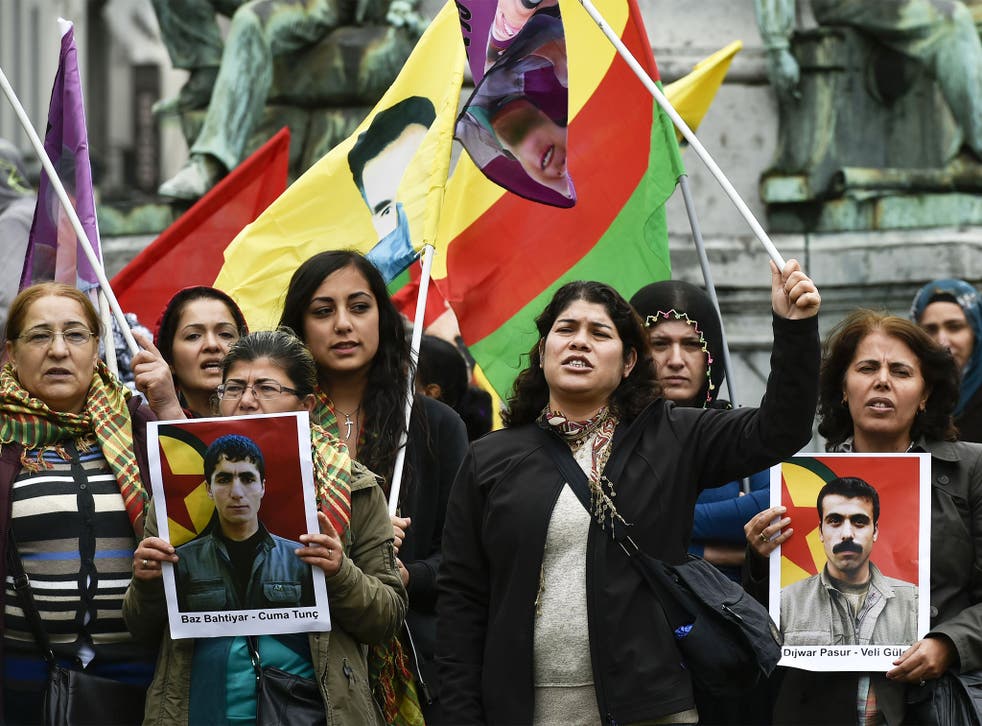 President Recep Erdogan's war on two fronts against Isis and Kurdish militia drew guarded backing from "united" ministers attending a rare Nato emergency summit.
But even as the Turkish leader admitted peace with the Kurds was now "impossible", he faced accusations of electioneering, not defending Turkish security. As ministers met in Brussels and Kurds protested outside, the violence between Kurdish militia and government forces continued. A Turkish infantry sergeant was shot dead in the predominantly Kurdish town of Semdinli, near the Iraqi border. Kurdish fighters were blamed for an explosion which shut down a natural gas pipeline between Iran and Turkey.
The hour-long meeting of Nato's 28 ambassadors ended with broad support for Turkey's recent air strikes against Isis. "We all stand united in condemning terrorism, in solidarity with Turkey," Nato Secretary-General Jens Stoltenberg said. The meeting came after the killing of 32 young students in Suruç, a Turkish border town near Syria. The suspected Isis attack drove Ankara to respond with air strikes.
Speaking to The Independent from Ankara, where Isis and Kurdistan Workers' Party (PKK) suspects have been detained by military police, Riza Turmen, a deputy in the main opposition Republican People's Party (CHP), which has failed to form a coalition government with Mr Erdogan's ruling Justice and Development Party (AKP) in recent weeks, said the battle against the Kurds was a political move to form a majority government. Mr Turmen, a former judge at the European Court of Human Rights, said: "How can we put Isis and the PKK in the same basket? We were supposed to have a process of peace. Suddenly Mr Erdogan has changed his mind and there's no peace process.
"Isis is a barbaric terrorist organisation, the Kurds are our citizens and we are having talks with them. This is politics under the cloak and guise of fighting terrorists. Erdogan wishes to have early elections and such a nationalist movement would help AKP to increase their votes."
He said the HDP (the pro-Kurdish party which entered parliament for the first time in June) could be wiped out in a snap election. "This is a very bloody and risky manoeuvre," Mr Turmen said. "To victimise the whole peace process for a narrow minded election tactic is crazy."
The formal Nato ambassadors' statement after the summit said: "We strongly condemn the terrorist attacks against Turkey, and express our condolences to the Turkish government and the families. Terrorism poses a direct threat to the security of Nato countries and to international stability and prosperity."
However, several Nato members warned Turkey not to use the campaign against Isis to ratchet up its 30-year battle against the PKK. As well as firing against Isis positions in Syria, Turkey has launched air strikes on PKK positions in Kurdish cantons in Iraq, and arrested hundreds of suspected members of the group. Reuters reported that Turkish F16 fighters had bombed PKK militants in Sirnak province near the Iraq border.
Ankara says skirmishes between Turkish forces and Kurdish militants show how similar PKK and Isis are. "There is no difference between PKK and Daesh [Isis]," Turkish Foreign Minister Mevlut Cavusoglu said on Monday.
The ambassadors used diplomatic language to suggest that while Turkey had the legal right to defend itself against terrorism, it should ensure "a proportionate use of military force". In private, many have urged Turkish authorities to keep up the ongoing peace process with Kurdish representatives. However Mr Erdogan said: "It is not possible to continue the peace process with those who threaten our national unity and brotherhood."
In pictures: Suruc explosion

Show all 10
Istanbul's Gazi neighbourhood has also seen violent clashes after an Alevi woman was killed in a raid that targeted groups including Isis and the PKK. Gazi is a stronghold of Turkey's Alevi community, an offshoot of Shia Islam. Turgut Oker, an MP for the HDP, said: "We're in a state of war and we're afraid. The reasons given for the attacks aren't what they seem. Erdogan has started a war against the Kurds, and also against the Alevis."
Mr Erdogan confirmed that Turkish and US officials planned a 67 mile-long buffer zone to help Syrian refugees and that he was allowing American planes to launch attacks into Syria from the Turkish air base at Incirlik.
Register for free to continue reading
Registration is a free and easy way to support our truly independent journalism
By registering, you will also enjoy limited access to Premium articles, exclusive newsletters, commenting, and virtual events with our leading journalists
Already have an account? sign in
Register for free to continue reading
Registration is a free and easy way to support our truly independent journalism
By registering, you will also enjoy limited access to Premium articles, exclusive newsletters, commenting, and virtual events with our leading journalists
Already have an account? sign in
Join our new commenting forum
Join thought-provoking conversations, follow other Independent readers and see their replies