Turkish president Erdoğan accuses West of 'playing games' with Muslims after Paris attacks
Recep Tayyip Erdoğan also denounces the Israeli prime minister's attendance at a solidarity rally in Paris this weekend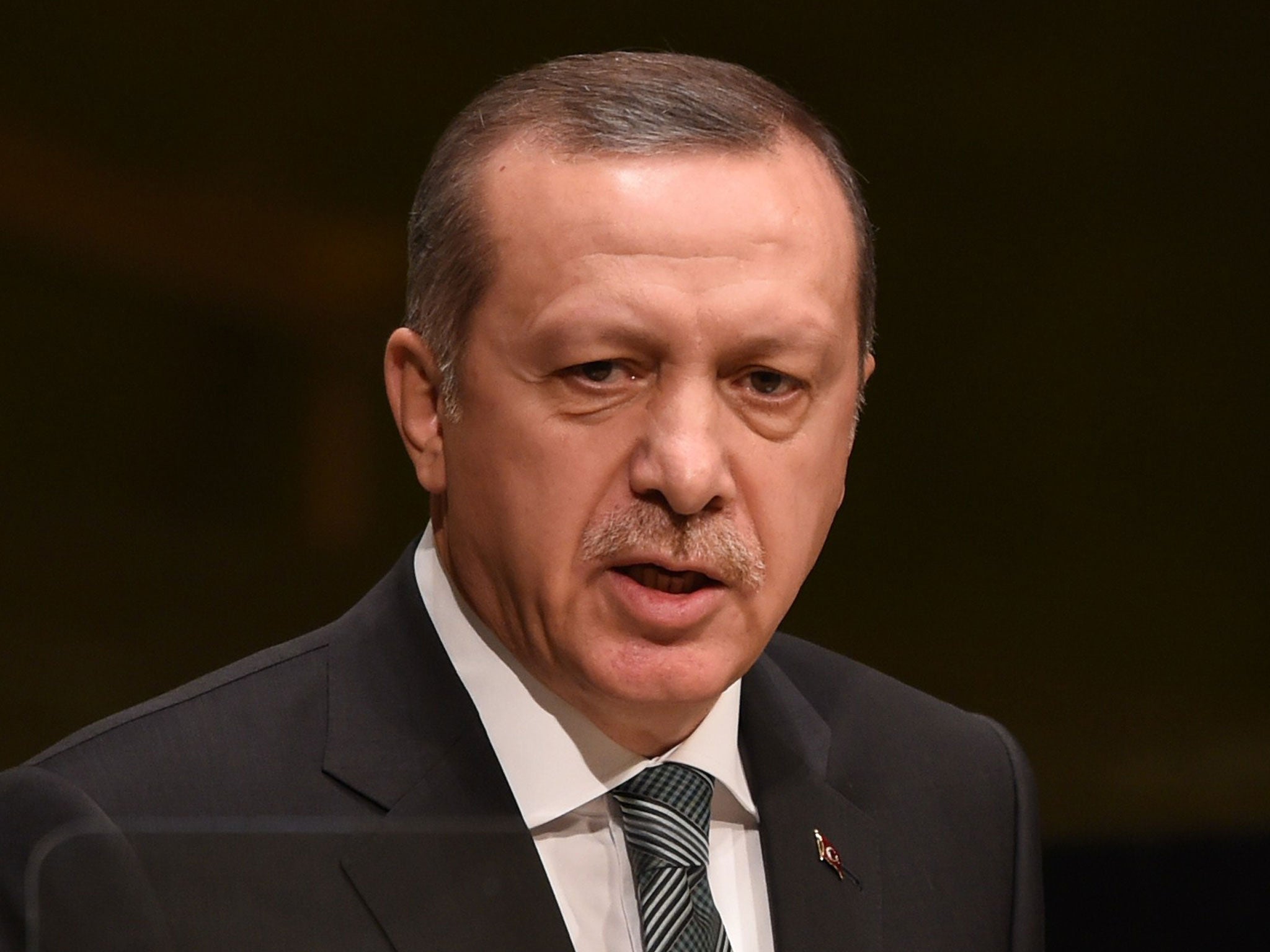 The Turkish president has accused the West of "playing games" with Muslims in the wake of the Paris attacks and urged its governments to crack down on Islamophobia.
Recep Tayyip Erdoğan chided the French security services for not preventing the attack on the offices of French satirical newspaper Charlie Hebdo and said that Muslims would suffer as a result of the murders.
"French citizens carry out such a massacre, and Muslims pay the price. That's very meaningful ... Doesn't their intelligence organisation track those who leave prison?" he said.
He cited an increase in attacks on mosques after the incidents as indicative of double standards in France and other countries.
"The West's hypocrisy is obvious. As Muslims, we've never taken part in terrorist massacres. Behind these lie racism, hate speech and Islamophobia," Erdoğan said.
"Please, the administrations in those countries where our mosques are attacked need to take measures."
"Games are being played with the Islamic world, we need to be aware of this," Mr Erdoğan added.
Union of Islamic Organizations in France says there have been more than 50 anti-Muslim incidents since the attacks including reports of shootings and arson attempts at mosques.
Charlie Hebdo: The first edition since the Paris massacre
Show all 15
The Turkish president also criticised the presence of Israeli prime minister Benjamin Netanyahu at a solidarity rally for the victims of the massacre in Paris this weekend.
"How can a man who has killed 2,500 people in Gaza with state terrorism wave his hand in Paris, like people are waiting in excitement for him to do so? How dare he go there?" he said.
"You should first give an account for the children and the women you have killed," added Erdogan.
Israel has waged two wars in Gaza under Netanyahu; in November 2012 and July 2014. 174 Palestinians were killed in the 2012 war, according to the United Nations. In 2014 Palestinian medical officials said that over 2,100 Palestinians died, most of them civilians. The combined Israeli death toll from both conflicts was 79.
According to the Committee to Protect Journalists, 16 journalists and four other media workers have been killed in Israel and the Occupied Palestinian Territory since 2000.
For its own part, Turkey's government last month arrested dozens of journalists and television producers associated with the country's political opposition.
The first edition of Charlie Hebdo since the attacks, in which 12 people were killed, was published today.
Join our commenting forum
Join thought-provoking conversations, follow other Independent readers and see their replies