'Utter hypocrisy': Iran's foreign minister attacks Boris Johnson over nuclear weapons plan
Mohammad Javad Zarif said all nuclear missiles should be 'eradicated'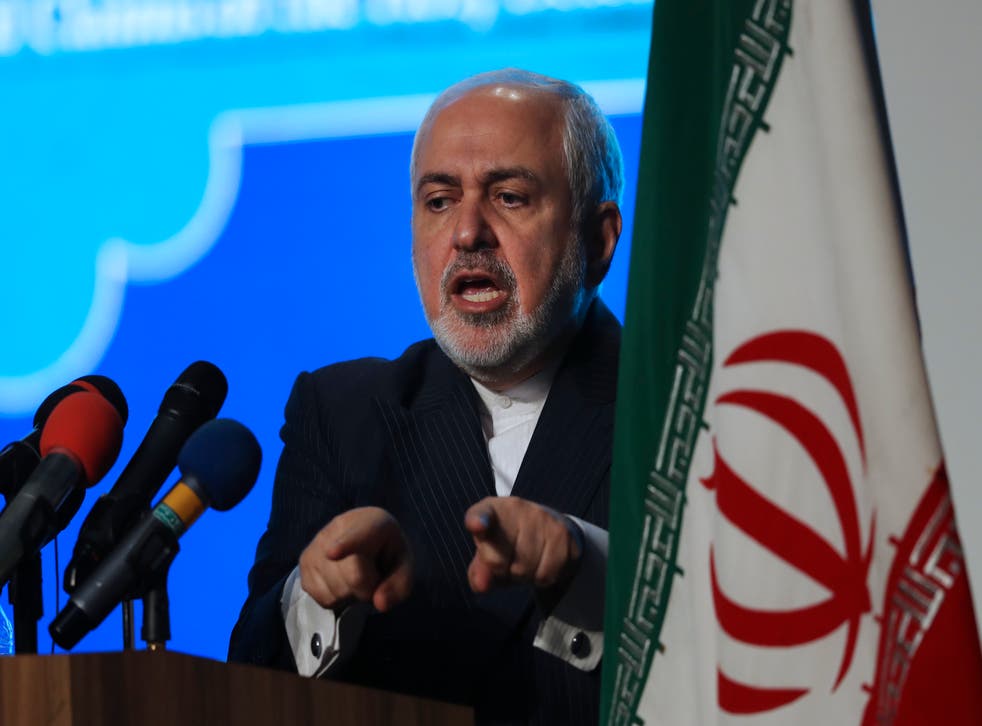 It was an opportunity to pounce, and Iran's outspoken foreign minister seized it. The United Kingdom has announced it is set to remove Cold War-era limits on its stockpiles of nuclear weapons, even as it is demanding that the Islamic Republic constrain its own atomic programme.
Foreign Minister Mohammad Javad Zarif accused prime minister Boris Johnson of "utter hypocrisy" for announcing plans to increase Britain's arsenal of weapons of mass destruction while chastising Tehran for its decades-long attempt to master nuclear technology.
Mr Johnson told British MPs on Tuesday that the government is planning to reverse a planned reduction of its nuclear weapon stockpile. Under the new proposal, Britain will increase its number of warheads to 260. It had previously agreed to reduce the number to 180.
In a note posted to his Twitter feed and tagging Mr Johnson, Mr Zarif mocked the British leader for saying he was "concerned about Iran developing a viable nuclear weapon" on the very same day as announcing that "his country will increase its stockpile of nukes".
He added: "Unlike the UK and allies, Iran believes nukes and all WMDs are barbaric and must be eradicated."
Iranian state television widely covered Mr Zarif's remarks, which came before Russia also denounced London's decision on Wednesday. Both China's and Russia's official media have focused on the UK's plan to up its nuclear arsenal, describing it as hypocritical.
"Citizens are demanding that Boris Johnson look under his feet, fight against the coronavirus and street crime," state-guided NTV's London correspondent Liza Gerson said in a broadcast, referring to the murder of Sarah Everard. "People are demanding safe streets and lamps in parks in London, not warheads in Scotland."
The UK decision comes at a particular tense moment in the arena of global arms control.
Iran is currently locked in a diplomatic statemate with the United States and the so-called E3 – the UK, Germany and France – over an attempt to re-establish the Joint Comprehensive Plan of Action (JCPOA), the 2015 nuclear deal forged by Tehran and world powers but abandoned by the Trump administration in 2018.
After abiding by the terms of the agreement for a year, even as the US upped crushing sanctions, Iran began to expand its nuclear programme beyond the strict limits set by the JCPOA. The new administration of president Joe Biden has said it would like to restore the terms of the nuclear deal, but insists that Iran first roll back its production and stockpile of enriched uranium that could be used as fissile material for a bomb.
Iran insists that its nuclear programme is meant for peaceful civilian purposes only, though arms-control experts and intelligence professionals believe Iran is at least aiming to achieve nuclear weapons capability, if not the bomb.
On Monday, Reuters reported that the United Nations nuclear watchdog had confirmed Iran had begun feeding uranium gas into a second advanced device that can more efficiently produce fissile material than the ones permitted under the JCPOA.
Iran has insisted the US first remove sanctions, since it was Washington that first breached the deal. On Wednesday, a senior official in Iranian president Hassan Rouhani's government confirmed that Tehran had received indirect communications from Washington regarding a possible return to the JCPOA.
Join our new commenting forum
Join thought-provoking conversations, follow other Independent readers and see their replies