UN concern that Israel plans to deport asylum-seekers to mystery African country
Human-rights groups fear refugees could be forced to return to the very countries they fled
Ben Lynfield
Thursday 29 August 2013 21:14 Comments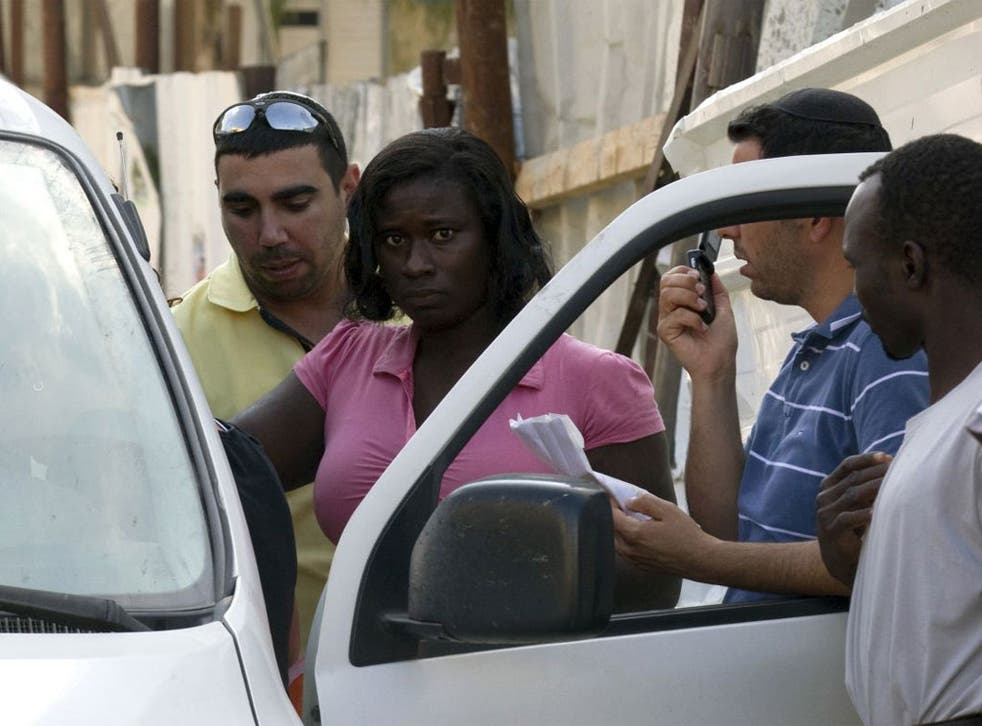 The UN refugee agency and human-rights groups voiced concern today for the safety of thousands of Sudanese and Eritrean asylum-seekers that Israel says it intends to deport to an unnamed African country, saying the refugees could end up being returned to the very places from which they fled persecution and hardship.
Peter Deck, director of the Israel office of the UN High Commissioner on Refugees, said that contrary to international norms, Israel did not consult the agency when it struck the agreement with the third country, whose identity Israel declines to divulge, although some press reports have identified it as Uganda. "There are standard procedures for any arrangement of movement of asylum-seekers. It is a concern to UNHCR that both Israel and the [other] country did not consult us... Our concerns include the safety of the individuals and the risk of refoulement from that other location."
Israeli Interior Minister Gideon Saar told Knesset legislators on Wednesday that the special envoy of Prime Minister Benjamin Netanyahu, Hagai Hadas, had reached an agreement with a third country to absorb Eritreans and Sudanese who crossed from Egypt into Israel over the past six years and whom Israel classifies as "illegal infiltrators". Mr Hadas has been negotiating with Uganda, among other countries.
Mr Saar said that after the Jewish holidays next month, an organised effort to arrange the departure of Eritreans and Sudanese would be launched. He said they would be called upon to "leave voluntarily" to the third country, according to a defined timetable.
Yochi Gnessin, an Israeli state attorney, has said the transfer would be gradual. Many or most of the Eritreans in Israel fled indefinite military conscription or forced labour. Because of the harsh conditions in Eritrea, Eritreans have a more than 80 per cent asylum recognition rate worldwide. But Israel has not granted refugee status to even one of the 36,000 in the country.
The refugees, many of whom live in slum areas, are seen as a threat by many Israeli residents, and right-wing politicians outbid one another on who can be tougher on the issue. The plans to deport people to a third country come despite the fact that – in contrast to previous years when there was a surge of asylum-seekers – the number now reaching Israel per month is in single digits, due to a fence built along the border with Egypt.
According to a report in the Maariv newspaper in June, Mr Hadas was negotiating with Uganda, South Sudan, Ethiopia, Uganda, Malawi and Kenya to take the refugees. Maariv said Israel was willing to pay $8,000 a head to absorb migrants, while other reports spoke of Israeli agricultural or military assistance to the third country. Yigal Palmor, the foreign-ministry spokesman, said the identity of the third country was being kept secret at that country's request.
Bill Van Esveld, who monitors the Middle East for the New-York based Human Rights Watch, said: "If ... even the country is secret how is one to know minimum guidelines are being followed with basic protections for these people?"
Register for free to continue reading
Registration is a free and easy way to support our truly independent journalism
By registering, you will also enjoy limited access to Premium articles, exclusive newsletters, commenting, and virtual events with our leading journalists
Already have an account? sign in
Join our new commenting forum
Join thought-provoking conversations, follow other Independent readers and see their replies