'I don't want it to be my turn to die': the powerful speech from a Yemeni girl the UN should be talking about
10-year-old Yara from Sana recorded a heartfelt personal message for the outside world about the war in Yemen, which has killed more than 10,000 people
Tuesday 20 September 2016 12:39
comments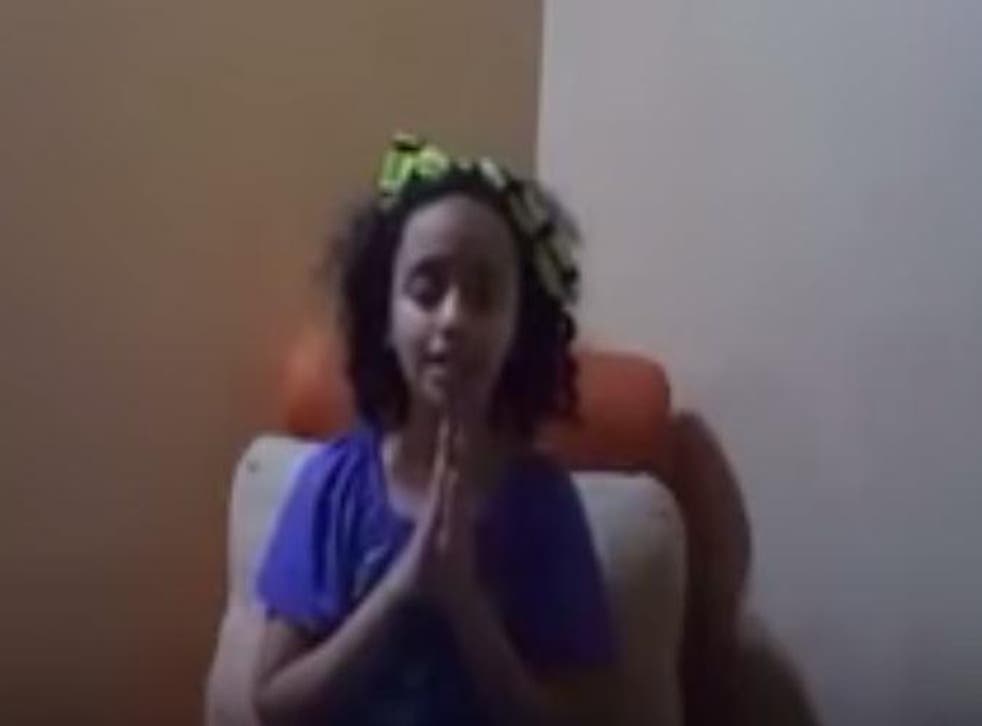 "I don't want it to be my turn to die," Yara, a little girl with green ribbon in her hair says to the camera on her mother's phone. "I want to grow up and be something important in this world."
The message is one that Yara, who is 10 and lives in Yemen's capital Sana, would like the world leaders currently meeting to discuss the global refugee crisis at the United Nations General Assembly in New York to take on board.
Yara lives in the Yemeni capital Sana, which is currently held by Houthi rebels, and remembers very clearly when her world turned upside down.
She was excited about a concert at school the next day - but instead, at about midnight one night in March 2015, Saudi-led coalition airstrikes on the city began.
In a message recorded at home that she asked her parents to post to social media, where it has been viewed thousands of times on various platforms in the past three weeks, she pleas in English for the US and international community to intervene to bring the war to an end.
Yara is also very clear that she blames Saudi Arabia for her current situation, rather than the rebels, who are accused of forcibly taking over the capital and giving the goverment no choice but to capitulate.
"I want America to stop helping [the Saudis] so the war can end," she added in an interview with PRI on Skype.
"If [the US] can't stop the war against Yemen, I'd like them to stop helping Saudis and stop selling them weapons, so the war can stop."
Tentative peace talks this summer quickly broke down, and the bombing has not stopped since. Saudi Arabia, with the backing of the US, wants to restore the Yemeni government operating in exile since they fled the rebel attack.
For the last 18 months, Yara's school has not always been open, and now she and her brother and parents all sleep in one room in the basement, with backpacks ready with money and passports in case the family need to leave quickly.
She didn't know what was happening at first, Yara says. "Mommy told me that war against Yemen [had] started, and tonnes of people are dying, and all people lost their jobs. My dad lost his job, also."
In the beginning, she cried and asked her parents if they could leave. But Yara says she knows now there is little chance her family will be able to flee, since airspace is closed, and Saudi Arabia controls both sea and land border checkpoints.
The civil war in Yemen has killed more than 10,000 people, left up to 80 per cent of the population in need of humanitarian aid, and driven 2.4million people displaced from their homes, the UN says.
In addition to the warring government and Houthi rebel factions, extremists groups have also stepped into the power vacuum: Isis has carried out multiple attacks, and Al-Qaeda in the Arabian Penisula (AQAP) controls large rural areas of the country.
Join our new commenting forum
Join thought-provoking conversations, follow other Independent readers and see their replies