UN's Carla Del Ponte says there is evidence rebels 'may have used sarin' in Syria
UN officials insist inquiry 'has not reached conclusive findings'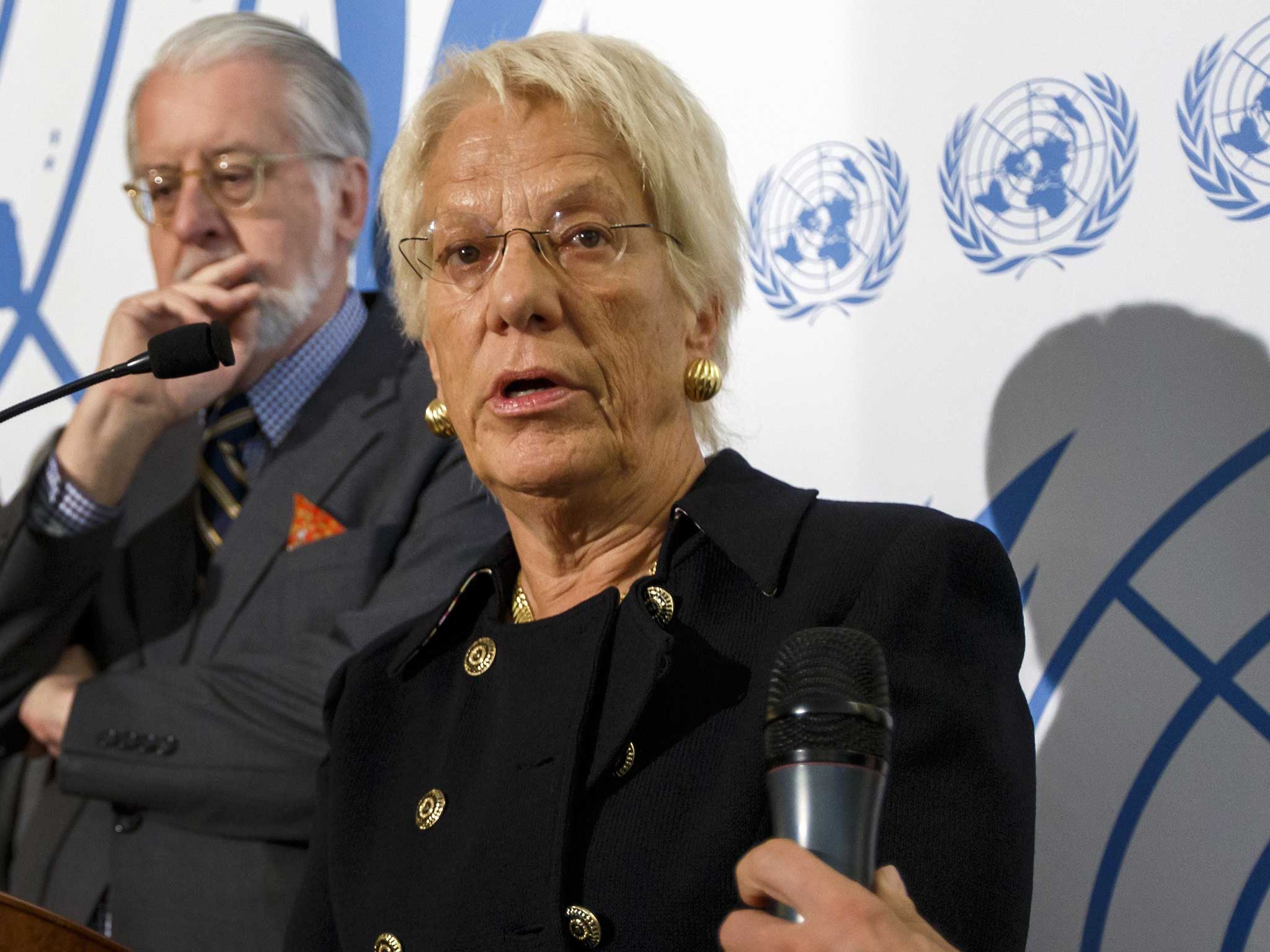 A United Nations inquiry into human rights abuses in Syria has found evidence that rebel forces may have used chemical weapons, its lead investigator has revealed.
Carla Del Ponte, a member of the UN Independent Commission of Inquiry on Syria, said that testimony gathered from casualties and medical staff indicated that the nerve agent sarin was used by rebel fighters.
"Our investigators have been in neighbouring countries interviewing victims, doctors and field hospitals and, according to their report of last week which I have seen, there are strong, concrete suspicions but not yet incontrovertible proof of the use of sarin gas, from the way the victims were treated," Ms Del Ponte said in an interview broadcast on Swiss-Italian television on Sunday.
"This was used on the part of the opposition, the rebels, not by the government authorities," she added.
Ms Del Ponte said the inquiry has yet to see any direct evidence suggesting that government forces have used chemical weapons, but said further investigation was required before this possibility could be ruled out.
The UN commission, which is investigating human rights abuses in Syria since the start of the civil war, later released a statement distancing itself from the allegations. It said that investigators had "not reached conclusive findings as to the use of chemical weapons in Syria by any parties to the conflict".
The White House said it was "highly skeptical" of suggestions that Syrian rebels used chemical weapons. "We find it highly likely that chemical weapons, if they were in fact used in Syria - and there is certainly evidence that they were - that the Assad regime was responsible," spokesman Jay Carney said.
The allegations come nearly two weeks after the United States said it had "varying degrees of confidence" that sarin gas had been used by Syria's government on its people.
President Barack Obama declared last year that the use of chemical weapons by the Syrian President, Bashar al-Assad, would cross a "red line" and change US calculations on whether or not it should intervene in the conflict.
Calls for the US to launch military action against the Syrian regime have grown stronger since claims that it used chemical weapons first emerged. Republican Senators John McCain and Lindsey Graham are the most prominent among those calling for a no-fly zone in some parts of the country, similar to the one which was introduced in Libya.
Each side in Syria's two-year-old conflict has accused the other of using chemical weapons – an action that which would constitute a war crime under international law. Two of the alleged attacks took place in Aleppo in March and Homs in December.
An investigation looking specifically into claims of chemical weapons use in Syria was ordered by the UN Secretary-General, Ban Ki-moon, in late March. The Syrian government wants the UN team to investigate only the Aleppo attack, but the UN has insisted that the inquiry cover both incidents.
An official involved with the investigation into chemical weapons in Syria use told The Independent yesterday that a two-person advance team was waiting in Cyprus to enter Syria and perform onsite inspections. But nearly six weeks after Syria initially asked for such an inquiry, investigators have been unable to enter the country.
"The Syrian government wants an inspection of just one site in Aleppo, we have asked for inspections for two places," the official said.
The official added: "There is no substitute to onsite inspections and that is what we are waiting for."
The investigation to which Ms Del Ponte referred was launched in August 2011 to look into war crimes and other human rights violations in Syria. It is separate from that which was announced by Ban Ki-Moon into chemical weapons use.
A UN source told The Independent that Ms Del Ponte's investigation is broader than the one focusing purely on chemical weapons use, but that chemical weapons falls under its remit.
The source said that the commission gathered over 1000 testimonies from those in Syria via Skype, and from those who have fled Syria into neighbouring countries.
Meanwhile, the Foreign Office expressed concern yesterday over the claims, but called for more investigation.
A spokesman said: "Use of chemical weapons is a war crime and reports of their use is extremely concerning. Evidence is limited at this time and we are working actively with our allies, partners and the UN to get more and better information."
The allegations by Ms Del Ponte come after Israel carried out a series of air strikes on Syrian military targets early Sunday. Israeli officials have said the strikes were against long-range missiles being transported to Hezbollah in Lebanon.
The Syrian civil war, which began with anti-government protests in March 2011, has now claimed an estimated 70,000 lives and forced 1.2 million Syrian refugees to flee.
Join our commenting forum
Join thought-provoking conversations, follow other Independent readers and see their replies