Israel lashes out over UN settlements vote by withdrawing ambassadors and halting aid
Diplomatic representatives to New Zealand and Senegal withdrawn as Israeli official accuses US of 'abandoning' the country by abstaining on Security Council resolution 
Saturday 24 December 2016 11:21
comments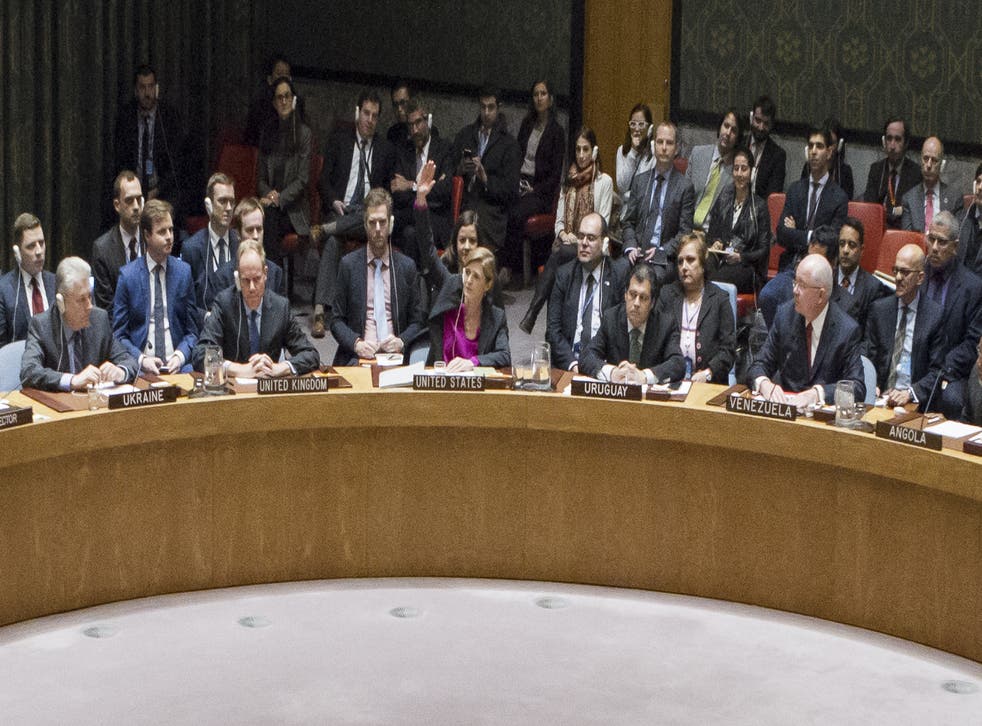 Israel has taken diplomatic action against the countries that co-sponsored a controversial UN resolution condemning settlement building in the West Bank and Jerusalem.
The 15-member Security Council voted 14 - 0 on the proposed measure on Friday, with US ambassador Samantha Power raising her hand as the lone abstention – a symbolic break with US policy in the past, which has been to veto similar resolutions.
The resolution was put forward by New Zealand, Senegal, Malaysia and Venezuela, taking place just a day after Egypt withdrew it following significant pressure from both Israel and President-elect Donald Trump.
It was met by applause in the chamber, but furious reaction from Israel. An official speaking on condition of anonymity told the Associated Press that President Obama and Secretary of State John Kerry had effectively "abandoned" the country by allowing the resolution to pass.
The Obama administration's decision not to shield Israel from the UN's vote calling Israeli expansion a "flagrant violation of international law" has been widely interpreted as a rebuke to Israel's government, despite the fact the US continues to send more than $3bn (£2.4bn) in military aid to the country each year. Mr Obama's parting shot of an abstention was the result of "an absence of a meaningful peace process", the White House said.
Relations between the US and Israel under Mr Obama's tenure have become somewhat strained, and Israeli Prime Minister Benjamin Netanyahu has made no secret of the fact that he is glad his counterpart is leaving office.
Incoming US President Donald Trump is more likely to be friendlier towards the country, tweeting after the vote, "As to the UN, things will be different after Jan 20th" – when Mr Trump takes office.
The new resolution demands that Israel "immediately and completely cease all settlement activities in the occupied Palestinian territory, including East Jerusalem", pointing out that the international community views any Israeli construction over the agreed 1967 Green Line as illegal.
Israeli man starts charity to get injured Syrians to Israel for medical treatment
While it will not have any practical impact, the resolution is a "significant step" in reconfirming the UN's hopes for a two-state solution to the Israeli-Palestinian conflict, outgoing Secretary General Ban Ki-moon said on Friday.
The vote was welcomed by Palestinian representatives. A spokesperson from Palestinan Authority President Mahmoud Abbas' office called it a "big blow to Israeli policy, a unanimous international condemnation of settlements, and a strong support for the two-state solution".
Settlement building – which has accelerated year-on-year under current right-wing Prime Minister Netanyahu – is viewed as one of the major stumbling blocks to a lasting peace deal.
Israel's envoy to the UN, Danny Damon, called the vote "shameful" and a "victory for terror". Israel has said it will not abide by the measures set out in the document.
Remembering the Israel-Gaza conflict

Show all 12
In Jerusalem, Mr Netanyahu immediately recalled Israel's ambassadors to New Zealand and Senegal, who were ordered to return for consultations. All current aid to Senegal was to be suspended, the prime minister's office said, and an upcoming visit from Senegal's Foreign Minister Mankeur Ndiaye cancelled.
Israel does not have diplomatic relations with either Malaysia or Venezuela.
Defending New Zealand's vote on Saturday, the country's Foreign Minister Murray McCully said: "We have been very open about our view that the [UN Security Council] should be doing more to support the Middle East peace process and the position we adopted today is totally in line with our long established policy on the Palestinian question.
"The vote… should not come as a surprise to anyone and we look forward to continuing to engage constructively with all parties on this issue."
Join our new commenting forum
Join thought-provoking conversations, follow other Independent readers and see their replies