UN weapons inspectors confirm chemical weapons were used in Syria – and probably in several locations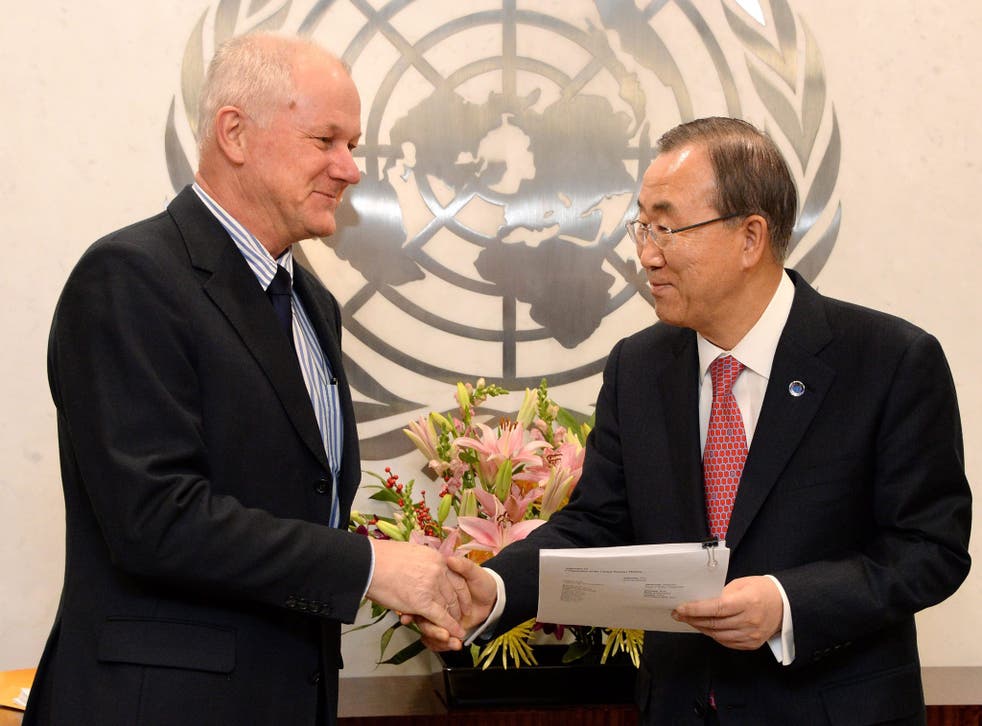 Chemical weapons were used in Syria, UN weapons inspectors have said, and probably in several locations.
The Chief UN chemical weapons inspector's final report on the use of chemical weapons was handed into Secretary-General Ban Ki-moon on Thursday. He is due to address the 193-member General Assembly on Friday and the Council on Monday about the inspector's findings.
The Associated Press reported that chemical weapons had "probably" been used at five out of seven sites inspected. Syria's bloody civil war has claimed more than 100,000 lives, the UN said.
"The United Nations Mission concludes that chemical weapons have been used in the on-going conflict between the parties in the Syrian Arab Republic," the final report by chief UN investigator, Professor Ake Sellstrom, said.
The report noted that in several cases the victims included soldiers and civilians, though it was not always possible to establish with certainty any direct links between the attacks, the victims and the alleged sites of the incidents.
Prof Sellstrom issued an initial report on 16 September which concluded that evidence collected in the Ghouta area of Damascus following an 21 August attack, which killed hundreds, provided "clear and convincing evidence that surface-to-surface rockets containing the nerve agent Sarin were used".
The latest report said it had evidence that chemical weapons had been used in Ghouta, Khan al-Assal, Jobar, Saraqueb and Ashrafieh Sahnaya. However, the inspectors said they could not corroborate their use in Bahariyeh and Sheik Maqsood
In Ghouta, the report said craters from missile strikes were found to "contain Sarin" while blood and urine samples from patients were positive for the agent.
Health authorities had provided evidence of a "rapidly onsetting mass intoxication by an organophosphorous compound in the morning" of 19 March during the attack on Khan al-Asal, the inspectors found. But they added that the "credible evidence" of chemical weapons use could not be independently verified.
Officials found that during the attack on Saraqueb on 24 August chemical weapons were likely to have been used on a "small scale, also against civilians". Samples from several organs of a deceased victim examined during autopsy tested positive for signatures of Sarin.
The reported said: "The United Nations Mission remains deeply concerned that chemical weapons were used in
the ongoing conflict between the parties in the Syrian Arabic Republic, which has added yet another dimension to the continued suffering of the Syrian people."
The confirmed use of chemical weapons in Ghouta, and the threat of possible US military action, led to a US-Russian agreement to eliminate Syria's chemical weapons.
Join our new commenting forum
Join thought-provoking conversations, follow other Independent readers and see their replies