Record number of women killed in US-led air strikes in Syria and Iraq in May
May second deadliest month for civilians since coalition air strikes began in August 2014, according to Airwars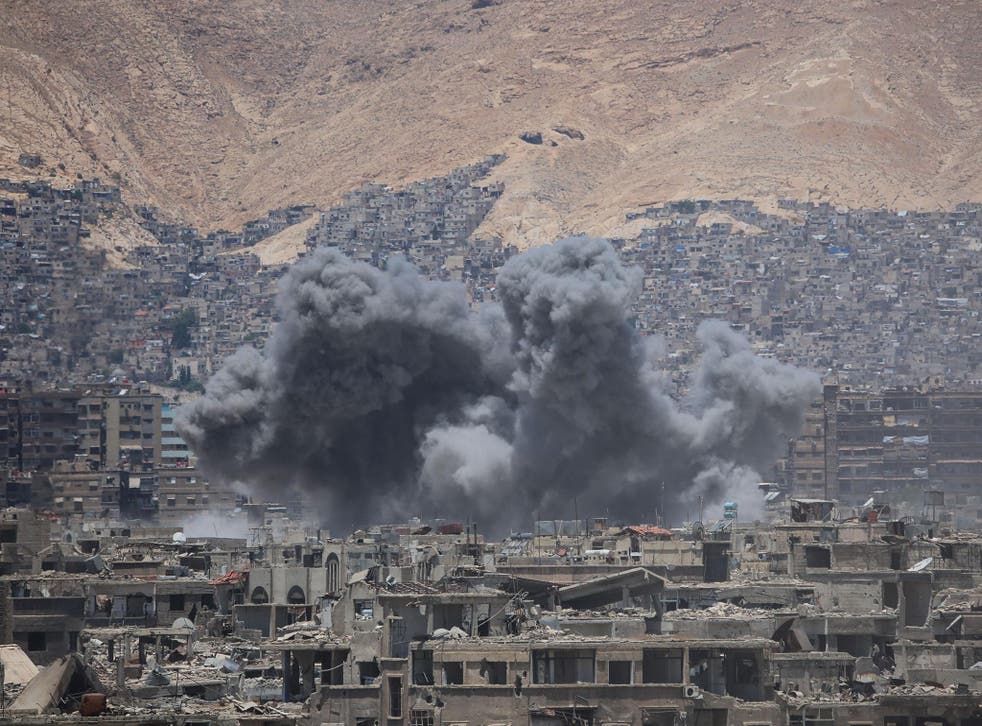 A record number of women were killed in US-led coalition air strikes against Isis targets in Syria and Iraq last month, a monitoring tracking civilian casualties caused by airstrikes in the Middle East has said.
At least 57 women died in coalition air strikes in May, along with a minimum of 52 children, according to Airwars, a British non-profit organisation.
According to the group's estimates, last month was the second deadliest month for civilians since coalition air strikes began in August 2014, with likely civilian deaths from coalition air strikes rising by 23 per cent compared to April.
A minimum of between 348 and 521 civilians were killed across Syria and Iraq in likely coalition in air strikes, its May report found.
Used as a human shield by Isis: "My family was blown pieces in the street"
It has reported "an unprecedented and sustained rise" in reported civilian deaths since the campaigns to liberate the Isis-held cities of Raqqa and Mosul began to escalate in January.
In the first five months of this year, the group tracked a third more likely civilian deaths from coalition strikes in Iraq and Syria than during the entirety of 2016.
Such a rise supports Donald Trump's pledge to "bomb the s**t" out of Isis while he was campaigning to become President of the US.
Meanwhile, Russia has scaled down its campaign after a partial ceasefire was agreed in December 2016, meaning civilian casualties linked to the coalition outnumbered those allegedly perpetrated by Russia in Syria for the fifth month in a row.
Over two and a half times more casualty events were attributed to the coalition in Syria and Iraq than to Moscow's actions in Syria, the report said.
In pictures: Isis' weapons factories

Show all 11
Airwars' report for May said more civilians are dying even though fewer targets are being hit in Raqqa, which they said suggests a possible change to the coalition's rules of engagement which is placing civilians in greater risk.
However, US military officials have previously insisted there have been no changes to the rules of engagement in Iraq and Syria, despite Mr Trump's campaign pledges.
It said as the campaigns to liberate Mosul and Raqqa intensified, civilians were repeatedly put at risk, whether in their homes or as they attempted to flee the wartorn cities and towns.
A CENTCOM spokesperson said: "The Coalition takes all allegations of civilian casualties seriously and assesses all credible allegations of possible civilian casualties.
"Coalition forces work diligently and deliberately to be precise in our air strikes. Coalition forces comply with the law of armed conflict and take all reasonable precautions during the planning and execution of air strikes to reduce the risk of harm to civilians.
"The Coalition respects human life and is assisting partner forces in their effort to liberate their land from Isis while safeguarding civilians. Our goal is always for zero civilian casualties."
Airwars uses various methods to investigate and confirm civilian casualties, relying on local news outlets, NGOs, civilian volunteers and social media.
Register for free to continue reading
Registration is a free and easy way to support our truly independent journalism
By registering, you will also enjoy limited access to Premium articles, exclusive newsletters, commenting, and virtual events with our leading journalists
Already have an account? sign in
Register for free to continue reading
Registration is a free and easy way to support our truly independent journalism
By registering, you will also enjoy limited access to Premium articles, exclusive newsletters, commenting, and virtual events with our leading journalists
Already have an account? sign in
Join our new commenting forum
Join thought-provoking conversations, follow other Independent readers and see their replies