US shoots down pro-Assad drone in Syria
The drone was said to be 'displaying hostile intent'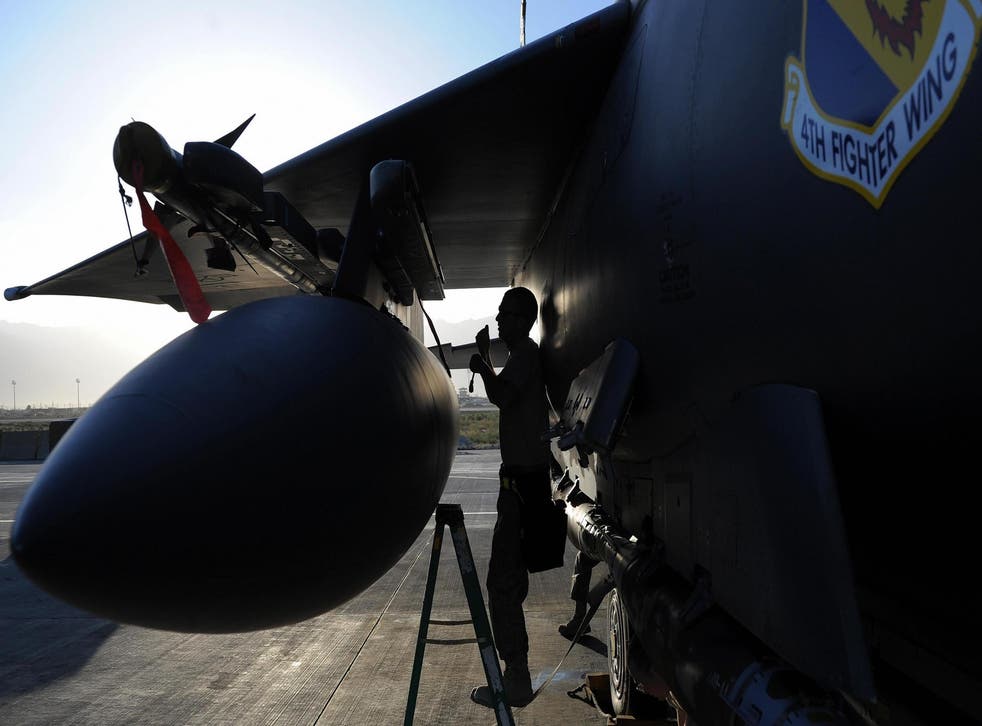 A US fighter jet has shot down a pro-Syrian regime drone just outside the Syrian de-confliction zone, according to US Central Command (Centcom).
Centcom said an American F-15E fighter jet shot down a drone that was advancing on Coalition forces in Southern Syria and "display[ing] hostile intent". Officials told CNN the drone appeared to be armed and within firing distance of US troops.
"Given recent events, the Coalition will not allow pro-regime aircraft to threaten or approach in close proximity to Coalition and partnered forces," Centcom said in a statement.
This marks the third downing of an aircraft backing Syrian President Bashar al-Assad this month.
The incident comes just days after a US fighter jet shot down a Syrian regime warplane that was dropping bombs near US-backed Syrian Democratic Force (SDF) fighters.
That downing drove the Russian government, which supports Mr Assad's regime, to announce they would treat American aircraft in some parts of the country as "targets".
In pictures: US missile strike against Syria

Show all 7
Earlier this month, US forces shot down a similar drone that officials say fired on a military training camp housing US-backed troops.
These incidents indicate an escalating conflict near the training camp, located near the Syrian-Jordanian border, where the US says it is training troops to fight Isis.
Iranian-backed, pro-Assad troops have been encroaching on the area, adding to tensions.
The camp sits inside a roughly 50km de-confliction zone recently established by the US. Centcom said any "demonstrated hostile intent" toward their forces in the area "will not be tolerated".
The US has already launched two direct attacks on pro-Assad forces entering the deconflcition zone.
"The Coalition does not seek to fight Syrian regime, Russian, or pro-regime forces partnered with them, but will not hesitate to defend Coalition or partner forces from any threat," Centcom said on Tuesday.
The Russian Defence Ministry has contradicted this account of US operations in the country, calling the recent downings a "flagrant violation of international law" and "actual military aggression against the Syrian Arab Republic".
They Russians accuse the US of operating "under the guise of 'combating terrorism'."
The UN, meanwhile, has said US-led airstrikes in Syria are killing a "staggering" number of civilians.
Paulo Pinheiro, chair of the Independent International Commission of Inquiry on Syria, warned that the war against terrorism in the country must not come "at the expense of civilians who unwillingly find themselves living in areas where Isis is present".
Register for free to continue reading
Registration is a free and easy way to support our truly independent journalism
By registering, you will also enjoy limited access to Premium articles, exclusive newsletters, commenting, and virtual events with our leading journalists
Already have an account? sign in
Register for free to continue reading
Registration is a free and easy way to support our truly independent journalism
By registering, you will also enjoy limited access to Premium articles, exclusive newsletters, commenting, and virtual events with our leading journalists
Already have an account? sign in
Join our new commenting forum
Join thought-provoking conversations, follow other Independent readers and see their replies