Donald Trump: Prospect of Republican hopeful becoming US President sparks fear in the Middle East
Many Arabs see the Republican presidential hopeful as a bigot, while Israel is concerned his isolationist foreign policy pledges will harm their interests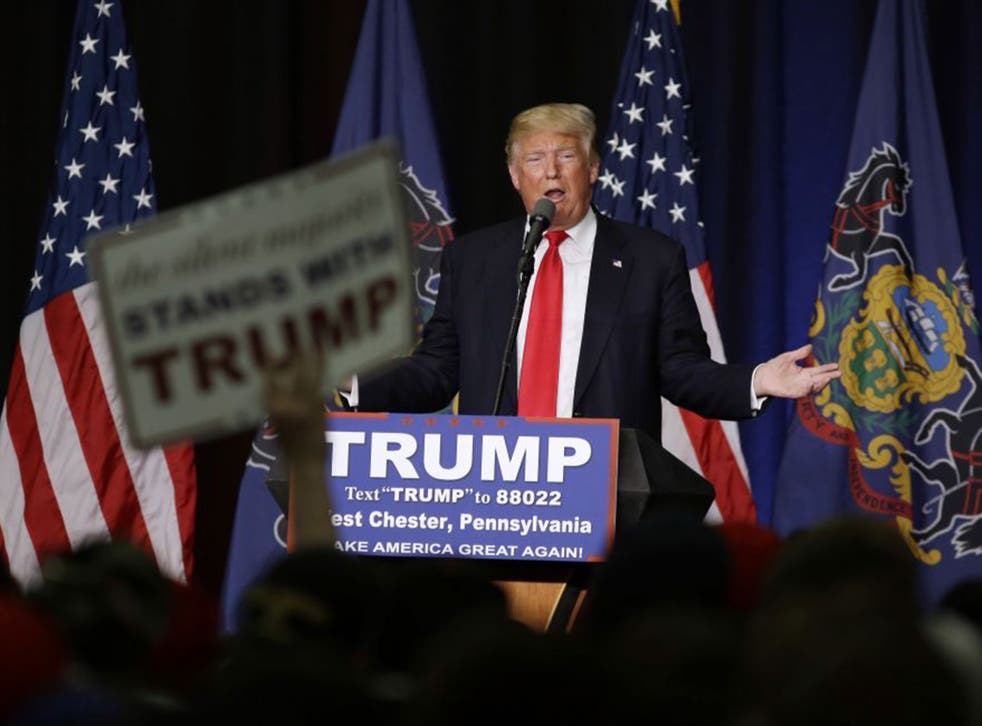 During his first major foreign policy address earlier this week, Donald Trump – sticking to a teleprompter – deliberately avoided some of the more incendiary statements that have marked his campaign for the US presidency. But his speech did nothing to reduce a widespread sense of alarm in the Middle East over his run for the White House.
Galia Golan, an Israeli political scientist and a founder of the Israeli Peace Now movement, believes the most telling indicator of what Middle Easterners can expect from Mr Trump if he wins the presidency are what she – and many others – see as his racist pronouncements towards Mexicans and Muslims, including his call in December for a temporary ban on Muslim entry to the United States. "I start from the premise that he's a bigot," said Ms Golan. "There's nothing in his campaign to suggest he would be a rational leader."
"I would expect him to be very anti-Arab, not because he's trying to please the Jewish lobby, but rather because he's bigoted. He will probably look on Arabs as inferior. I suspect he would be a strong supporter of Israel out of disdain for Arabs as a people. Israel could expect the continuation of all the military aid it gets and support at the UN."
But some whose sympathies lie with the ruling Israeli right are also finding cause to worry about Mr Trump's stunning successes. They see in Mr Trump's invocation of an "America First" position, a possible harbinger of a foreign policy of isolationism that would harm Israeli interests. "Trump is an unknown, I think he himself doesn't know what he would do, but the worrying thing is that he is speaking the language of isolationism," said Shmuel Sandler, a political scientist at Bar-Ilan University near Tel Aviv. "The US has been disengaging in the region under [President Barack] Obama and we want this to stop. Israel greatly needs the US in the region. Isolationism would leave the door open for Iran and Russia."
In his speech, Mr Trump said that containing the spread of radical Islam must be a major foreign policy goal and added that he would work closely with US allies in the Middle East to combat extremism. He reiterated his past opposition to the nuclear agreement with Iran and hit out at the Obama administration for allegedly having a tepid attitude towards Israel, while enabling Tehran to emerge as a "great, great power." He also criticised the Obama administration for mistaken policies towards Syria, Iraq and Libya that facilitated the growth of Isis, a group whose days, he said, would be "numbered" under a Trump administration. He flayed the administration for backing the ousting of Egyptian President Hosni Mubarak and enabling the rise of Muslim Brotherhood rule there, part of policy-making that he said was based on "a dangerous idea that we could make Western democracies out of countries that had no experience or interests in becoming a Western democracy." He did not mention the word Palestinian or refer to Arab-Israeli negotiations.
Talal Awkal, a Gaza based columnist for Al-Ayyam newspaper, bristled at Mr Trump's terming of Israel "a force for justice and peace."
"This means that he is committed to the historical policy and strategy of the US based on strengthening Israel and seeing it as the only democracy in the area. In his estimation, the Palestinians have no rights compared to 'democratic' Israel," Mr Awkal said. He added that he has no expectation that the US will adopt a more even handed policy towards the Israeli-Palestinian conflict, no matter who becomes president.
In Cairo, Kamal Mugheeth, a scholar at the National Center for Educational Research, voiced concern that human rights in the region would deteriorate under a Trump presidency. ''The racists who divide humanity up by colour or religion are by definition against human rights. For sure he'll support the actors hostile to human rights throughout the Middle East. His victory will be extremely bad for all the Middle East.''
Donald Trump Flubs Pronunciation of 'Tanzania'.mp4
Emad el-Din Hussein, editor in chief of the Cairo newspaper Al-Shorouk, told the Associated Press that Mr Trump would be the "best gift" to Isis because his presidency would strengthen violent anti-Western sentiment in the Middle East.
But Sabri Rbeihat, a former minister for political development in the Jordanian cabinet, said that Mr Trump would be different when in power, compared to the person people see out on the campaign trail. "I don't think he'll make it to the presidency but if he does it doesn't worry me that much," he said. "First of all he'll try to mend the cracks that he made. He knows that not everything he said will translate into action because of the reality of the world. He will not risk the relations [that have been] established for a long period of time".
Mr Rbeihat said that proposals from Mr Trump, such as trying to prevent Muslims from coming to the US "do not have the support of allies".
He added: "[Mr Trump's] hate speech is very alarming but there will be a huge difference between the rhetoric and the reality of governing the world.''
People who will flee America if Donald Trump wins

Show all 8
Walid Phares, a Trump campaign adviser for foreign policy, dismissed the criticism that Mr Trump is racist during an interview published in the London-based Arabic language daily al-Hayat. "There is no evidence of that on the personal side, indeed the opposite is the case. His companies have a large number of employees of various ethnicities and Muslims, and women have a central role in his companies. An important share of his investors are from the Arab and Muslim worlds and he has Arab and Muslim partners"
In an assertion Mr Trump himself has not made as he courts the Jewish vote, Mr Phares went on to predict that Mr Trump could achieve more for the Palestinians than any previous American president. "He'll be a fair mediator. He has good relations with the Jewish community and credit with the Israelis; he's the only one capable of making a balanced peace that achieves the interests of both sides. He knows solving the Palestinian issue is a guarantee for achieving stability in the region."
Join our new commenting forum
Join thought-provoking conversations, follow other Independent readers and see their replies