US hostage Theo Curtis freed by Jabhat Al-Nusrah after two years' captivity, says John Kerry
Al-Nusrah is allied to al-Qa'ida, which has disassociated itself from Isis as it views the militant group as too extreme
Ian Johnston
Monday 25 August 2014 03:15 Comments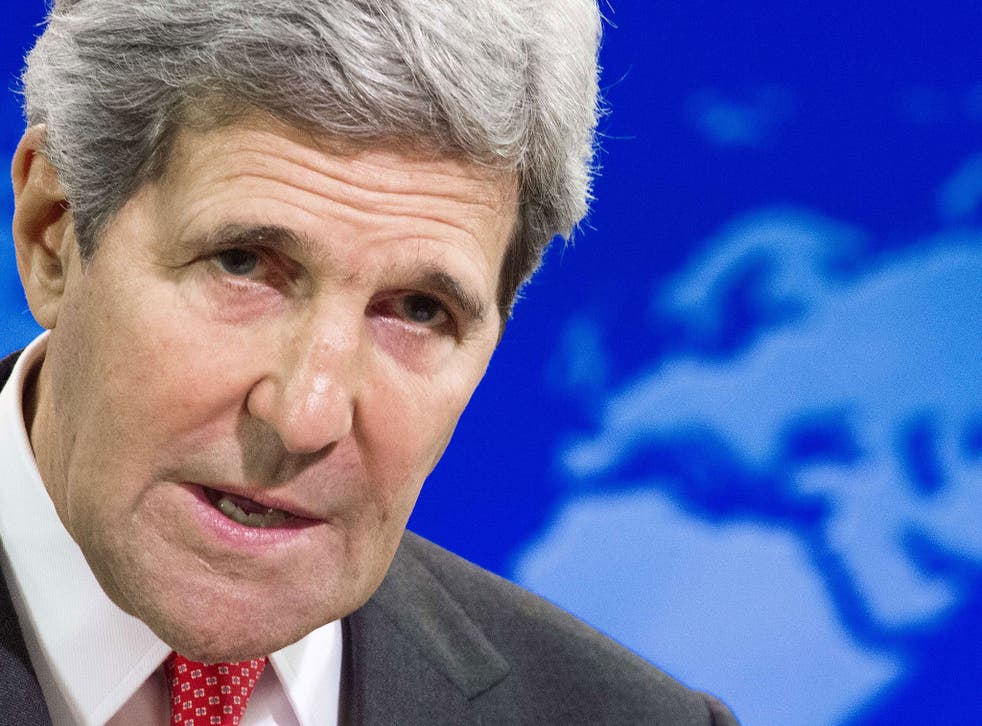 An American held hostage by an Islamist group in Syria for about two years has been freed, US Secretary of State John Kerry confirmed today.
Mr Kerry said Theo Curtis was "returning home" after prolonged negotiations to secure his release involving more than 20 different countries.
He said that, following the "unspeakable tragedy" of the beheading of US journalist James Foley by the extreme Islamist group Isis last week, "we are all relieved and grateful knowing that Theo Curtis is coming home after so much time held in the clutches of Jabhat Al-Nusrah".
Al-Nusrah is allied to al-Qa'ida, which has disassociated itself from Isis as it views the militant group as too extreme.
In pictures: James Foley

Show all 11
Mr Kerry said: "For two years, this young American has been separated from his family. Finally he is returning home. Theo's mother, whom we've known from Massachusetts and with whom we've worked during this horrific period, simply refused to give up and has worked indefatigably to keep hope alive that this day could be a reality.
"Over these last two years, the United States reached out to more than two dozen countries asking for urgent help from anyone who might have tools, influence, or leverage to help secure Theo's release and the release of any Americans held hostage in Syria.
"Every waking hour, our thoughts and our faith remain with the Americans still held hostage and with their families, and we continue to use every diplomatic, intelligence, and military tool at our disposal to find them and bring our fellow citizens home."
The UN said in a statement that Mr Curtis had been released by his captors in Al Rafid village in the Golan Heights, at 6.40pm local time yesterday.
"After receiving a medical check-up, Mr. Curtis was handed over to representatives of his government," it said.
Al Jazeera TV news reported that officials from Qatar had helped broker Mr Curtis' release.
Mr Curtis was abducted in Antakya, Turkey, in October 2012 when he was preparing to cross into Syria.
In June, a video of Mr Curtis was released by his captors in which he said his name and that he was a journalist from Boston, Massachusetts. It was unclear which media organisation he was working for.
He said in the film that "everything has been perfect, food, clothing, even friends now".
Mr Curtis' mother, Nancy Curtis, said in a statement from the family: "Please know that we will be eternally grateful.
"My heart is full at the extraordinary, dedicated, incredible people, too many to name individually, who have become my friends and have tirelessly helped us over these many months."
And his cousin Viva Hardigg said: "He seems to be in good health. We are deeply relieved and grateful for his return and the many people who have helped up secure his freedom.
"At the same time, we are thinking constantly of the other hostages who are still held and those working to help them be freed. We want to do everything we can to support their efforts."
Mr Curtis wrote under the byline Theo Padnos, officials and family members said.
The Associated Press contributed to this report
Register for free to continue reading
Registration is a free and easy way to support our truly independent journalism
By registering, you will also enjoy limited access to Premium articles, exclusive newsletters, commenting, and virtual events with our leading journalists
Already have an account? sign in
Join our new commenting forum
Join thought-provoking conversations, follow other Independent readers and see their replies