Video: Israeli police arrest woman after allegedly setting a petrol pump on fire
Why you should never use a lighter in a petrol station
Kiran Moodley
Wednesday 29 April 2015 14:19 Comments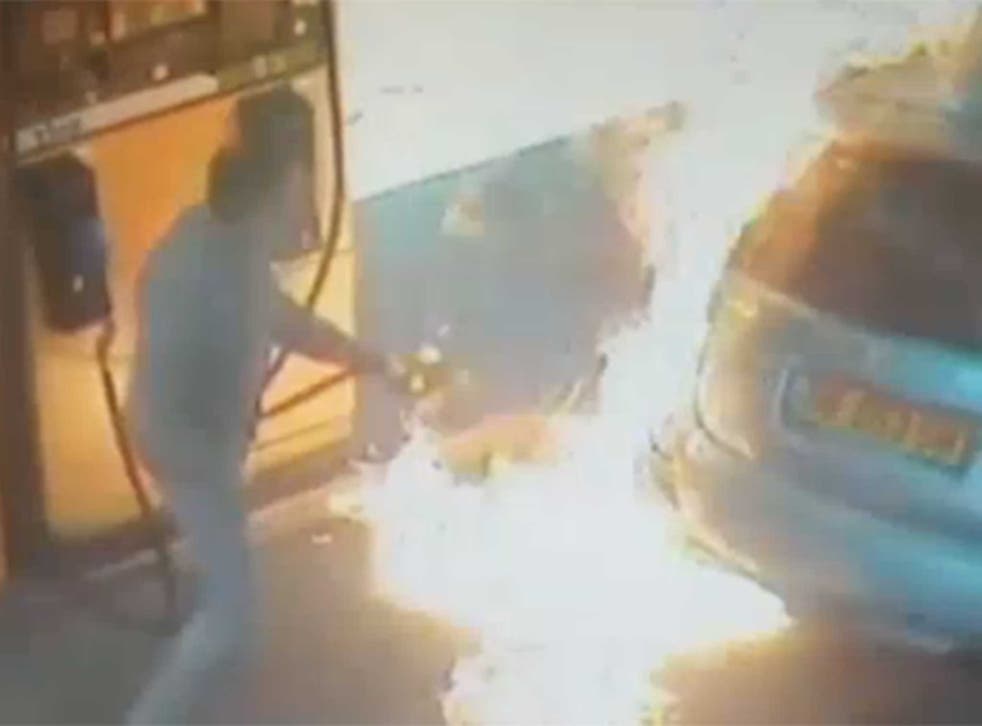 Israeli police have arrested a woman caught on camera allegedly setting a petrol pump on fire while at a gas station in Jerusalem.
CCTV footage of the astonishing scene shows a woman, believed to be in her mid thirties, come up to a man who is refilling his car on the forecourt. She briefly chats to the man before moving away. She then returns and appears to go near to where the pump is filling up the vehicle's tank.
Suddenly, a fire begins around the pump and the woman runs away. The man, clearly shocked by the flames engulfing his vehicle, pulls the pump away from his car, yet this only makes the flames spread further, forcing the man to run out of view of the CCTV footage.
Within just a matter of seconds the car is completely on fire. It later emerged that the driver's brother was seated inside the vehicle when the incident took place, but that fortunately he was not harmed.
A police spokesman said in a written statement, "A woman approached a man while filling his petrol tank and asked for a cigarette, when he refused to give it to her she pulled out a lighter from her pocket and ignited the petrol pump. The car owner reacted quickly by pulling the pump that was on fire from his tank and fleeing.
"Petrol station workers extinguished the fire."
The woman in question was arrested shortly afterwards, and she denied any involvement in the incident. A court in Jerusalem has now extended her arrest by five days and sent her for psychological evaluations.
Register for free to continue reading
Registration is a free and easy way to support our truly independent journalism
By registering, you will also enjoy limited access to Premium articles, exclusive newsletters, commenting, and virtual events with our leading journalists
Already have an account? sign in
Join our new commenting forum
Join thought-provoking conversations, follow other Independent readers and see their replies