Violence flares in Middle East as Israel and Gaza exchange attacks amid West Bank protests
Israel launches air strike on Gaza following rocket attacks as Palestinians demonstrate in Hebron against death of prisoner in Israeli jail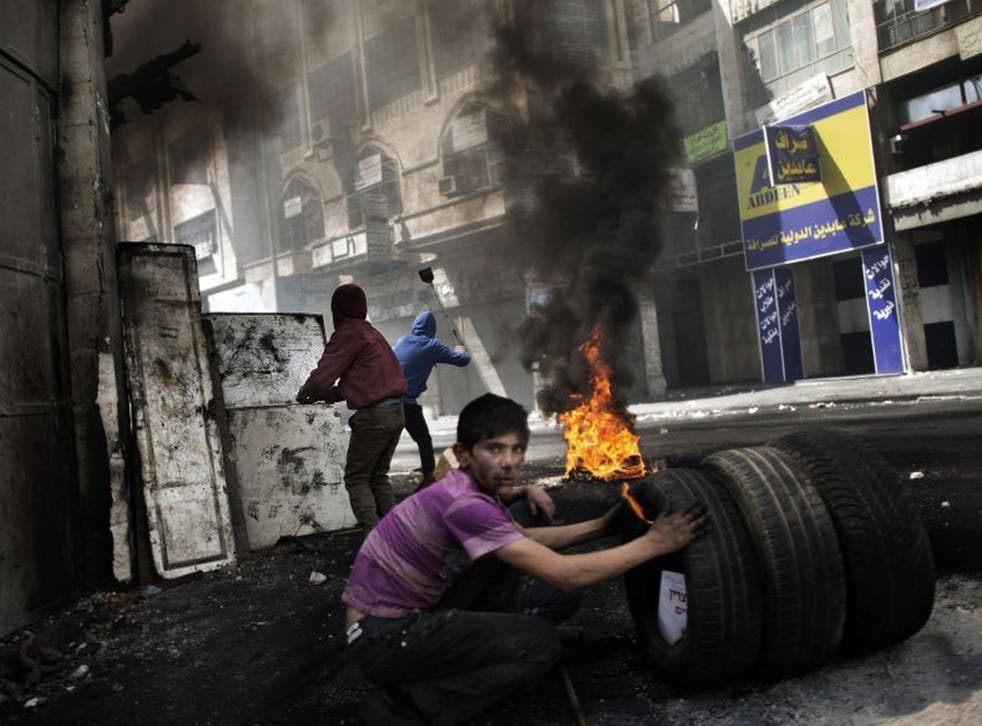 Four months of fragile calm between Israel and Islamist groups in Gaza threatened to shatter today as the Israeli air force fired into the Palestinian enclave in response to rockets being fired across the border.
Israeli officials said earlier today that two rockets had hit close to the town of Sderot, following a similar attack on Tuesday. In between, the Israeli air force said that it had targeted, "two extensive terror sites" in Gaza on Tuesday night. None of the attacks caused any death or injury.
The violence – the heaviest for months - comes after Israel and Hamas, the Islamist group that runs Gaza, agreed a ceasefire in November to end an eight day war between the two sides in which 170 Palestinians and six Israelis were killed.
Israel does not necessarily blame Hamas for firing the rockets over the last few days – there are several militant groups that operate from Gaza – but it holds the group responsible for keeping the peace.
Speaking after the raid on Gaza, Israel's new defence minister, Moshe Yaalon, said: "Last night the IDF launched a strike on Gaza [in response to a series of mortars fired against Israel]. We hold the Hamas responsible for all firing from Gaza. We will not allow shooting of any sort towards our citizens and our forces. As soon as we identify the source of the fire, we will take it down without hesitation, as we did last night and in previous cases…"
The Israeli military said a total of five rockets had been fired in the past 24 hours, including two that exploded prematurely inside Gaza.
Palestinian officials said that no damage was reported in Gaza. "Occupation planes bombarded an open area in northern Gaza, there were no wounded," according to the Hamas interior ministry.
The violence comes just days before US Secretary of State John Kerry arrives in Jerusalem on Saturday for talks with Israeli Prime Minister Benjamin Netanyahu, and in Amman on Sunday for a meeting with Palestinian President Mahmoud Abbas. Mr Kerry is hoping to move forward peace talks between the two sides, which have been given renewed impetus since last month's visit to the region by Barack Obama.
This week's violence follows the death in prison on Tuesday of Maysara Abu Hamdiyeh, a member of Hamas who was jailed in 2002 for planning to blow up a café in Jerusalem. Abu Hamdiyeh died after being diagnosed with cancer of the oesophagus but Palestinians blame Israeli for his death, arguing that he did not receive sufficient medical care. The Israeli prison service has confirmed that an appeal for his early release on medical grounds was not heard in time.
As well as the rocket fire, on Tuesday there were protests in several West Bank towns, where Israeli security forces fired teargas. Prison authorities also deployed teargas in cell blocks occupied by Palestinian security prisons, who also protested against Abu Hamdiyeh's death.
Ihab Ghussein, the Hamas government spokesman, accused Israel of using the air strikes to "divert the attention" from unrest in Israeli prisons. "They think that through escalation on Gaza front they can hide the truth," he said.
Abu Hamdiyeh is expected to be buried amid high security in the flashpoint town of Hebron tomorrow, with a heavy police presence expected in anticipation of further demonstrations. His body was yesterday handed over to his family who said they would conduct their own post mortem.
The issue of Palestinian prisoners in Israeli jails is particularly emotive, with many held in high esteem in the West Bank and Gaza. In response to Abu Hamdiyeh's death, Mr Abbas, who is head of the rival Palestinian faction to Hamas, Fatah, said: "we were surprised with the death of our brother prisoner. We attempted to have him released and take him for treatment, but the Israeli government refused to release him, which led to his death."
This week's rocket fire from Gaza was not the first since the ceasefire was signed in November. Last month, during Mr Obama's visit, rockets fired into Israel hit a school, but again, did not cause any injury.
At the time, Israel said that it respond at a time of its own choosing, but did tighten sanctions against Gaza, including restricting the areas in which Palestinian fisherman could work.
Register for free to continue reading
Registration is a free and easy way to support our truly independent journalism
By registering, you will also enjoy limited access to Premium articles, exclusive newsletters, commenting, and virtual events with our leading journalists
Already have an account? sign in
Register for free to continue reading
Registration is a free and easy way to support our truly independent journalism
By registering, you will also enjoy limited access to Premium articles, exclusive newsletters, commenting, and virtual events with our leading journalists
Already have an account? sign in
Join our new commenting forum
Join thought-provoking conversations, follow other Independent readers and see their replies