War against Isis: Rebels backed by US-led coalition in 'almost complete control' of strategic Syrian stronghold
The Syrian Democratic Forces have been fighting towards Manbij for two months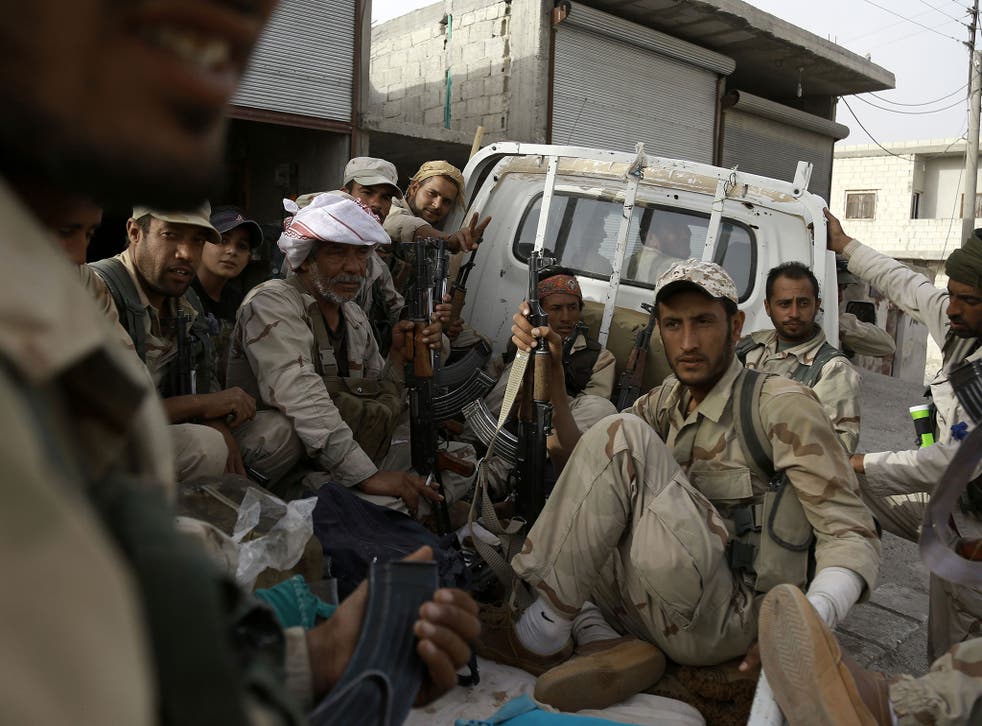 Rebel forces backed by the US-led coalition are reported to be in "almost complete control" of a Syrian city after driving Isis militants out of their former stronghold.
The Syrian Democratic Forces (SDF) alliance has been fighting towards the city of Manbij for two months, seizing swathes of surrounding territory from the so-called Islamic State.
Sharfan Darwish, from the SDF-allied Manbij military council, told Reuters that battles continued but that around 90 per cent of the Manbij had now been cleared of militants.
Syria's war: Thousands of civilians manage to flee Manbij
Meanwhile, the UK-based Syrian Observatory for Human Rights said the SDF was in "almost complete control" of the city on Saturday morning, but that isolated pockets of Isis fighters were waging continuing battles.
Mustafa Bali, a Syria-based Kurdish activist, said the terrorist group still held the major north-western district of Sarab but that it was "a matter of time" before SDF fighters capture the town.
The SDF, which is mostly comprised of Kurdish militias, is being backed by American special forces and coalition air strikes in the campaign that started in June.
The offensive has been a resounding military success, seeing rebels rapidly advance across Isis territory and surround militants in the centre of Manbij, but humanitarian groups say the cost has been high.
Anti-Isis activists from Raqqa is Being Slaughtered Silently have accused the US-led coalition of killing scores of civilians as part of a "scorched earth policy" and letting alleged war crimes by the SDF go unpunished.
At least two American air strikes are being investigated after reports they killed more than 100 civilians and there were humanitarian concerns for civilians trapped in areas still held by Isis.
Timeline: The emergence of Isis

Show all 40
The Manbij offensive has become the key priority of the US-led coalition as pressure to stop the funding and propaganda material inspiring a wave of international terror attacks continues.
A British man, Dean Carl Evans, was killed while fighting against Isis with Kurdish forces in the city last month and was believed to be one of many foreign volunteers in the SDF's ranks.
The region was overrun by extremists during their rapid advance across Iraq and Syria in the summer of 2014 and has since become a hub for the lucrative trade of looted artefacts and other Isis products, due to the city's location near the Turkish border and on an intersection of major roads.
The current campaign aims to re-capture the stronghold and swathes of countryside surrounding the city in the hope of choking the terrorist group's supply routes.
Isis has suffered a series of military losses in Syria including town of Tal Abyad on the Turkish border and ancient city of Palmyra.
Major battles were also continuing in Aleppo on Saturday morning, where an Islamist rebel alliance stormed a regime artillery base as part of efforts to break the siege of opposition-controlled areas.

Register for free to continue reading
Registration is a free and easy way to support our truly independent journalism
By registering, you will also enjoy limited access to Premium articles, exclusive newsletters, commenting, and virtual events with our leading journalists
Already have an account? sign in
Register for free to continue reading
Registration is a free and easy way to support our truly independent journalism
By registering, you will also enjoy limited access to Premium articles, exclusive newsletters, commenting, and virtual events with our leading journalists
Already have an account? sign in
Join our new commenting forum
Join thought-provoking conversations, follow other Independent readers and see their replies