War against Isis: More than 2,000 civilians freed as militants driven out of Syrian city of Manbij
The US-led coalition has been supporting the two-month advance on the city
Lizzie Dearden
Saturday 13 August 2016 13:25 Comments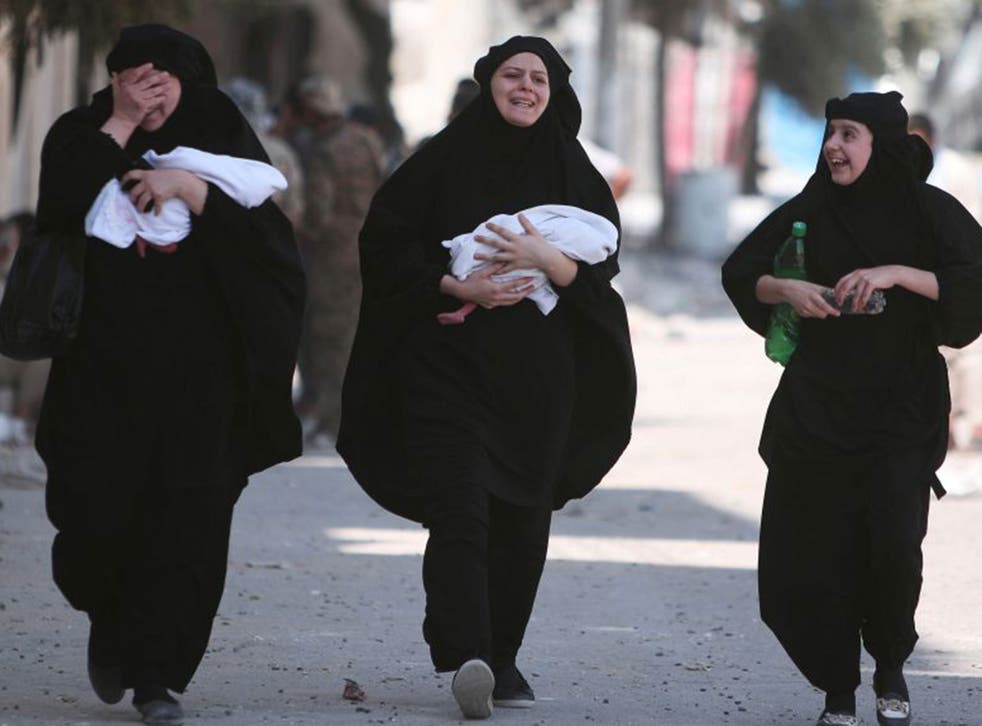 More than 2,000 civilians held captive by Isis as human shields have been freed after militants were driven out of a key stronghold in Syria.
Colonel Chris Garver, a spokesperson for the US-led coalition, hailed the capture of Manbij as a "strategic loss" for the so-called Islamic State.
Jubilant scenes greeted the end of weeks of battles as men, women and children poured into streets now controlled by the Syrian Democratic Forces (SDF) and Syrian Arab Coalition (SAC).
Families ran through rubble-strewn streets, past the ruins of buildings destroyed in air strikes, carrying their babies and belongings.
A trickle of people became a flow of hundreds of civilians, followed by dozens of cars, lorries and vans packed with families finally freed from Isis.
Kurdish television showed men jubilantly having their beards cut off as women ripped off their veils and set them on fire.
Isis forces women to wear the burqa, which covers the entire body apart from the eyes, as part of its interpretation of Sharia law and has also made beards obligatory for men in some strongholds.
One middle aged man broke down in tears of relief and joy, while female SDF fighters and civilians shared emotional hugs.
In pictures: Civilians freed from Isis in Manbij

Show all 11
Others jumped up and down in celebration and danced, with relatives and friends running into each other's arms.
The joyful scenes were a welcome departure from months of siege, air strikes and battles to re-take the city, which was overrun by Isis after the group ousted local rebels in January 2014.
Like other territories in the so-called Islamic State, it was the scene of brutal repression, massacres and gruesome executions including one described by a female British jihadist, Khadijah Dare.
The predominantly Kurdish rebels, backed by the US-led coalition, have been fighting towards Manbij for more than two months under the cover of international air strikes.
A spokesman for the SDF said rebels had taken over the city after the last Isis militants fled on Friday.
Nasser Haj Mansour said Manbij was "under full control," adding that search operations would continue try find any extremists who might be hiding in preparation for an ambush.
The alliance of Arab and Kurdish rebels had driven most Isis fighters out of the city by last week but a remaining band of jihadists continued to resist, capturing the 2,000 civilians as they withdrew from a suburb and driving droving them north in a convoy of hundreds of vehicles.
Sharfan Darwish, from the SDF-allied Manbij military council told Reuters: "While withdrawing from a district of Manbij, Daesh [Isis] jihadis abducted around 2,000 civilians from al-Sirb neighbourhood.
"They used these civilians as human shields as they withdrew to Jarabulus, thus preventing us from targeting them."
It was unclear under what conditions the civilians were freed, although the UK-based Syrian Observatory for Human Rights said an agreement was made between the SDF and Isis using local mediators.
The group said it had seen a letter from SDF forces threatening to push further into Isis territory if militants did not agree to free the captured civilians in exchange for Isis prisoners.
Syrian women burn burkas to celebrate liberation from Isis
More than 1,000 Isis fighters were killed in the offensive, according to the Observatory, as well as around 300 SDF fighters who were met by booby traps and IEDs littering their path into the city.
Monitors recorded the deaths of at least 437 civilians, including 105 children, during the operation from 31 May to 12 August.
The Observatory said 200 of those were killed in air strikes by the US-led coalition, several of which are under investigation, while others died in both Isis and SDF shooting, shelling and bombing.
The Manbij offensive became a key priority of the US-led coalition amid pressure to stop the funding and propaganda material inspiring a wave of international terror attacks.
The city was also used as a hub for the lucrative trade of looted artefacts and other Isis exports, due to the city's location near the Turkish border and on an intersection of major roads.
Manbij is expected to facilitate an advance on Isis's de-facto Syrian capital of Raqqa, which lies 80 miles away.
Register for free to continue reading
Registration is a free and easy way to support our truly independent journalism
By registering, you will also enjoy limited access to Premium articles, exclusive newsletters, commenting, and virtual events with our leading journalists
Already have an account? sign in
Join our new commenting forum
Join thought-provoking conversations, follow other Independent readers and see their replies