War against Isis: Turkey joins Western coalition in fight to stop militants
Politicians commit to fight, but on border Kurds distrust motives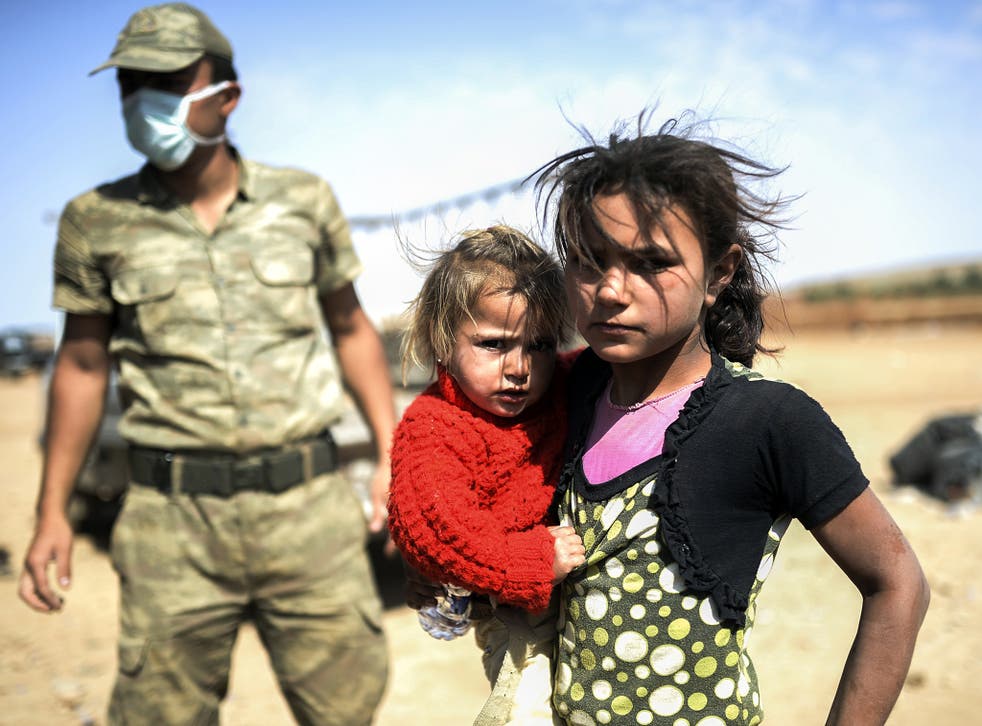 The US-led coalition of nations fighting Isis in Iraq and Syria has finally been joined by Turkey. But even as parliamentarians authorised strikes against militants, Isis fighters continued to advance on the town of Kobane, near the Turkish border.
In Ankara, voted 298-98 in favour of a motion giving the government new powers to launch military action against Isis and allow foreign forces to use its territory for operations against the militants.
Turkey previously rejected action against Isis as the group was holding 46 hostages, including several diplomats, who were released last month.
On Turkey's long and often porous border with Syria, opinions over Turkish involvement in the coalition were split – especially among the Syrian Kurds who have found shelter in Turkey. The vast majority of refugees in Turkey have sons, brothers and fathers in Kobane, who are ready to defend an Isis assault. Today, Isis fighters advanced to within a few miles of Kobane on three sides.
"It will be like Stalingrad," said Ahmad Ali, a 37-year-old Syrian Kurdish fighter from his new home just over the border in Turkey. Ahmad dislocated his right leg three months ago and had to leave his village and comrades in arms on the western front. "If Isis attacks the city, all the streets will run with blood."
Syrians flee to Turkey as Kurds storm Isis strongholds

Show all 15
Suspicion is rife among Turkish and Syrian Kurds about the true motivation of Turkey's entrance into the war. Many believe that the government has helped, not hindered, the growth of Isis. Turkey had previously approved operations into Iraq and Syria to attack Kurdish separatists or to thwart threats from the Syrian regime. Today's motion expands those powers.
Asked what measures Turkey would now take, Defence Minister Ismet Yilmaz told reporters: "Don't expect any immediate steps."
Ahmad retreated to Kobane before leaving for Turkey with his wife and children two weeks ago. He now lives in a donated two-bedroom house in the village of Mizgawli, just over a mile from Syria. The tiny population of around 125 people has doubled since the refugees came streaming across the border.
"If Turkey comes alone to Rojava [the Kurdish name for the three Kurdish cantons in northern Syria], then they will help Isis. They must come as part of the international coalition," said Ahmad.
"My friends on the western front tell me they see the [coalition] strikes hit behind the Isis lines. They can see their tanks in front of them but they don't hit them."
A few houses along, Izadeer Khadr, 45, and his wife Fareeda Hanif, 39, said nothing positive could come from Turkey taking any military role against Isis. "They just want to go and create a buffer zone – this is their excuse," said Izadeer. "If Turkey joins the coalition, it will be for the coalition and not for us. They will not help us if they go in, that is for sure."

The couple's 20-year-old daughter has been fighting with the People's Protection Units (YPG), the Syrian branch of the PKK [the Turkish Kurd Kurdistan Workers' Party], for a year and eight months.
Izadeer's eyes watered as he held forward a passport photograph of his fighter daughter. "We haven't seen her since she left, but we know she is still alive. Her commander knows to call us if she has been martyred," he said. "We feel helpless here, but it is only our bodies that are in Turkey. Our hearts and thoughts are in Kobane."
On the streets of Suruc, the town closest to Kobane in Turkey, a Turkish Kurdish father and son angrily debated the intervention.
Necdet Ozer, 30, believed Turkey was weak and needed to join the international coalition to be able to defend itself. "We need to have a buffer zone, we need to attack Isis and we need the United States to be able to end this war in Syria," he said.
His father Fiyat interrupts: "You are the only one here to have this view. You are not my son any more – how can you say this? All countries that have Kurds – Turkey, Syria, Iraq and Iran – they don't respect us. We need to fight our own battles."
Register for free to continue reading
Registration is a free and easy way to support our truly independent journalism
By registering, you will also enjoy limited access to Premium articles, exclusive newsletters, commenting, and virtual events with our leading journalists
Already have an account? sign in
Register for free to continue reading
Registration is a free and easy way to support our truly independent journalism
By registering, you will also enjoy limited access to Premium articles, exclusive newsletters, commenting, and virtual events with our leading journalists
Already have an account? sign in
Join our new commenting forum
Join thought-provoking conversations, follow other Independent readers and see their replies