War on Isis: Flood of jihadi volunteers to Syria 'unstoppable', warns Turkish Prime Minister
Ahmet Davutoglu says militants likely to remain in control of most of its seized territory for foreseeable future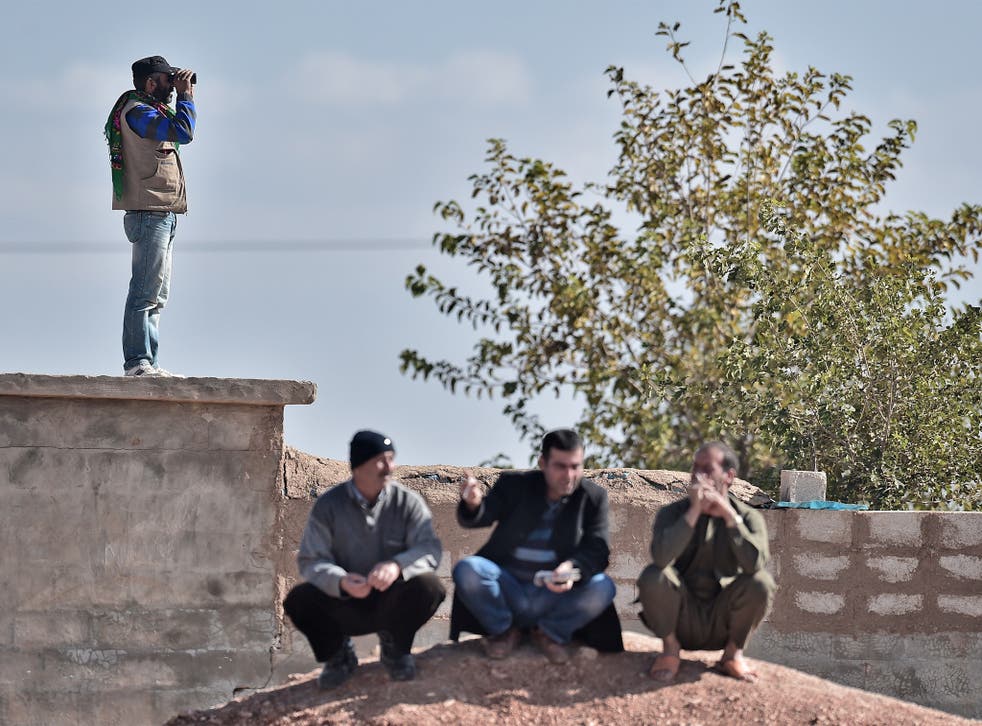 President Barack Obama says that the US is to go on the offensive in Iraq, providing close air support to the Iraqi army when it attacks Isis forces. But Iraqi sources say that the Iraqi army, badly beaten by Isis last summer, is failing to reconstitute itself despite US efforts to retrain it. Even when supported by air strikes, it has made little headway and many of its combat units remain grossly understrength.
Isis is likely to continue to rule most of the territory it has seized in Iraq and Syria because its many enemies are failing to unite and act decisively against it, according to those most familiar with the situation. Neither the Iraqi nor the Syrian army is capable of inflicting a decisive defeat on the self-declared caliphate.
The Turkish Prime Minister, Ahmet Davutoglu, who is visiting London, told The Independent that Turkey is unable to close its 510-mile-long border with Syria, which has been crossed by thousands of foreign jihadi volunteers. He said: "We cannot put soldiers everywhere on the border. In any case, there isn't any state on the other side [of the frontier]." Critics of Turkish policy say that much more could be done to hinder the flow of jihadis in and out of Isis territory and into Turkey.
Mr Davutoglu said that Turkey opposes either Isis or Syrian President Bashar al-Assad winning the war in Syria. He believes that if the international community is not going to send ground troops to Syria "the only alternative is to train and equip moderate opposition forces". Since such a force does not currently exist, and the armed opposition is increasingly dominated by Isis and by the al-Qaeda affiliate Jabhat al-Nusra, Turkey evidently sees a long war with no obvious reason why it should end. The Syrian army is short of recruits and exhausted by four years of war while its three main allies, Russia, Iran and Hezbollah in Lebanon, have problems of their own.
American policy in Iraq and Syria continues to lack a credible strategy to defeat Isis six months after it scored a series of victories over the Iraqi army that left it in control of northern and western Iraq. Mr Obama said that the first phase of a US-led campaign to defeat Isis was over and had involved "getting an Iraqi government that was inclusive and credible – and we now have done that". In the next phase Mr Obama said that the US would provide close air support with air strikes clearing the way for an Iraqi army advance.
In reality, the political and military situation in Baghdad is by no means so rosy, despite Haider al-Abadi replacing the discredited Nouri al-Maliki as Prime Minister. For all Mr Obama's optimism, US officials remain dubious about the real extent of Mr Abadi's authority.
The most significant failing in Iraq is its inability to build up an effective army after it disintegrated at the time of the fall of Mosul, Iraq's northern capital, on 10 June. "Ghost" soldiers abound. Divisions that are meant to have 4,000 combat troops may have only a few hundred men willing to fight.
Timeline: The emergence of Isis

Show all 40
The Iraqi army recaptured the refinery town of Baiji on the Tigris north of Baghdad at the end of last year in one of its few successes. But Isis counter-attacked and recaptured the town which the army is once again trying to clear. Isis said in a statement that a British jihadi, whom it called "Abu Sumayyah al-Britani" had blown himself up near Baijiin in a truck with eight tons of explosives, killing a police general, Faisal al-Zamili.
Contrary to Mr Obama's assertions, the most effective fighting forces of the Baghdad government are the Shia militias that have cleared Isis-held towns south-west of Baghdad and won local victories in the mixed Sunni-Shia province of Diyala north-west of the capital. But the militias terrify Iraq's Sunni population and make it very difficult for the US to use its old strategy of splitting the Sunni community and turning the Sunni tribes against Isis.
In Syria, Isis is benefiting from the disarray and internecine hatreds of its opponents. Mr Davotoglu brushed aside reports that the US is no longer committed to ousting Mr Assad because it fears that, if he did go, Isis, Jabhat al-Nusra and other al-Qaeda-type groups would be the main beneficiaries. Mr Davutoglu said he did not believe these reports and that the US had been saying openly and "telling us behind closed doors" that it still wants Assad to go.
Turkey plays a crucial role in the Syrian crisis because of its long border with Syria, part of which is now controlled by Isis. Mr Davutoglu describes how Turkey's close relations with Mr Assad – "I visited there 62 times in 10 years" – soured in 2011 when "Assad started to kill his own people".
Mr Davutoglu makes no secret of his irritation at the way in which Turkey's motives and actions are misinterpreted as sympathy for Isis. He points out that Turkey is looking after 1.5 million Syrian refugees who have fled Assad and 200,000 who have fled Isis in Syria, in addition to 300,000 Iraqis who have been forced to flee because of Isis advances.
With some justice, the Turkish Prime Minister says that Isis was the creation of the war in Iraq and the US occupation after 2003 and Turkey had nothing to do with it.
Nevertheless, Turkey's policy in Syria has zig-zagged backwards and forwards, notably when Isis attacked the Syrian Kurds at Kobani and almost captured the town in October. The Turkish President, Recep Tayyip Erdogan, denounced its defenders, the Syrian branch of the Kurdistan Workers' Party, as terrorists who were just as bad as Isis. But Turkey let Syrian Kurdish refugees into the country as well as allowing 150 Iraqi Kurdish Peshmerga to transit Turkey to reinforce Kobani.
The Americans find it easier to co-operate with the Iraqi Kurds than with the Iraqi army or the Shia militias. The Peshmerga has launched an offensive from the Mosul Dam near the town of Tal Afar that is held by Isis, west of Mosul. Advancing with the aid of US air strikes – there were at least 23 on Tuesday and yesterday in Iraq and Syria – in this largely open landscape, the Peshmerga wants to cut Isis road communications between Mosul and Syria.
But the politics of war in Iraq and Syria are very much shaped by sectarian and ethnic allegiances. Thus, though the Kurds may advance successfully, they probably will not try to storm Sunni Arab cities such as Tal Afar or Mosul itself.
The only force that might be acceptable to Sunni Arabs, if Mosul was to be attacked, would be the Iraqi army which is seen as less the monopoly of a single community than the Shia militias or the Kurds. That is why the failure to rebuild the Iraqi army is such an obstacle to a successful counter-offensive against Isis.
Join our new commenting forum
Join thought-provoking conversations, follow other Independent readers and see their replies