War with Isis in Iraq and Syria: Turkey joins West as a reluctant ally - but what took it so long?
In response to attacks on Turkish soil, President Erdogan's air force launched its first bombing raids on jihadi targets in Syria. What took them so long to enter the conflict? Patrick Cockburn reports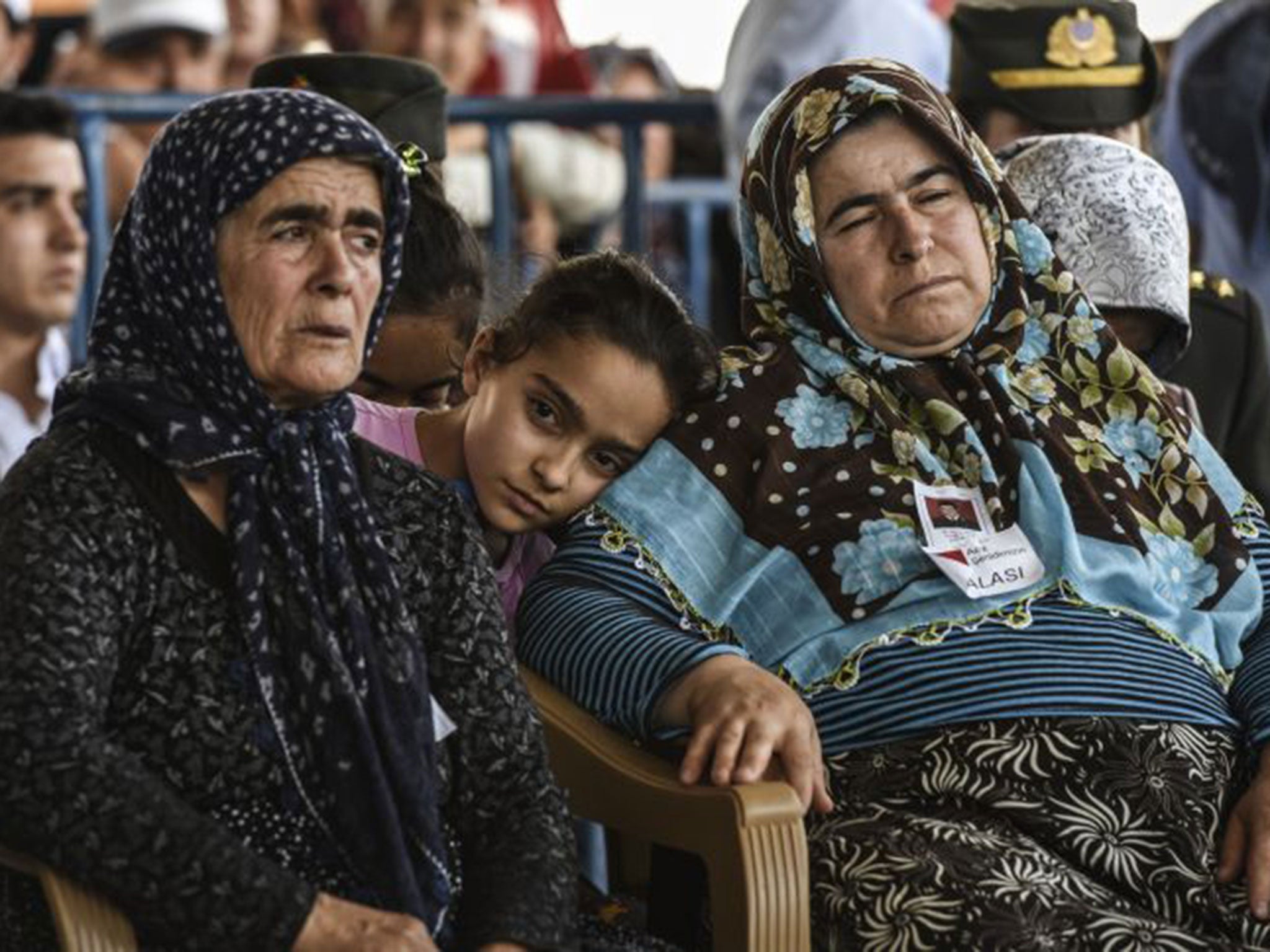 This week, Turkey made a significant foreign policy shift by saying it would allow US planes to use its air base at Incirlik to attack Isis positions in Iraq and Syria. In addition, for the first time, Turkish aircraft have been in action against Isis across the border in northern Syria.
The growing engagement by Ankara against Isis comes after talks with the US, as well as the Isis suicide bombing that killed 32 young Turkish socialists and wounded 104 at the border town of Suruc last Monday. They were on their way to build a kindergarten and children's care centre in the ruined Syrian Kurdish town of Kobani which Isis failed to capture in a four-and-half month siege.
Turkey had previously been a reluctant member of the US-led coalition against Isis – so reluctant that its critics claimed it was secretly collaborating with Isis and Jabhat al-Nusra, the al-Qaeda affiliate. Foreign volunteers, weapons and ammunition were able to cross from Turkey into Syria with surprising ease, though Turkish leaders angrily rebutted charges that their security forces were pulling their punches when it came to the jihadis. Turkish security forces have now detained hundreds Isis militants and sympathisers inside Turkey.
The Turkish government of Recep Tayyip Erdogan has claimed that the 550-mile border with Syria is too long to police effectively. But it was confirmed today that five Isis members had been killed during an exchange of fire with Turkish soldiers on Thursday. One Turkish soldier was also killed in the engagement.
As hundreds of suspects Isis members and Kurds were arrested in raids across Turkey, three F-16 fighter jets took off from a base in Diyarbakir, south-east Turkey, and hit two Isis bases and one "assembly point" before returning, the office of the Prime Minister, Ahmet Davutoglu, said.
One senior official was said to have claimed that Turkey had moved to "active defence from passive defence".
In future, Turkey will be more heavily embroiled in Syria, and the US air campaign against Isis will be more effective as its planes will be operating from Incirlik, which is only 60 miles from the Syria-Turkish border.
Turkish ambivalence about its new role has not entirely ended. "We can't say this is the beginning of a military campaign, but certainly the policy will be more involved, active and more engaged," a Turkish government official told Reuters. "But action won't likely be taken unprompted."
A significant reason for the change in the stance of the Turkish government relates to its relations, not with Isis, but with the Kurds inside Turkey and Syria.
The Syrian Kurds number about 2.2 million or 10 per cent of the Syrian population. They are concentrated in three enclaves, which they call cantons, just south of the Turkish border. Since the victory of the YPG Syrian Kurdish paramilitary forces at Kobani, where they were aided by 700 US airstrikes, the YPG has captured the Isis-held border crossing at Tal Abyad and linked up two of its enclaves centred on Kobani and Qamishli.
This means that 250 miles – or half of Turkey's border with Syria – is today held by the YPG and its civilian counterpart, the PYD, which is the Syrian branch of the PKK, the Turkish Kurd movement. Though still largely abiding by a ceasefire that has been in place since 2013, the PKK are denounced as "terrorist" by Recep Tayyip Erdogan, the Turkish President. He declares that Isis may be "terrorists" but so are the PYD and the government of President Bashar al-Assad.
By its reluctance to join the US campaign against Isis, Turkey enabled the YPG to become America's most important military ally in the Syrian war. Mr Erdogan knows that in 2003 the refusal of the Turkish parliament to allow US troops to invade Iraq from the north opened the door to the Iraqi Kurds allying themselves closely to the US and winning a degree of autonomy that is close to independence.
It is unclear how far the Turkish government's willingness to fight Isis affects its relations with Jabhat al-Nusra, the al-Qaeda affiliate, which has recently made territorial gains in Idlib province against the Syrian army. Al-Nusra was set up by Isis in 2012, but later split from it and is alleged to cooperate closely with the Turkish security forces.
How far will these developments tip the military balance against Isis in the war in Syria and Iraq? The ability of US aircraft to spend more time flying over the self-declared caliphate through the use of Incirlik will increase Isis casualties. But in the months since the US started the air campaign in August, Isis has shown that it can withstand aerial bombing and even make advances in the face of it, capturing Ramadi in Iraq on 17 May and Palmyra in Syria four days later.
Isis could extend its suicide bombing campaign to Turkey and carry out mass killings against Turks and foreigners, as it has done in Iraq and Syria. It could also attack foreign tourists as happened in Tunisia with many vulnerable targets available, including 2.5 million British visitors every year. Polls show that 80 per cent of Turks believe that Isis is a "terrorist" organisation, but it has pockets of supporters such as Seyh Abdurrahman Alagaoz, the 20-year-old Turkish Kurd who carried out the Suruc bombing. Presumably, Isis intended to demonstrate that it has committed followers even in a community normally seen as hostile to it. Its message is that further such attacks will be impossible to stop.
Join our commenting forum
Join thought-provoking conversations, follow other Independent readers and see their replies