West poised to join forces with President Assad in face of Islamic State
Covert co-operation may signal the beginning of a once unthinkable alliance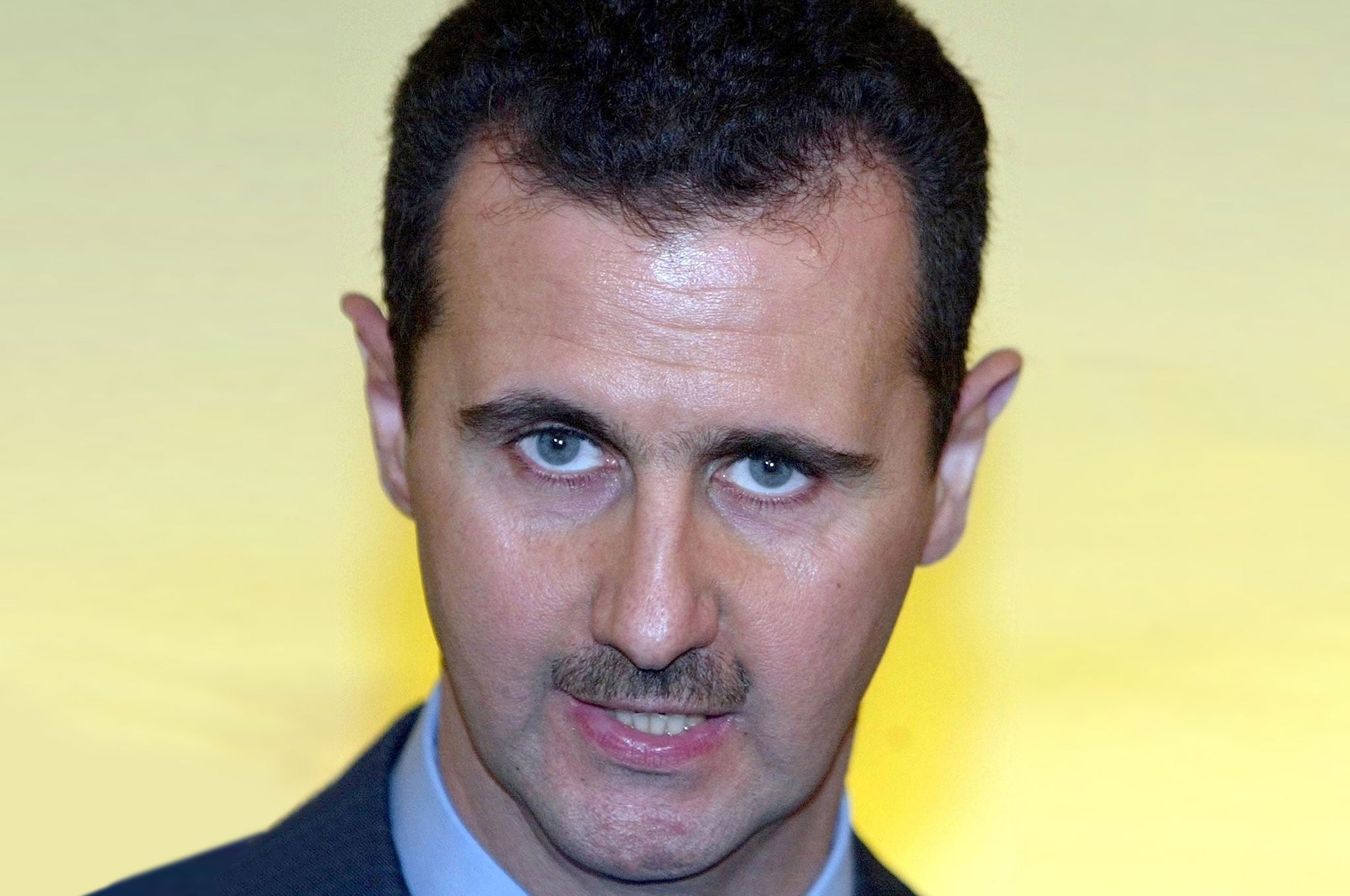 Islamist forces are fighting their way into western Syria from bases further east, bringing forward the prospect of US military intervention to stop their advance. If Isis, which styles itself Islamic State, threatens to take all or part of Aleppo, establishing complete dominance over the anti-government rebels, the US may be compelled to act publicly or secretly in concert with President Bashar al-Assad, whom it has been trying to displace.
The US has already covertly assisted the Assad government by passing on intelligence about the exact location of jihadi leaders through the BND, the German intelligence service, a source has told The Independent. This may explain why Syrian aircraft and artillery have been able on occasion to target accurately rebel commanders and headquarters.
Syrian army troops are engaged in a fierce battle to hold Tabqa airbase in Raqqa province, the fall of which would open the way to Hama, Syria's fourth-largest city.
Further north, Isis has captured crucial territory that brings it close to cutting rebel supply lines between Aleppo and the Turkish border. The caliphate declared by Isis on 29 June already covers the eastern third of Syria in addition to a quarter of Iraq. It stretches from Jalawla, a town 20 miles from Iran, which the Iraqi army and Kurdish Peshmerga are trying to recapture, to towns 30 miles north of Aleppo.
The question of possible US military action in Syria, such as air strikes, jumped to the top of political agenda on Thursday when the chairman of the Joint Chiefs of Staff in Washington, General Martin Dempsey, said: "Can they [Isis] be defeated without addressing that part of the organisation that resides in Syria? The answer is no."
He stressed that he was not predicting that the US was intending to take military action in Syria, but the US is very conscious that Isis can survive indefinitely if it has a large safe haven in Syria.
Chas Freeman, the former US ambassador to Saudi Arabia, told The Independent that General Dempsey was pointing out that Isis straddles the Iraq-Syrian border and there should be a consistent policy towards it on both sides of the divide.
General Dempsey "did not spell out the implications of that but, to me, they point in the direction of calling it off with Assad. It might also imply the sharing of intelligence with the opponents of Isis, even those from whom we ourselves are estranged. Odder things have happened in the Middle East."
Mr Freeman, who is retired, added he had no knowledge about whether intelligence-sharing with President Assad's government was being considered.
For the moment, the most pressing issue in Syria is not the elimination of Isis, but preventing its expansion after a series of victories in July and August.
Firstly, it drove out Jabhat al-Nusra, the Syrian affiliate of al-Qa'ida, from the oil-rich province of Deir Ezzor on the Euphrates. Then it overran two important Syrian army bases, one held by Division 17 in Raqqa province and a second by Regiment 121 in Hasakah province where the Iraqi regimental commander was killed.
Syria holds greater opportunities for Isis in terms of expansion than Iraq because the movement draws its support from the Sunni Arab community: 60 per cent of Syrians are Sunni Arabs, compared to 20 per cent in Iraq.
The policy of the US, Britain and their allies in the region over the last three years has been to support "moderate" Syrian rebels who are supposed to fight Isis and other jihadists as well as the Assad government in Damascus.
But the Western-backed Free Syrian Army is increasingly weak and marginalised while jihadi groups such as Jabhat al-Nusra, Ahrar al-Sham and the Islamic Front have been unable to halt the Isis assault.
The Islamic Front is desperately trying to hold its stronghold in the city of Marea close to Aleppo against an unexpected Isis offensive that began on 13 August and is making headway. Isis held positions in Aleppo province and further west in Idlib province before its civil war with other rebel groups which began at the start of 2014 when it conducted a withdrawal, interpreted at the time as a retreat, but in reality a concentration of its fighting forces for use in Iraq and Syria.
Though they have suffered a number of serious defeats at the hands of Isis, Syrian government forces were able to regain the al-Shaer gas fields near Palmyra in July and are still holding onto Tabqa airbase, where they claim to have killed many Isis militants, including an activist known as Abu Moussa.
As with other Isis attacks on government strongholds in Syria, this one was heralded by two suicide attacks. Overall, the Syrian army has shown itself much more effective in combat with Isis than the Iraqi army that has yet to score a single success against them. A series of Iraqi army attacks against Tikrit north of Baghdad, the most recent this week, have all failed.
Air strikes are not the only way in which the US, Britain and their allies among neighbouring states could weaken and isolate Isis, but in doing so they would necessarily undermine other rebel groups. Key to the growth of Isis and, in particular, the import of thousands of foreign fighters has been the use of Turkey as a point of entry.
In pictures: The rise of Isis
Show all 74
Determined to get rid of President Assad, the Turkish Prime Minister Recep Tayyip Erdogan has kept Turkey's 550-mile border with Syria open, giving the jihadists, including Isis, a safe haven over the last three years. The Turks are now saying Isis is no longer welcome, but Ankara has not moved seriously to close the border by deploying troops in large numbers.
A complete volte face by the US, Britain and their allies in their relations with the Assad government is unlikely because it would mean admitting that past support for the Sunni rebellion had contributed to the growth of the caliphate.
Mr Freeman says that he doubted that "the liberal interventionists and neoconservatives who had pursued regime change in Syria were capable of reversing course. To do so would require them to admit that they bore considerable responsibility for legitimising pointless violence that has resulted in the deaths of 190,000 Syrians."
He added that he did not think it would be possible to bring down Isis by a direct assault and that it would be better to bottle it up and wait for it to be destroyed by its own self-destructive instincts.
"I cannot see how it can be isolated without the co-operation of Syria as well as Saudi Arabia and the other Gulf Arabs, Iran, Russia and Turkey."
On the other hand, given the divisions in Washington and hatreds in the Middle East, such a degree of co-operation is unlikely to emerge as a declared policy.
The Jihadis Return: Isis and the New Sunni Uprising' by Patrick Cockburn, published by OR Books, is available at orbooks.com
Join our commenting forum
Join thought-provoking conversations, follow other Independent readers and see their replies