Women in Palestine are using Twitter and Facebook to fight back against censorship of their names
Some materials produced for October's cancelled local elections had replaced the names of female candidates with just their initials or epithets such as 'wife of'
Wednesday 14 September 2016 08:49 Comments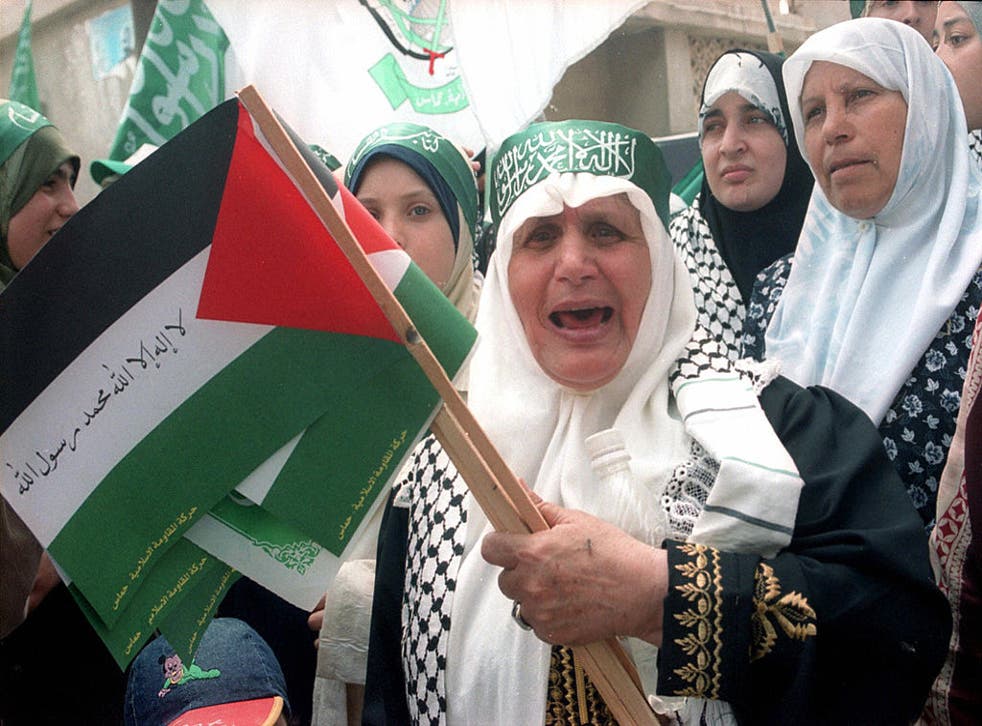 The exclusion of female candidate's names from campaign materials ahead of municipal elections in the West Bank and Gaza has sparked a new focus on women's civil rights in Palestinian society.
Elections to decide the councils of more than 400 towns and cities in the Palestinian territories were due to be held October 8, but were suspended by Ramallah's high court last week. The fact that several slates included female candidates whose names had been replaced with 'wife of' or 'sister of' did not go unnoticed, however.
News that some election materials from villages near Hebron and Jenin excluded women's names caused an outcry on social media, birthing the Arabic hashtag 'Our names should not be covered', which quickly went viral.
Women took to Twitter and Facebook using the hashtag to say they are proud to put their names to their achievements, as well as those of their mothers, sisters and daughters. Many men did the same.
"Our names are not mere terms; our names refer to our identity," rights activist Sumaya al-Mashharawi said in an statement.
The incident has resonated with Palestinians, making newspaper headlines and television news bulletins in the past week. It has also provided the catalyst for calls for more to be done for women's participation in public life in Palestine.
The Filastiniyat Association, a Ramallah-based NGO which fights for the equitable representation of women and girls, said the 'Our names should not be covered' campaign is a call to "all educated women to urge the patriarchal society to stop neglecting this powerful social driver".
Filastiniyat's founder Wafa' Abdel Rahman said that although the campaign successfully got the candidate lists changed, Palestine's political parties have signed a code of conduct to ensure that women make up a minimum of 30 per cent of candidates, but were failing to live up to their pledge.
"We still need need to work harder to pressure the political system to genuinely take every measure that enables women to be more visible, not only as numbers and quotas... the road is still long."
In Palestine, as in much of the Arab world, it is common for the name of the bride to be omitted from wedding invitations, or for men to not speak a woman's name at a public event or meetings such as political activity, al-Monitor reports.
Ground: Ten years of the Palestinian conflict in pictures

Show all 10
Men often do not refer to their mothers' names in order to save their reputations from ridicule or shame. In previous Palestinian elections, the pictures of some female candidates have been replaced with pictures of flowers and doves.
Nadia Abu Nalha, the Director of a Coalition of Women's Organisations in the Gaza Strip, called this year's controversy a "step backwards".
"The fact that some lists covered the names of female candidates is viewed as a serious decline… in the way these movements think, even though the actions are justified as being in line with the social character [ie conservative] in some areas," she told Ma'an News.
"If their names are not recognised, how can women's needs be added to the planning and coordination of the municipal agenda?"
The Central Election Commission has said that the papers in question are illegal, since women are entitled to full political participation under Palestinian law.
The elections are yet to be rescheduled after the high court's decision to cancel given disagreements over the validity of Fatah slates in Gaza. Fatah, the secular ruling party in the West Bank, and Islamist Hamas, which controls the Gaza Strip, have not been in direct competition with each other for votes since 2006.
The contest is widely being viewed as a litmus test for how willing the two factions are to work together. Officials from both Hamas and Fatah have blamed each other for the delay, rendering the prospect of co-operation for any future parliamentary or presidential elections bleak.
A new hearing will be held on September 21.
Register for free to continue reading
Registration is a free and easy way to support our truly independent journalism
By registering, you will also enjoy limited access to Premium articles, exclusive newsletters, commenting, and virtual events with our leading journalists
Already have an account? sign in
Join our new commenting forum
Join thought-provoking conversations, follow other Independent readers and see their replies