One in every 45 people in Yemen is expected to contract cholera, Red Cross says
This is a 'preventable, man-made humanitarian catastrophe', the charity warns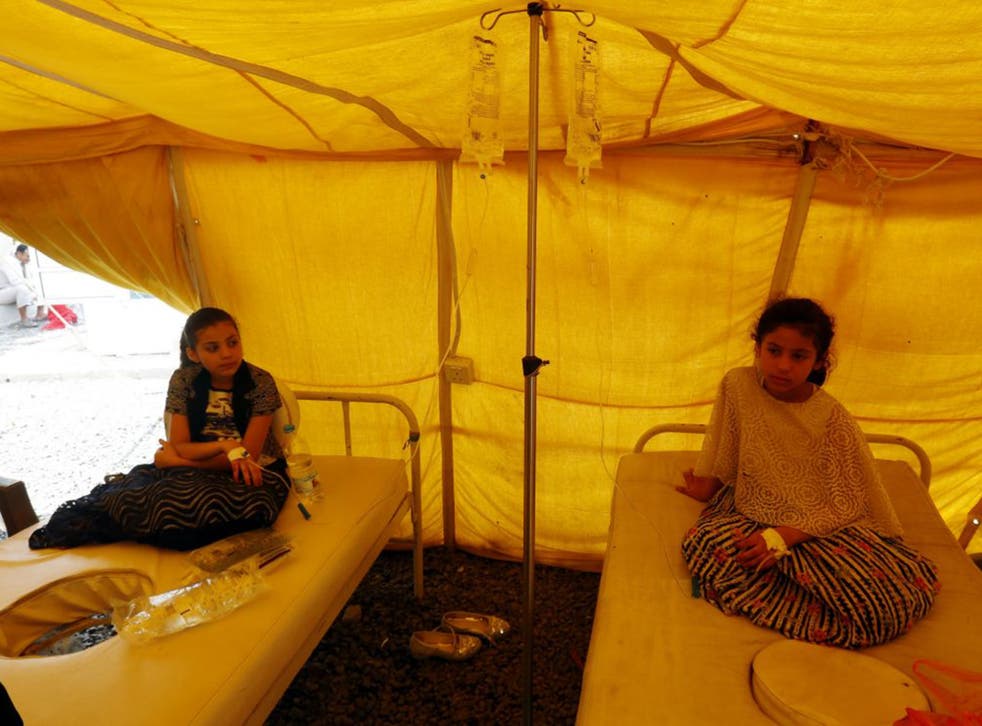 An estimated 600,000 people in Yemen, or one in every 45, could contract cholera before the end of the year as the conflict-riven country struggles to contain the disease, the head of the International Committee of the Red Cross (ICRC) has said.
Speaking from the government-controlled city of Aden on Sunday, Peter Mauer warned that the "great tragedy is that this cholera outbreak is a preventable, man-made humanitarian catastrophe".
"I find this needless suffering absolutely infuriating. The world is sleep-walking into yet more tragedy," he said.
The rapid spread of the disease is now the worst cholera epidemic in modern history.
Yemen cholera epidemic: Worst in modern history at 360,000 cases and counting
Since the first suspected case was recorded in March the outbreak has infected more than 360,000 people and killed almost 2,000.
The acute diarrhoeal infection caused by ingestion of contaminated food or water is particularly dangerous for the old, young and those in poor health. It can kill rapidly if lost fluids are not replaced. Around a quarter of the dead so far are children under the age of 15, the World Health Organisation (WHO) said earlier this month.
While cholera is easily treatable – and preventable – with proper sanitation procedures, after more than two years of war, Yemen's health, water and sanitation systems are on the verge of collapse.
The situation in Yemen

Show all 14
Less than half of the country's medical centres are still functional, 14.5 million people don't have regular access to clean water, and in several provinces health and sanitation workers have not been paid in months. Around 20 million of the 27-million strong population is reliant on humanitarian aid to survive and it is possible the current situation could also lead to the outbreak of other deadly diseases such as malaria and dengue fever, the ICRC warned.
The circumstances have made it difficult for international aid organisations to operate. Last week, the UN said that up to one million doses of cholera vaccines may have to be diverted elsewhere thanks to logistical difficulties caused by the Saudi-led siege on the country.
Since March 2015, neighbouring Saudi Arabia and its regional partners have carried out an extensive bombing campaign on Yemen's Shia Houthi rebels, who control the capital Sanaa at the request of the internationally recognised government of Yemeni President Abdrabbuh Mansour Hadi.
Riyadh has also effectively closed down Yemen's air and seaports, preventing the import of food and medicine.
"The world is sleep-walking into yet more tragedy … Further deaths can be prevented, but warring parties must ease restrictions and allow the import of medicines, food and essential supplies," Mr Maurer added.
Western governments have also faced criticism for their role in the conflict: arms sold to Saudi Arabia are destined for use in the Yemeni war, rights groups say.
Register for free to continue reading
Registration is a free and easy way to support our truly independent journalism
By registering, you will also enjoy limited access to Premium articles, exclusive newsletters, commenting, and virtual events with our leading journalists
Already have an account? sign in
Register for free to continue reading
Registration is a free and easy way to support our truly independent journalism
By registering, you will also enjoy limited access to Premium articles, exclusive newsletters, commenting, and virtual events with our leading journalists
Already have an account? sign in
Join our new commenting forum
Join thought-provoking conversations, follow other Independent readers and see their replies