Dozens of sick Yemeni children at 'risk of death' as fighting nears only hospital in city of Hodeidah
Nearly 60 children being treated for severe malnutrition in al-Thawra hospital could be killed in shelling and bombing attacks as front line draws near, UN warns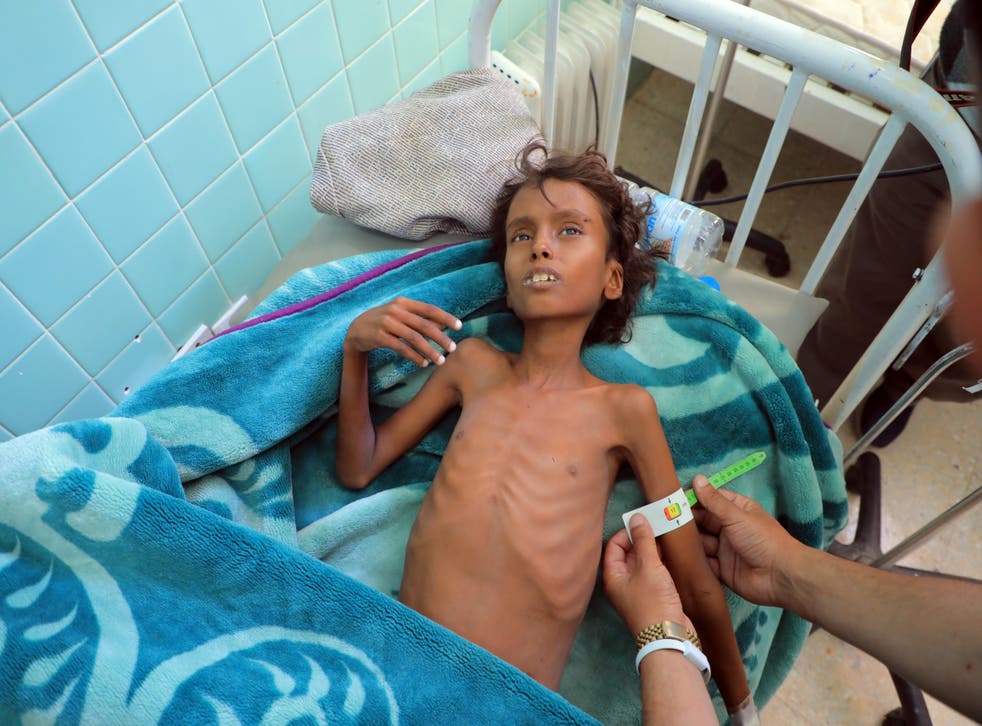 Dozens of malnourished children in Yemen's Hodeidah city are at "imminent risk of death", the United Nations has warned, as fighting threatens to engulf the hospital where they are being treated.
At least 59 children, including 25 in intensive care, are receiving lifesaving treatment for starvation in al-Thawra medical centre, which is the only functioning hospital left in the war-torn Red Sea city.
But the building is now close to the front line and at risk of being bombed or shelled as fierce fighting between the Saudi Arabia-backed coalition and the Shia Houthi rebels draws close.
On Wednesday, Save the Children reported that a separate health clinic in another part of the city was hit, likely by artillery fire. One of its pharmacies, containing lifesaving medicines, was damaged.
Unicef told The Independent that should the children at al-Thawra hospital need to be evacuated they would have to travel as far as Sanaa, the capital, which is a seven-hour drive through 19 military checkpoints.
Transferring them such distances would likely kill them, said Unicef's Juliette Touma, who recently returned from the city.
"One boy currently being treated at al-Thawra is Adam, who is 10 years old but weighs just 10 kilos. He has a brain condition and could already die any minute. It would be impossible to move him," Ms Touma told The Independent.
She added: "The children cannot be moved from intensive care. That is why we issued an appeal to keep hospitals out of the line of fire so that these children can continue treatment."
Henrietta Fore, Unicef's executive director, said on Wednesday that fighting had drawn so "dangerously close" to the hospital access was now limited.
"Medical staff and patients in the hospital have confirmed hearing heavy bombing and gunfire. Access to and from the hospital, the only functioning one in the area, is now imperilled," she added.
"Unicef's teams on the ground are delivering assistance … Further escalation in the fighting will jeopardise these efforts," she added.
Yemen has been torn apart by a ruinous three-year war since Saudi Arabia and its Gulf allies launched a bombing campaign in 2015 to oust the Iran-backed Houthi rebels who swept control of the country, ousting the recognised president Abedrabbo Mansour Hadi.
The fighting has sparked the world's worst humanitarian crisis in terms of numbers: two-thirds of the 28 million-strong population now rely on aid. The UN warned last month that 13 million people could die from famine amid fears of a new wave of cholera.
Children are the hardest hit: according to Unicef, every 10 minutes a child dies from preventable diseases.
The UN and aid agencies have accused both sides of creating the humanitarian crisis. The Saudi-led coalition imposed a crippling land, sea and aid blockade, stifling the flow of aid and has been accused of repeatedly bombing marketplaces, hospitals and schools. The Shia Houthi group, meanwhile, has been accused of shelling aid convoys, planting thousands of explosive devices, and laying siege to pro-government areas.
Children suffering from acute malnutrition in Yemen

Show all 17
The British government, which has authorised $5bn (£3.8bn) worth of weapons sales to Saudi Arabia since the war began, has come under fire for its support.
Last week the Trump administration set a 30-day deadline for a ceasefire and the restarting of peace talks, which collapsed in September.
Despite verbal assurances from both sides that they were willing to participate, tens of thousands of government troops have rallied around Hodeidah, home to 600,000 people and now the focus of the fighting.
On Wednesday Abdulmalik al-Houthi, the Houthi rebel chief, vowed never to surrender to the Saudi-backed pro-government forces, heightening tensions.
Malnutrition centre in Mukalla, Yemen provides care for children suffering hunger and famine
"Does the enemy think that penetrating this or that area, or seizing this or that area, means we will be convinced that we should surrender and hand over control?" Houthi said in a televised address. "This is not happening and will not happen ever."
Hodeidah port is Yemen's main entry point for humanitarian and commercial goods and serves more than 22 million people. Its destruction could have untold consequences.
Inside the embattled city, Ms Touma said doctors and nurses were struggling to treat the malnourished and sick despite not receiving their salaries for two years.
"People are exhausted. It is very clear that they are tired of this senseless war that has dragged on for nearly four years. They are tired of their living conditions, the poverty, the lack of accessibility to basic commodities including food," she told The independent.
"Everything is extremely grim. But despite not being paid for years, doctors, nurses and paramedics still show up for work."
Attacks on medical centres have already begun. In a different part of the city, Save the Children reported on Wednesday that one of its supported clinics came under fire.
"Artillery shelling is being used heavily by all sides. More than 150 people have been reported killed," the group said in a statement.
"There were temporary roadblocks preventing people from leaving or entering the city overnight, in effect trapping them in an active conflict zone," the statement added.
Join our new commenting forum
Join thought-provoking conversations, follow other Independent readers and see their replies