Yemen civil war: Widespread starvation forces people to eat food from rubbish dumps
'I want to live in peace and I want to see my children safe from hunger, and not dependent on aid or dumps,' says man roaming street to feed family of ten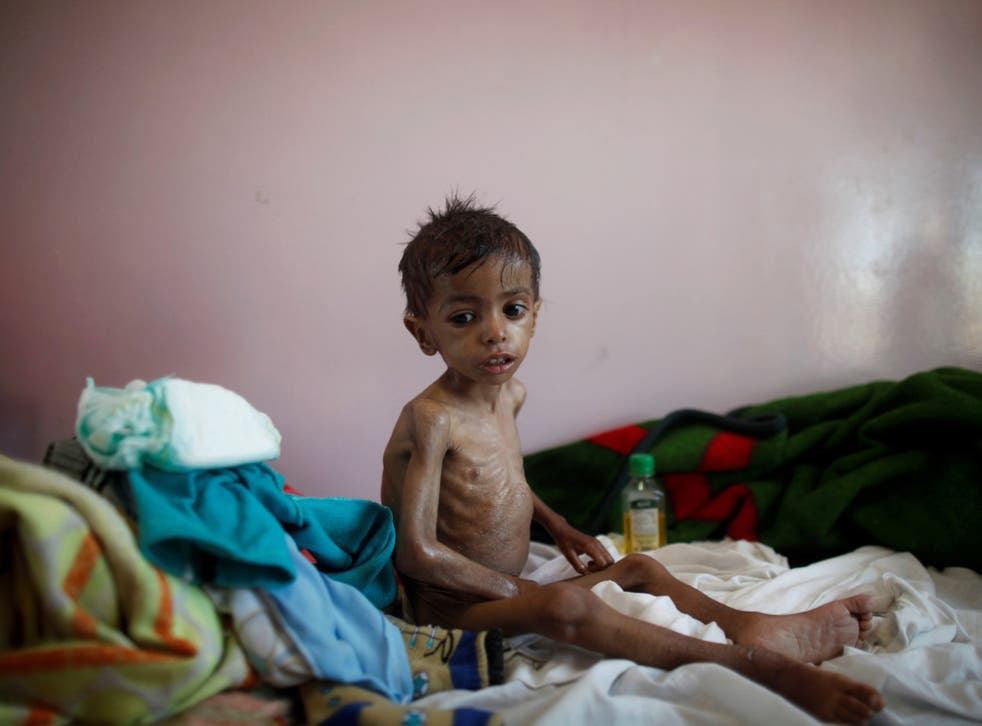 Starvation and poverty provoked by the civil war in Yemen is so desperate that the country's poorest are turning to rubbish for food.
A 45-year-old father trying to feed his family of 10 and a 12-year-old beggar trying to feed his four siblings have each told al-Jazeera this week how they are sifting through dumps to survive.
The United Nations estimates 370,000 children are at risk of starvation and two million are out of school due to the war.
The fighting since 2015, predominantly between the Houthi rebels and loyalists of President Abdrabbuh Mansur Hadi, has killed more than 10,000 people including approximately 4,000 civilians.
Mr Abdulla, from Sanaa's Bait Bos neighbourhood, roams the city daily checking through rubbish piles for his family of 10.
"For several months, I have been out of work. I have not earned one single rial," said Mahdi Abdulla.
"This has forced me to provide for my family by any means, including searching for food in the rubbish dumps or asking people for aid.
"It is my daily attempt to stave off the death of my family by hunger. I have become a frequent visitor of the rubbish dump. There, I also see my likes.
"I want to live in peace and I want to see my children safe from hunger, and not dependent on aid or dumps."
The World Food Programme estimates that around 14 million Yemenis are food insecure and half of them are classified as severely food insecure.
Bashar, the 12-year-old victim of Yemen's food crisis, who begs and hunts through rubbish for food to feed his family, told Al Jazeera: "I go out to the street every day, asking people for aid. Some give money and some do not.
"I have four siblings. My father died many months back."
Yemeni economist Ahmed Shamakh said: "Development has ceased in the country. Businesses have also shut down. This has largely contributed to augmenting the deterioration of the food situation in Yemen
"Additionally, the conflict has cost a lot of Yemenis their daily jobs.
In pictures: Yemen water crisis

Show all 10
"Today, some civilians in Yemen do eat from the rubbish and take the leftovers they find at restaurants. This helps them survive."
Before the war, the Middle Eastern gulf state was importing 90 per cent of its food products, which has now stalled.
"If the status quo goes on unchanged, the food insecurity issue will be more worrying," added Mr Shamakh.
"This will lead to further security imbalances and robbery of public and private properties."
Boris Johnson caught on video accusing ally Saudi Arabia of 'playing proxy wars'
Hand in Hand boss Abdulfatah al-Hamadi said: "Several Yemeni families are living in difficult times when it comes to food. Many families are struggling to get even enough bread to subsist."
A Yemeni woman who campaigned for female literacy was shot dead in an assassination attempt last month amid the war.
The Saudi Arabian government, which buys weapons from Britain, has faced an onslaught of criticism for fighting a "proxy" war against the rebels in Yemen.
Join our new commenting forum
Join thought-provoking conversations, follow other Independent readers and see their replies