Yemen conflict: Girl shot while collecting water among hundreds of civilians killed and injured during 'ceasefire'
Sunood, 12, survived but the UN says almost 10,000 civilians have been killed and wounded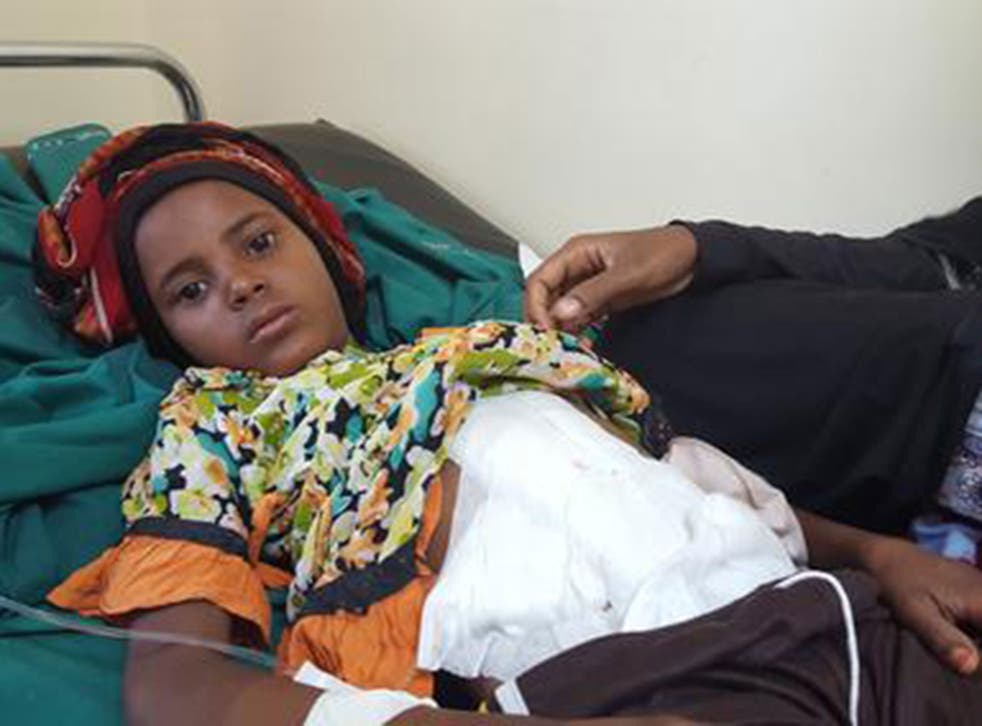 A 12-year-old girl shot in the stomach as she collected water with her family is among the hundreds of civilians injured and killed during a supposed ceasefire in Yemen.
Humanitarian organisations say intense fighting and bombardment has continued in parts of the country since April's agreement, as the internationally recognised government, rebels, Isis and al-Qaeda battle for territory.
At least 9,700 civilians casualties have been recorded in the conflict so far and men, women and children continue to be caught in the brutal crossfire.
Sunood was standing with her friends and siblings when she felt what she thought a stone hit her stomach, but she looked down to find she had been hit by a bullet and was bleeding.
She is now recovering in hospital alongside other victims of the civil war, including 12-year-old Ibrahim, who was shot in the neck as he left his local mosque.
Will Turner, the Doctors Without Borders (MSF) head of mission in Yemen, said he walked into an emergency clinic to find the children lying in beds next to each other.
"The boy had been hit by a bullet in the neck as he left the mosque, the girl next to him had her stomach ripped open by a bullet as she waited to collect water," he said. "Such tragic stories occur on a daily basis in Taiz."
Mr Turner told The Independent that civilians have little hope for ongoing peace talks in Kuwait, which have floundered amid reports of numerous violations to a truce brokered between Houthi rebels and government forces in April.
"I think the reality is that Yemen has been forgotten by the world," he said. "The proportion of civilians being killed is simply unacceptable – we expect more to be done to protect people. A conflict of this intensity with heavy weaponry and artillery should never be happening in such a heavily populated area."
MSF medical charity has treated more than 1,600 people – almost half of them civilians – at its clinics in the Taiz region in the past two months alone.
Yemen: Medical facilities crippled by war
Medics said shelling and air strikes continued to rage down on the city, where fighters loyal to President Abd Rabbuh Mansur Hadi, Houthi rebels, Isis and al-Qaeda in the Arabian Peninsula (AQAP) have been fighting for control.
Civilians trapped in the besieged area are at the mercy of bomb blasts, landmine explosions and daily sniper fire as battles rage in densely populated areas.
In one incident on 3 June a missile hit a crowded market, killing at least 12 people and injuring at least 135 more as they shopped ahead of the Muslim holy month of Ramadan.
Salah Dongu'du, MSF's project coordinator in Taiz, said the vast majority were "undoubtedly civilians", showing a blatant disregard for their safety among all warring parties.
"There is simply no let-up in the violence," she added.
The year-long siege of Taiz has left residents unable to escape as they lose their homes, loved ones and livelihoods, while electricity has cut off and access to healthcare, food and clean water is critically limited.
Rocket and mortar attacks have appeared to deliberately target civilian areas and schools, hospitals and medical facilities have been destroyed in air strikes.
The bloodshed has also continued in Yemen's port city of Aden, where an MSF anaesthetist described treating women and children hit by grenades and shot in their heads, chests, abdomens, arms and legs.
"But the worst ones were the mine injuries where limbs would just be ripped apart," said Helmut Shoengen. "Occasionally patients would arrive from a long way away. They would sustain an injury and then travel for a number of hours in pain and once they arrived, often all we could do was amputate.
"And you could say these were the lucky ones because they had made it to the hospital."
The United Nations has accused all parties in the Yemen war of killing civilians and recently blacklisted Saudi Arabia for its alleged responsibility for the deaths of hundreds of children.
10 examples of Saudi Arabia's human rights abuses

Show all 10
But the government swiftly contested the report, which alleged that Saudi-led air strikes – in support of the Hadi government – had killed 510 children and injured 667 more in 2015, and the listing has been controversially removed pending a UN investigation.
The recruitment of child soldiers, mostly by Houthis, has also been recorded alongside the denial of humanitarian assistance as hundreds of thousands of people remain at risk of starvation.
The UN High Commissioner for Human Rights, Zeid Ra'ad Al Hussein, said he was "profoundly concerned" for the suffering in Yemen.
"The humanitarian situation is disastrous and continues to worsen," he added, saying 2.8 million people had been forced to leave their homes.
"I strongly urge all parties to the conflict to abide by their obligations under international humanitarian law, in particular concerning the protection of civilians."
Between March 2015 and 8 June 2016, the UN has documented at least 3,539 civilians killed and 6,268 injured.
MPs have raised urgent concerns about continuing British arms sales to Saudi Arabia during the conflict, while the Ministry of Defence is urgently investigating evidence of the coalition's use of British-made cluster bombs.
The British Government says it supports the coalition's military intervention to "deter aggression by the Houthis … [and] allow for the return of the legitimate Yemeni Government" but would raise concerns over violations of international law with Saudi Arabia.
Join our new commenting forum
Join thought-provoking conversations, follow other Independent readers and see their replies