Yemen crisis: Saudi Arabia ready for long campaign against Houthi rebels across the border
Riyadh, backed by Egypt, signals hardline stance to Iran-backed Shias at Arab League summit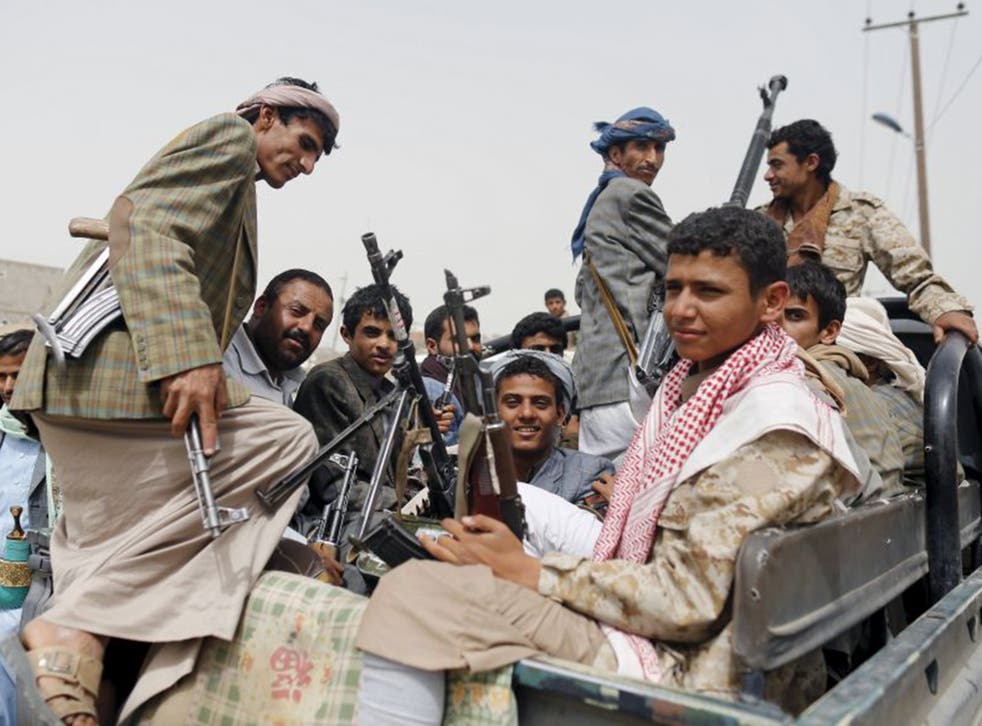 A Saudi Arabia-led alliance is willing to wage a military campaign against Houthi rebels in Yemen for as long as it takes to defeat the Iranian-backed group that has forced the country's president to flee, King Salman said yesterday.
The new Saudi ruler was speaking at a meeting of the Arab League in Egypt, where officials sought to drum up support for the creation of a new pan-Arab force.
Without naming Iran, President Abdel Fattah al-Sisi of Egypt, a key Saudi ally, warned that the Arab world was facing "its darkest hour" and had never before faced such a "challenge to its existence".
Yemen's President Abdel Rabbo Mansour Hadi, who fled last week to Riyadh, had no such qualms about pointing to what he sees as the prime source of the conflict, claiming that the Shia Houthi rebels were "puppets of Iran".
As Saudi warplanes hit rebel positions for a third day, King Salman said that Operation Decisive Storm would "continue until it achieves its goals for the Yemeni people to enjoy security".
A Gulf diplomat, who was speaking to reporters on condition of anonymity, said the operation was planned to run for a month but could go on for five or six months.
He said the Houthis had been a "quintessentially Yemeni tribal" movement but had been turned into an effective fighting force with help from about 5,000 military personnel from Iran, Lebanon's Hezbollah group and Shia militias from Iraq. Iran has consistently denied claims it is providing anything other than diplomatic or humanitarian support to the Houthis. The official claimed that he believed Iran would retaliate for the offensive indirectly by urging Shia activists to carry out attacks in other nations.
There are fears that the conflict in Yemen could ignite a clash between regional superpowers Saudi Arabia and Iran that strays beyond words.
United Nations Secretary General Ban Ki-moon told the league summit, in the resort town of Sharm el-Sheikh, that negotiations "remain the only chance to prevent a long, drawn-out conflict".
Mr al-Sisi endorsed a resolution calling for the creation of an Arab military force. "This [Arab] nation, in its darkest hour, had never faced a challenge to its existence and a threat to its identity like the one it's facing now," he said.
"This threatens our national security and we cannot ignore its consequences for the Arab identity," he added.
Mr Hadi directly challenged Iran in his remarks and called for his supporters to rise up in peaceful protest against the Houthis.
"I say to the puppets of Iran, its toys and those who support it, you have destroyed Yemen with your political adolescence and by manufacturing domestic and regional crises," he said, before heading back to exile in Saudi Arabia.
His Foreign Minister, Riyadh Yassin, told the AFP news agency that Mr Hadi would remain there "for now" but would "return to Aden once the chaos there comes under control".
Rhetoric from Tehran only added to the growing sense of crisis.
Alaeddin Boroujerdi, head of the Iranian parliament's national security and foreign policy committee, reportedly said: "Saudi Arabia is too small to be able to threaten Iran.
"We utterly condemn Saudi Arabia's attack on Yemen and it will end in failure."
Saudi warplanes flew dozens of raids on military sites across the Yemen into yesterday morning, striking targets in and around Sanaa, Marib, Dhamar, Lahj and other areas, security officials said.
On the ground in Yemen, heavy fighting was reported in the south of the country between the Houthis, who mainly belong to the Zaidi off-shoot of Shia Islam, and mostly Sunni tribal fighters – although there is no guarantee that the tribes are backing Mr Hadi, with some looking out for their own interests.
Saudi warplanes attacked Houthi fighters near Aden in an attempt to stop a renewed rebel assault on the city, while its navy evacuated dozens of diplomats and the United Nations pulled out its international staff.
The rebels shrugged off the tough talk emanating from Sharm with a news report on the Houthi-affiliated Al-Masirah television station returning Mr Hadi's insult by describing him as a Saudi "puppet".
Ali al-Emad, a senior official of the movement's political arm, Ansar Allah, said they had always expected the Saudis to intervene.
It was left to the unnamed Gulf diplomat to offer a little optimism. He said he hoped ordinary Yemenis would demand the resumption of a UN-backed peace process and stressed there was room for all factions, even the Houthis, in negotiations about a new constitution.
Join our new commenting forum
Join thought-provoking conversations, follow other Independent readers and see their replies