Yemen war: Houthi rebels 'militarising' hospitals, warns Amnesty
Houthi fighters have turned a hospital in Hodeidah into a sniper position, putting lives at risk, as the fighting threatens to engulf the city's few functioning medical centres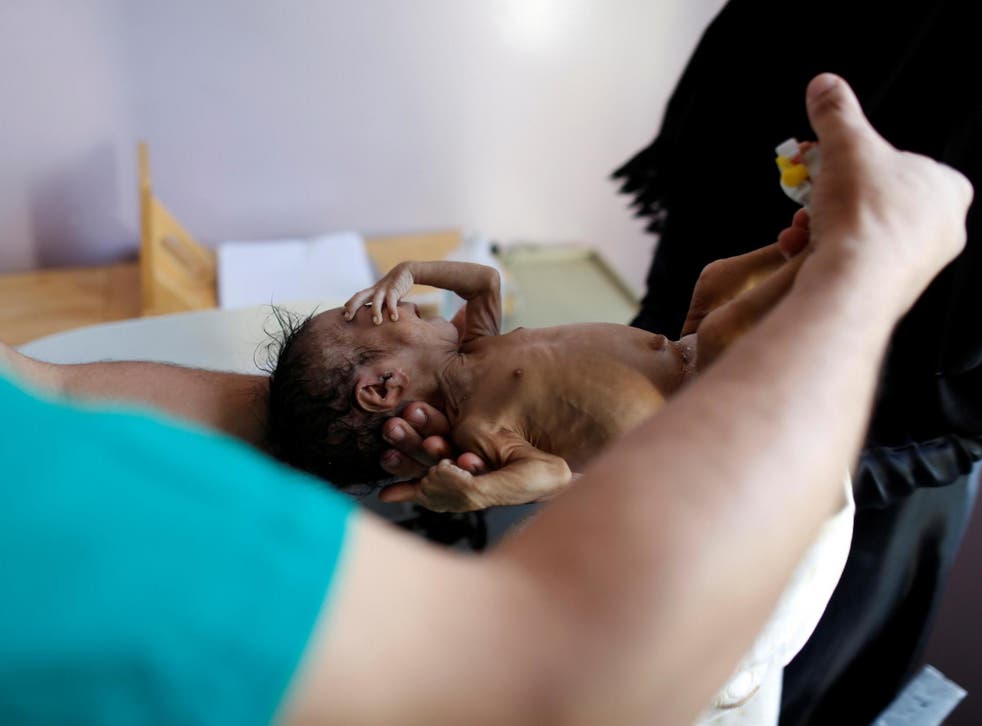 Houthi rebels have turned a medical centre in Yemen's contested city of Hodeidah into a sniper position, a sign the Iran-backed group is "militarising" hospitals, and using civilians as human shields, Amnesty International has warned.
The report came as more than a dozen aid groups sounded the alarm about the "catastrophic" impact of renewed fighting between the rebels and a Saudi Arabia-led coalition over the Red Sea city.
Just a day before, the United Nations warned that dozens of starving children being treated at Hodeidah's largest hospital, Al-Thawra, were at "imminent risk of death" because the building was just metres from the front line.
Meanwhile, a Save the Children-supported clinic in another part of town was hit by gunfire on the same day, destroying a pharmacy that held lifesaving medicines.
Amnesty said Houthi gunmen in a pickup truck forced staff out of a hospital in Hodeidah's 22 May district on Friday and placed a team of snipers on the roof, turning it into a potential target for air strikes, in violation of international law.
"This is a stomach-churning development that could have devastating consequences for the hospital's medical workers and dozens of civilian patients, including many children being treated there," said Samah Hadid, Amnesty International's Middle East director of campaigns.
"Placing gunmen on a hospital roof blurs lines which should never be blurred. Hospitals are not a target: the sick and injured have an absolute right to safe medical treatment at all times, and medical workers must be allowed to carry out their lifesaving work," Ms Hadid added.
Hodeidah has become the latest and arguably most fierce battleground between the Iran-backed Houthi rebels and a Saudi Arabia-led coalition who have been fighting over the country for three and a half years. The ruinous war has ripped apart Yemen, which is now on the brink of famine and in the grips by the world's largest humanitarian crisis, in terms of numbers.
The UN has warned that 13 million people could die from starvation if the fighting continues; around 23 million, meanwhile, rely on outside aid to survive.
Fighting first erupted in the spring of 2015 when Saudi Arabia and its Gulf allies, including the UAE, launched a bombing campaign to reinstate Yemen's recognised president Abedrabbo Mansour Hadi, who had been ousted by the Houthis when they swept control of the country months earlier.
Nearly four years later, there is little hope of an end to the conflict.
Over 30 local and international charities released a joint statement on Thursday calling for an immediate ceasefire. A separate statement signed by 14 charities, including Save The Children and Care International, warned that civilians were being used as human shields in Hodeidah as the fighting has intensified over the last few days.
More than 150 people have been killed as the Gulf coalition has pounded the Houthi rebels with coalition artillery, helicopter gunships and airstrikes in an apparent rush to take the strategic city before the end of a US-set deadline to enforce a ceasefire.
At the end of last month, the Trump administration called on all sides to agree to a truce within "the next 30 days", in order to reboot the peace process that collapsed in September.
Despite the massive increase in violence, Saudi coalition officials claimed in interviews with The Independent they had not launched a full offensive but were merely setting up "defensive positions". They added that the coalition was fully committed to peace talks should the Houthis participate and agree to relinquish their weapons.
Children suffering from acute malnutrition in Yemen

Show all 17
However, the Houthi rebel's chief Abdulmalik al-Houthi vowed on Wednesday never to surrender, even if they were outnumbered.
"Does the enemy think that penetrating this or that area, or seizing this or that area, means we will be convinced that we should surrender and hand over control?" the rebel leader said in a televised address.
"This is not happening and will not happen ever," he added.
In Thursday's joint charity statement, the rights groups warned that civilians were now trapped in Hodeidah.
"Most routes out ... are now blocked by fighting, severely impeding humanitarian agencies' ability to transport aid and supplies to those in need across Yemen, and preventing residents from fleeing to safety," the statement read.
On the same day, the International Committee of the Red Cross said that the upcoming peace talks cannot be "an excuse to disregard the laws of war".
"We´re running out of words to describe how wretched the situation is. It´s time to see a glimmer of hope in Yemen," the group said.
Join our new commenting forum
Join thought-provoking conversations, follow other Independent readers and see their replies