Young Israelis in tent-city protests over rising prices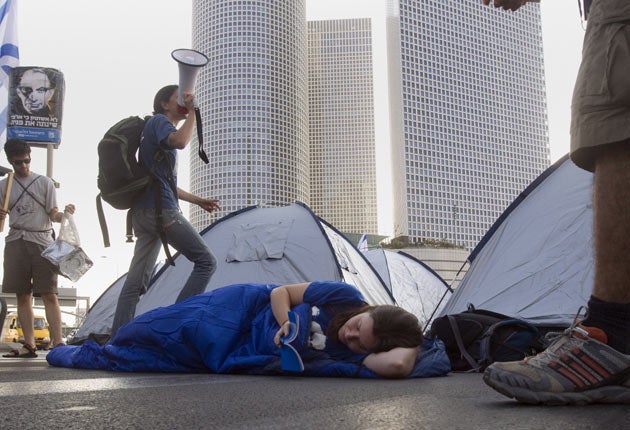 Israeli consumers, frustrated after years of spiralling food and housing prices, burst on to the streets of Tel Aviv this week with a popular protest that has transformed one of the city's smartest neighbourhoods into a hippie-style campsite.
Students and other demonstrators pitched hundreds of tents along Rothschild Boulevard, more famous for its Unesco-protected Bauhaus-style architecture and European-style cafes, to protest about rising prices that they claim are forcing young people out of the city.
The organisers are demanding government action to calm the inflated housing market that has seen rents rise in Tel Aviv by more than 60 per cent in four years. Protestors have also starting camping out in Jerusalem with other tent cities springing up from Beersheba in the south to Haifa and Kiryat Shemona in the north.
News of the protests spread through social media, echoing a successful Facebook campaign last month when consumers forced down the spiralling price of dairy products.
Critics have accused the government of Prime Minister Benjamin Netanyahu of being in thrall to a handful of economic oligarchs who effectively control much of Israel's economy.
"The Israeli public – in all fields – is captive to forces with narrow interests," said an editorial in the daily Maariv newspaper.
In Jerusalem, 40 demonstrators occupied the garden of a home in the exclusive Kfar David neighbourhood. One focus of the protests is the large number of city-centre dwellings built for and bought by wealthy foreigners who leave them empty for most of the year.
A rally on Saturday near the Habima Theatre in Tel Aviv will be the first test of the movement's political muscle. "Israel's government continues to disappoint us, and we feel betrayed," said Daphni Leef, the founder of the protest movement. "The struggle is moving on to the next level. We call on all the tent cities to arrive at Habima Square for a rally that will make the upper echelon shake."
"It's our nation, and it's time to give it back to the people," she added.
Israelis earn on average about 100,000 shekels (£18,000) a year and spend between a half and one-third of their salaries on housing. Food and other costs have also spiralled in recent years, making Tel Aviv the most expensive city in the Middle East.
Many politicians visited the tent cities to show support for the protest but were turned away. Police intervened after one demonstrator poured a bottle of beer over Ron Huldai, the mayor of Tel Aviv.
Join our commenting forum
Join thought-provoking conversations, follow other Independent readers and see their replies