Muhammad Ali's one regret: turning his back on Malcolm X
Ali wished he had never snubbed his former mentor - but Malcolm X was assassinated before he could say sorry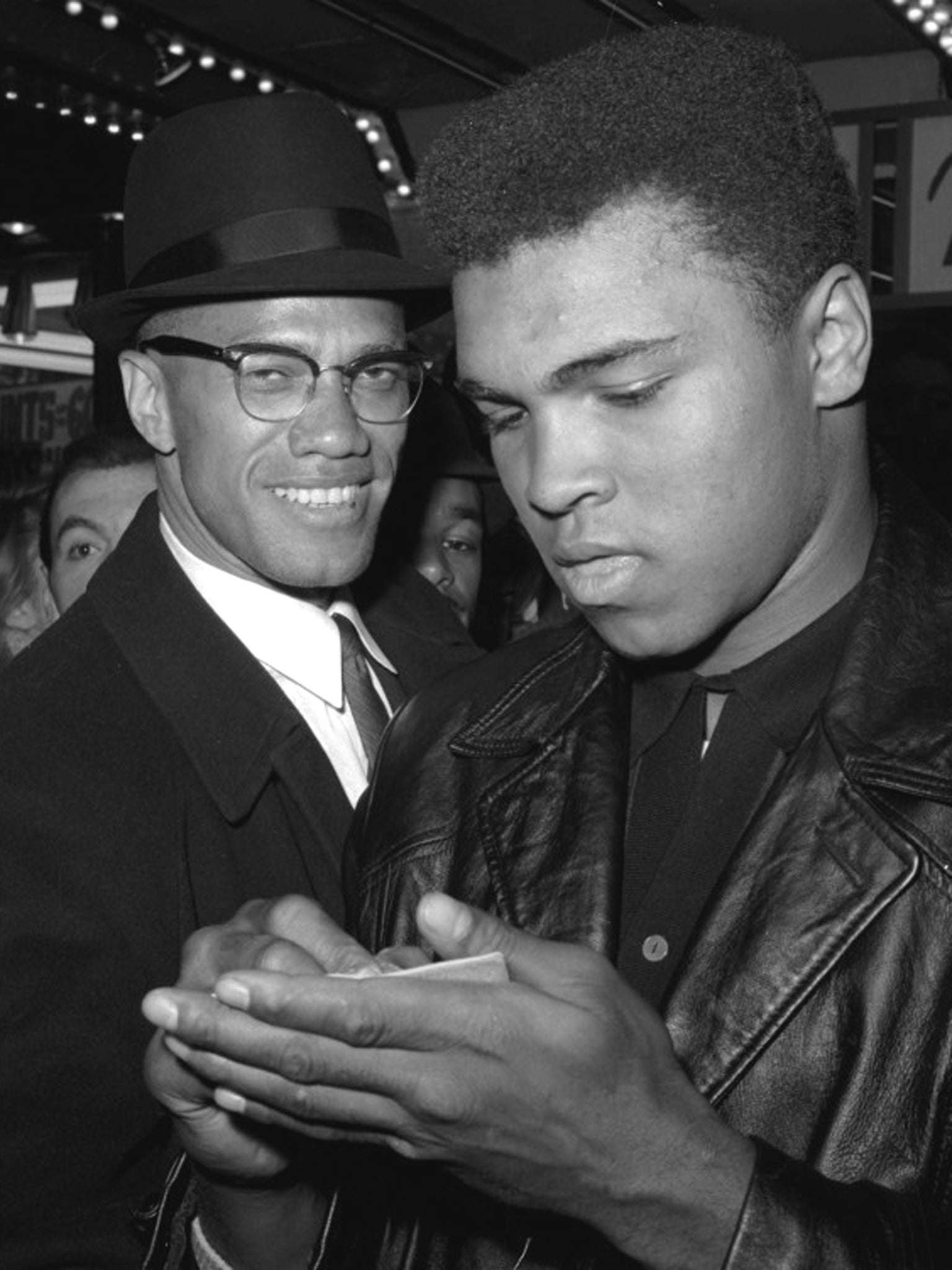 It was possibly the one regret he took to the grave, the one thing that not even "The Greatest" could change.
In May 1964, Muhammad Ali had a chance meeting in Ghana, with his former friend and mentor Malcolm X. And he turned his back on him.
"Turning my back on Malcolm," wrote Ali in his 2004 autobiography The Soul of a Butterfly, "was one of the mistakes that I regret most in my life.
"I wish I'd been able to tell Malcolm I was sorry, that he was right about so many things. But he was killed before I got the chance."
On February 21 1965 Malcolm X was assassinated as he gave a speech at the Audubon Ballroom in Harlem.
There would be no reconciliation between the boxer and the man who recruited him into the Nation of Islam, who was beside him on the day the newly crowned 22-year-old heavyweight champion of the world announced that he had rejected Cassius Clay as his "slave name".
By February 1964, when Ali announced his name change the day after becoming world champion, Malcolm X was growing increasingly disillusioned with Elijah Muhammad, the prophet leader of the black separatist Nation of Islam movement.
Muhammad Ali - 'I don't have white friends, they're associates'
Elijah Muhammad, Malcolm X insisted, was in fact so ignorant of Islam that he didn't know the prayer ritual. And when he claimed that Muhammad was a hypocritical womaniser who had fathered children through affairs with his secretaries, Malcolm X was frozen out of the Nation of Islam.
He wanted Ali to come with him. But the young champion was to disappoint him.
"Malcolm and I were so close and had been through so much," wrote Ali in his autobiography, "But there were many things for me to consider."
Muhammad Ali: A life in pictures
Show all 20
Elijah Muhammad, he said, had conferred the name Muhammad Ali on him in March 1964.
"I felt that he had set me free!" the boxer recalled in 2004. "I was proud of my name and dedicated to the Nation of Islam as Elijah presented it. At that point in my journey, I just wasn't ready to question his teaching."
Instead, Ali decided, in line with Nation of Islam politics, to "see Africa and meet my brothers and sisters."
But he arrived in Ghana just as Malcolm X was visiting, on his slow return from a pilgrimage to Mecca. They bumped into each other outside the Ambassador Hotel in the capital Accra.
"He was wearing the traditional Muslim white robes," wrote Ali, "Further signifying his break with Elijah Muhammad. He walked with a cane that looked like a prophet's stick and he wore a beard. I thought he'd gone too far.
"When he came up to greet me I turned away, making our break public."
Muhammad Ali in his own words
According to the account retold by Johnny Smith, co-author of Blood Brothers, a book chronicling the friendship and its breakdown, Malcolm X's eager call of "Brother Muhammad!" was met with Ali's stony-faced rejoinder: "Brother Malcolm, you shouldn't have crossed the Honorable Elijah Muhammad."
It was only years after Malcolm X was assassinated that Ali came to see him as "a visionary, ahead of us all."
Elijah Muhammad's death in 1975 paved the way for his son Wallace D Muhammad to bring the Nation of Islam, and Ali, into the fold of mainstream Sunni Islam.
By 2004 Ali could write that Elijah Muhammad, who had taught him to see white Americans as blue-eyed devils , had accomplished much in terms of black racial pride but that "Malcolm was the first to discover the truth, that colour doesn't make a man a devil. It is the heart, soul and mind that define a person."
"Malcolm X was a great thinker and an even greater friend," wrote Ali. "I might never have become a Muslim if it hadn't been for Malcolm. If I could go back and do it all over again, I would never have turned my back on him."
Join our commenting forum
Join thought-provoking conversations, follow other Independent readers and see their replies