Paris smog: Here are the cities that are even worse than the French capital for pollution
London has less than half, but capital cities such as Delhi or Senegal's Dakar report spiralling levels of pollution
Rose Troup Buchanan
Monday 23 March 2015 13:32 Comments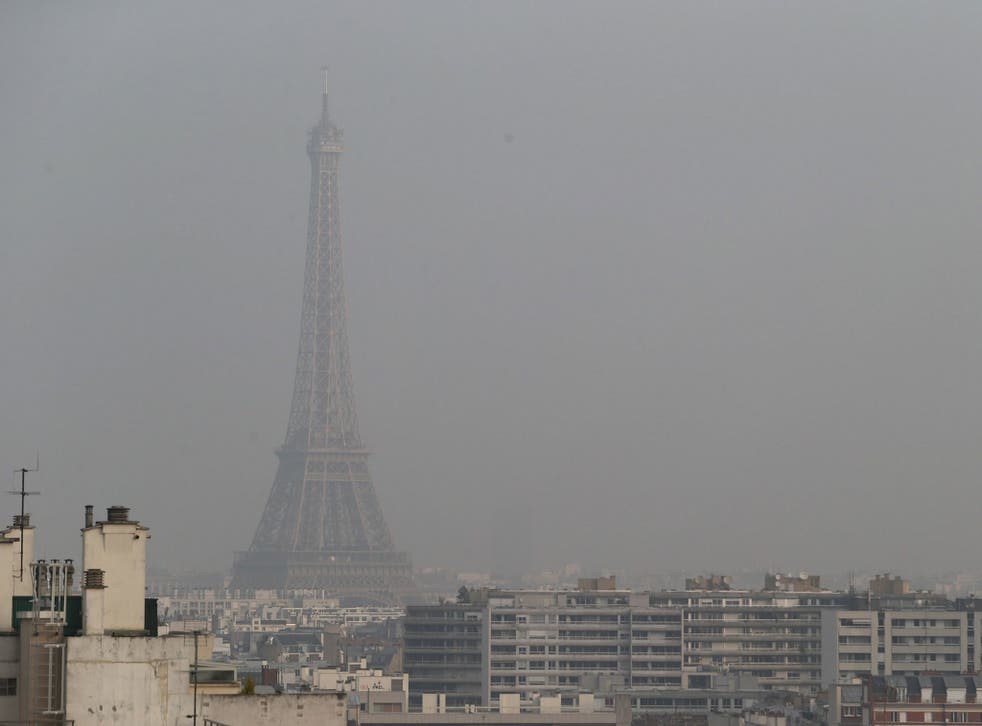 Paris may continue to suffer under smog-inducing air pollution, but that is nothing to what many capitals and their residents overseas are facing.
On average the cities of Dakar, Senegal's capital, Karachi in Pakistan, and India's capital Delhi, have more than double the amount of pollution in the air, according to updated data released last year by the World Health Organisation, spanning 2008 to 2012.
Within Europe the situation is not much improved: Krakow, London and Berlin also recorded dangerously high levels of air toxicity.
In the past week Parisians and French commuters have been infuriated by the local authority's decision to limit the number of cars allowed on the roads in a desperate effort to reduce the black smog hanging over the picturesque capital.
French media reported levels of PM10 - large particles in the air that can cause severe health problems - were at a dangerous high of 100 micrograms per cubic metre (mg/u3), according to Airparif, a non-profit organisation that monitors air quality.
The World Health Organisation's recommended guideline suggests levels should not rise above 20 micrograms per cubic metre.
But many cities in the world possess levels that are well over the recommended guidelines, with Abu Dhabi (160 mg/u3 PM10), Doha (160 mg/u3 PM10), Ulaanbaatar (150 mg/u3 PM10), Cairo (140 mg/u3 PM10), and Amman (135 mg/u3 PM10) all well over.
Krakow had a similarly toxic level of PM10 yesterday, when it registered 100 mg/u3 on the roadsides, and Berlin faced dangerously high levels of NO2 (not PM10) yesterday as well, according to data collected by Air Quality In Europe.
Meanwhile in the UK, London registered 48 mg/u3 PM10 yesterday – more than double the recommended WHO level.
15 most polluted cities in the world

Show all 15
Further afield the situation is worse. Reliable – and accessible – data for PM10 levels around the world is difficult to come by, but a report published in 2013 by the World Health Organisation indicated the worst offenders.
During 2008-2012 the average level of PM10 pollution in Delhi reached almost 300 mg/u3 and contributed to the thick smog that frequently hangs over the capital.
Karachi, in neighbouring Pakistan, was not much better. The city, home to approximately 18 million people according to the most recent estimates, registered 275 mg/u3 on average over the four year period.
Senegal's capital of Dakar lived through an average of 180 mg/u3 from 2008-2012, and the indication is that it has not improved.
Globally, health experts have warned that more and more deaths are to be expected from air pollution. WHO claimed that in 2012 seven million deaths could be attributed to air pollution – and warned that they expected the number to rise.
Although wealthier Western nations are – generally – cutting down on some of their air pollution, residents of developing nations face severe health problems as a result of the smog in the air.
Register for free to continue reading
Registration is a free and easy way to support our truly independent journalism
By registering, you will also enjoy limited access to Premium articles, exclusive newsletters, commenting, and virtual events with our leading journalists
Already have an account? sign in
Join our new commenting forum
Join thought-provoking conversations, follow other Independent readers and see their replies