Philippines president promises 'no let up' in brutal anti-drugs crackdown during first State of the Nation address
Rodrigo 'The Punisher' Duterte, elected in a landslide in May, also called a unilateral ceasefire in the government's decades-long conflict with communist rebels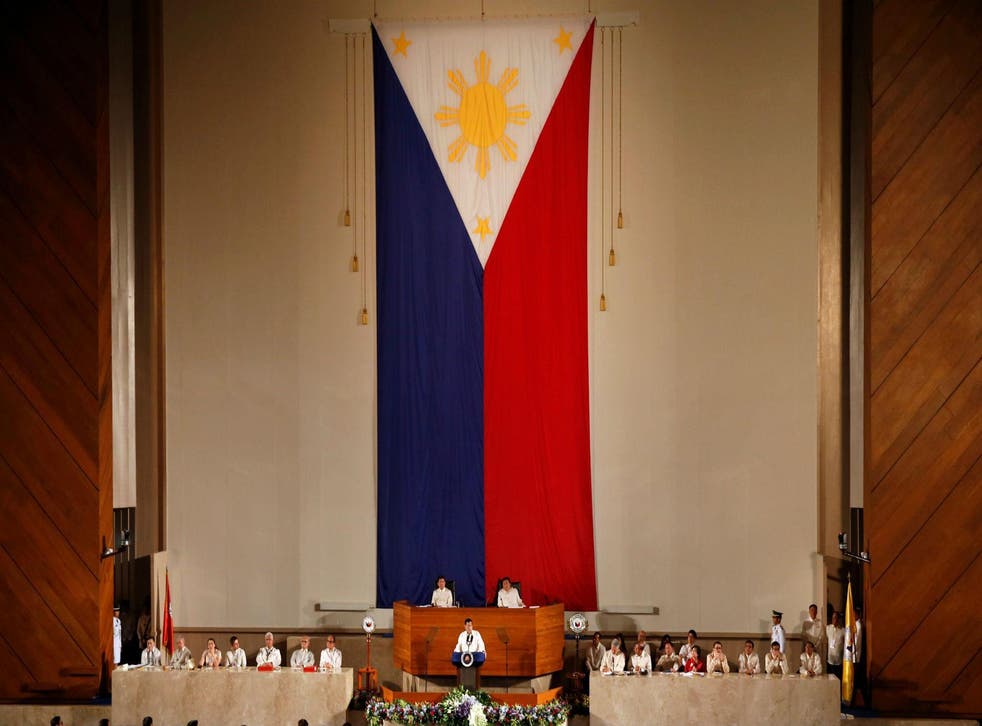 The Philippines leader known as "The Punisher" has defended his government's brutal crackdown on the drugs trade in his inaugural State of the Nation address, insisting complaints about human rights would not deter him from his campaign against criminality. President Rodrigo Duterte, who was elected in a landslide in May, also promised an end to separatist violence, announcing a unilateral ceasefire in the decades-long conflict with Maoist rebels.
Also nicknamed "Duterte Harry" for his zero tolerance approach to crime, Mr Duterte reiterated his warnings about drugs in the nationally broadcast speech, describing the country's rampant narcotics problem – including monumental rates of methamphetamine use – as "staggering and scary". Some 120,000 people had surrendered to police in the past month as a result of his crackdown, 70,000 of them drug dealers, he claimed.
Yet to the horror of human rights activists, the authorities have also recorded at least 240 deaths related to the drugs trade since Mr Duterte took power, many of them in shoot-outs between police and suspects. The president praised the police for their exertions. "There will be no let up in this campaign," he promised, urging: "Double your efforts. Triple them if need be."
The 71-year-old, formerly mayor of the southern city of Davao, was sworn in on 30 June after winning 16 million votes, almost twice as many as his closest rival. Swept to power on a surge of public anger at the establishment for its failure to tackle poverty and crime, Mr Duterte soon made international headlines with his incendiary statements, such as promising medals to any member of the public who shoots a drug dealer.
He was also notoriously dismissive of concerns about the country's spate of journalist deaths, saying when a reporter was shot dead in the capital, Manila, shortly after his election: "Just because you're a journalist you are not exempted from assassination, if you're a son of a bitch."
Mr Duterte – who veered off script and turned Monday's planned, 40-minute speech into a rambling, 92-minute monologue – also promised major economic reforms such as repairing crumbling infrastructure and improving the country's cripplingly slow internet service.
He struck some conciliatory notes, specifically over the simmering conflict between the Philippines government and communist rebels that has killed some 30,000 people in the past five decades. "We are going nowhere and it is getting bloodier by the day," he said, calling on rebels to participate in peace talks next month in Norway. "We will strive to have a permanent and lasting peace before my term ends," he went on. "That is my goal, that is my dream."
He was cautious, too, in tackling the country's dispute with China over sections of the South China Sea, where a Hague tribunal recently found aggressive Chinese expansion to be unlawful. The Chinese President, Xi Jinping, dismissed the ruling as "null and void". Mr Duterte is expected to pursue negotiations with the Asian superpower, saying he respected the Hague's ruling "as an important contribution to the ongoing efforts to pursue a peaceful resolution."
But he was more aggressive in his approach to Philippines terrorist gang Abu Sayyaf, which has pledged its loyalty to the Islamic State, conducted a series of kidnappings and recently killed two Canadian hostages. Calling the group "criminals who operate under the guise of religious fervour," Mr Duterte vowed to "crush" Abu Sayyaf using "the full force" of the military.
Join our new commenting forum
Join thought-provoking conversations, follow other Independent readers and see their replies