A 'lifeline' to the world's poor: Cameron hails WTO historic global trade deal
Kashmira Gander
Saturday 07 December 2013 10:04 Comments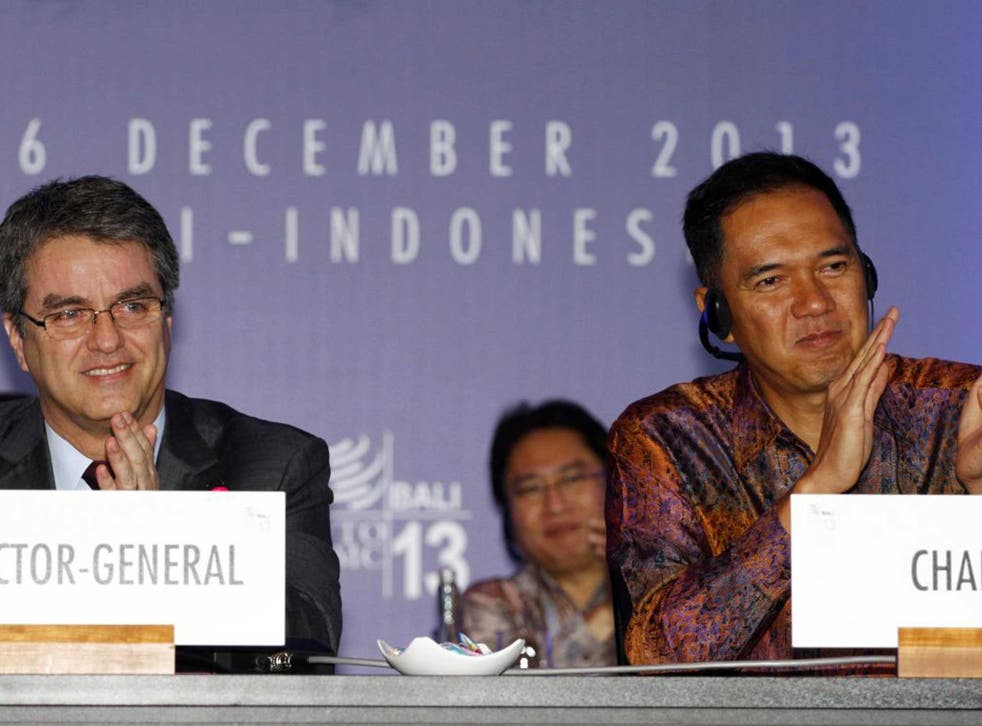 A deal to boost global trade has been approved by the World Trade Organisation in a move that could be worth £1 billion a year to British businesses.
The Prime Minister David Cameron called the surprise breakthrough at the four-day meeting in Bali "historic" and a "lifeline" for the world's more impoverished people as it will lower barriers and speed up customs procedures.
The deal between the 159 member economies - the first in nearly two decades - came as such a surprise that the director-general of the WTO Roberto Azevedo cried as he made the announcement.
Mr Azevedo said: "We have put the world back into the World Trade Organisation. For the first time in our history, the WTO has truly delivered."
As well as promising an estimated £613 billion boost to international trade, the deal keeps alive the hope of a wider agreement being reached between rich and poor countries in the long-stalled Doha Round.
The idea behind the WTO is that if all countries follow the same trade rules, then both rich and poor countries will benefit.
But some critics say the organisation's rules may hinder countries from setting their own priorities in environmental protection, worker rights, food security and other areas. They are also warning that sudden reductions in import tariffs can wipe out industries, causing job losses in developed and developing economies.
The aid and development charity Oxfam welcomed the breathing space on food subsidies given to poor countries, but said the agreement, and the move to simplify customs in particular, was "no game changer" overall.
Mr Cameron said that "This deal will help boost our exports, meaning that UK companies can grow and employ more people.
"If just 100,000 small businesses either start exporting or spread to new markets over the next five years, this would generate an extra £30 billion for the UK economy and create 100,000 new jobs.
"By slashing barriers to trade, this deal will also provide a lifeline to the world's poorest people.
"Helping developing countries to grow is not only the right thing to do, but it also increases potential markets for us all.
"So this really is win-win and the World Trade Organisation is to be commended for this historic deal."
John Cridland, the Confederation of British Industry director-general, said: "With many British businesses looking further afield at new export markets, this deal is good news.
He added: "The new binding commitments to streamline customs procedures and cut red tape will help British exporters of all sizes to move their products more efficiently around the world."
At the eleventh hour, both India and Cuba threatened the deal, but a temporary dispensation for developing nations helped see off India's fears over grain subsidies, and Cuba's objections to removing a reference to the US trade embargo on it were also overcome.
EU trade commissioner Karel De Gucht told the BBC Radio 4 Today programme: "I believe it's a very important deal.
"I would argue that what we did today is a quarter of the Doha agenda. On top of that it's a stepping stone.
"It will add a lot to the trading capacity of the least-developed countries and developing countries."
"Its gains have been grossly over-estimated, while the costs of implementation for poorer countries were completely ignored," the aid and development group said in a statement.
The deal could boost global trade by $1 trillion over time and also keeps alive the WTO's broader Doha Round of trade negotiations, sometimes known as the development round because of sweeping changes in regulations, taxes and subsidies that would benefit low income countries.
The WTO was formed in January 1995 and as well as being a forum for world trade talks, it arbitrates trade disputes between members.
Register for free to continue reading
Registration is a free and easy way to support our truly independent journalism
By registering, you will also enjoy limited access to Premium articles, exclusive newsletters, commenting, and virtual events with our leading journalists
Already have an account? sign in
Join our new commenting forum
Join thought-provoking conversations, follow other Independent readers and see their replies