Bush threatens Iran with military action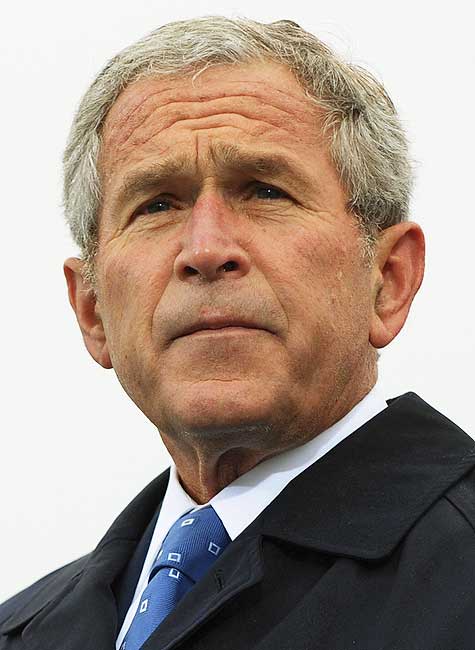 George Bush has warned Iran that military action is still "on the table" if it fails to respond to tightening diplomatic pressure to abandon its nuclear weapons programme.
The EU is planning to announce the freezing of all overseas assets of the main bank in Iran. Sanctions are also to be tightened on gas and oil exports by Iran.
But the US President's remarks on the last leg of his "farewell tour" of Europe raised fears at Westminster that Mr Bush is determined to take action against Iran before he leaves office in January if the sanctions fail to force Tehran to abandon its nuclear weapons ambitions.
Standing alongside the President after more than an hour of talks in Downing Street, Gordon Brown surprised EU council officials by announcing that the EU intends to intensify its sanctions on Iran, including freezing the billions of euros in overseas assets of the Melli Bank of Iran.
But Mr Bush left no doubt that the US is holding military action in reserve. Thanking Mr Brown for keeping together the European alliance "so that we can solve this problem diplomatically", Mr Bush said: "That is my first choice. The Iranians must understand that all options are on the table, however."
The EU foreign policy chief Xavier Solana delivered a more generous offer to the Iranian regime at the weekend and is now awaiting its reply. It includes help in developing civil nuclear power and extending economic assistance if Iran stops enriching uranium to produce weapons-grade plutonium. Ali Larijani, the Speaker of the Iranian Parliament, promised to "carefully study the package".
EU council officials said tougher sanctions were not on the agenda when Mr Solana briefed his officials but Downing Street insisted sanctions were being prepared. It is likely they will be implemented next week.
Mr Brown said: "Our message to the Iranian people is you do not have to choose the path of confrontation. The latest round of talks with the Iranians took place over the weekend. We put our enhanced offer on the table including political and economic partnership including nuclear technology for civilian use.
"We await the Iranian response and will do everything to maintain the dialogue but we are also clear that if Iran continues to ignore UN resolutions and our offer of partnership, we have no choice but to intensify sanctions."
A spokesman for the Stop the War Coalition, which protested against Mr Bush's arrival at Downing Street on Sunday, said: "Bush has been travelling round Europe trying to secure support for sanctions and a possible future attack on Iran."
Mr Brown also announced that Britain is sending more troops to Afghanistan as the bodies of five soldiers killed in action last week were brought home. About 400 support staff are being withdrawn, but 630 more troops are being flown out.
Mr Brown is due to announce troop withdrawals from Basra before the summer recess of Parliament at the end of next month.
Join our commenting forum
Join thought-provoking conversations, follow other Independent readers and see their replies