David Cameron meets with jailed ex-Maldives president Mohamed Nasheed and Amal Clooney at Downing Street
Mr Nasheed is due to return to prison within 30 days after coming to London for back surgery
Simon Usborne
Saturday 23 January 2016 15:33 Comments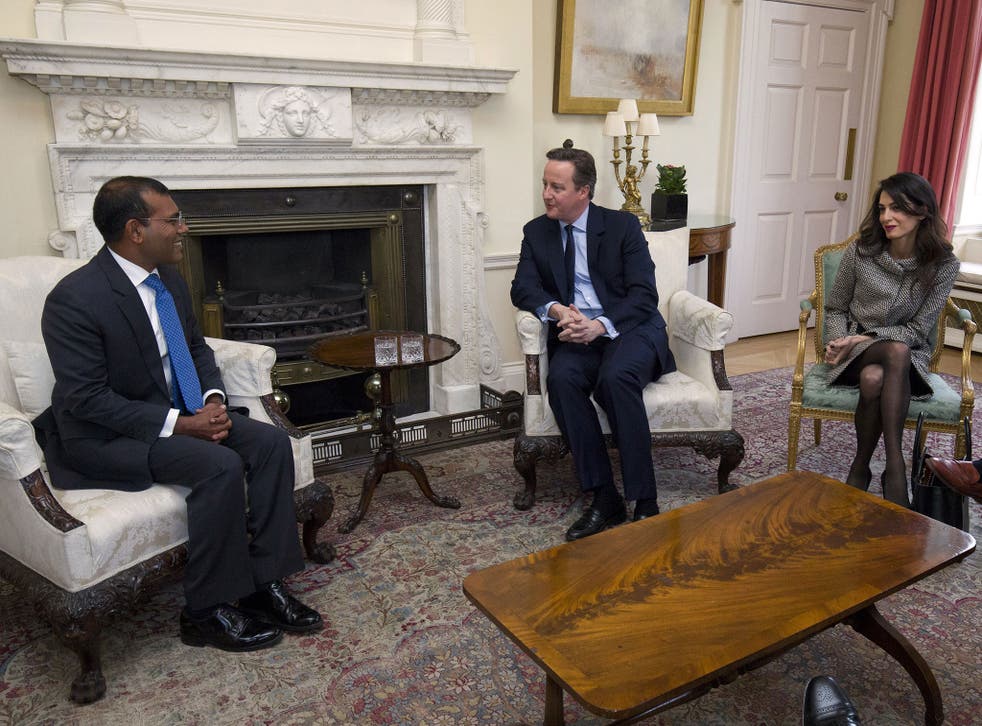 David Cameron has held a meeting in Downing Street with the jailed former president of the Maldives and his lawyer, Amal Clooney.
Mohamed Nasheed thanked the Prime Minister for his support after he was temporarily released from prison to allow him to travel to London for back surgery.
The Maldives government has requested that Mr Nasheed return to the islands within 30 days to continue his 13-year sentence for terror offences, following a trial last year that the UN described as unfair and politically motivated.
Mr Nasheed's release last week came as the UK and the United States, as well as the Maldives' neighbour Sri Lanka, heaped pressure on the island nation to end a political crisis.
The Maldives government had demanded that a member of Mr Nasheed's family remain in the capital Male as a "hostage", legally guaranteeing the former president's return.
But after ministers relented when Mr Nasheed refused the terms of his release, the former president now faces questions about whether he really intends to walk back into prison.
Mr Nasheed is due to take questions on the issue at a press conference at Mrs Clooney's legal chambers on Monday. His aides have so far declined to comment on his plans.
The country's first democratically elected president is a former political activist who says he sustained his back injuries after being tortured and imprisoned under the regime of former dictator Maumoon Abdul Gayoom.
Mr Nasheed defeated Mr Gayoom in elections in 2008 but resigned in an alleged coup in 2012, before losing disputed elections the following year. The current president Abdulla Yameen is Mr Gayoom's half-brother. In opposition, and now in prison, Mr Nasheed has remained an outspoken critic of the government.
A Downing Street spokesman said that the UK would "continue to raise concerns about the erosion of democracy and wider situation in the Maldives".

Register for free to continue reading
Registration is a free and easy way to support our truly independent journalism
By registering, you will also enjoy limited access to Premium articles, exclusive newsletters, commenting, and virtual events with our leading journalists
Already have an account? sign in
Join our new commenting forum
Join thought-provoking conversations, follow other Independent readers and see their replies