Government using taxpayer's money to train Ethiopia's security forces while British man is held there on death row
Exclusive: The 59-year-old sought asylum in Britain in 1979 after being threatened by Ethiopian authorities over his political beliefs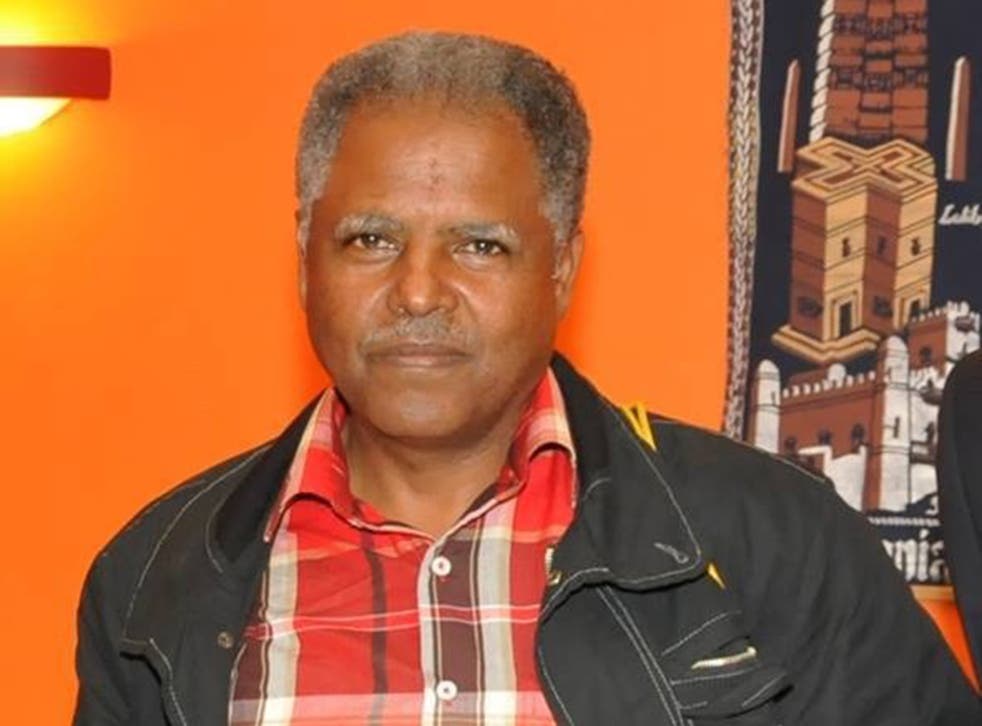 The Government is using taxpayers' money to train security forces in Ethiopia who are currently holding a British father of three on death row, The Independent has learnt.
Andargachew "Andy" Tsege, from London, was seized at an airport in Yemen on 23 June and resurfaced in Ethiopian detention two weeks later, in what his family believe was part of a political crackdown by the country's government ahead of next year's elections.
The 59-year-old sought asylum in Britain in 1979 after being threatened by Ethiopian authorities over his political beliefs. He has since been an outspoken critic of the country's government and was sentenced to death in absentia in 2009 following a mass trial – a punishment which his family fear may now be carried out.
According the legal charity Reprieve, which has taken up Mr Tsege's case, torture is common in Ethiopian prisons at the hands of security staff, who have been known to employ methods such as electrocution, beatings with rifle butts and the tying of bottles of water to men's testicles.
In 2012, the UK Government agreed to spend £2 million over five years to fund a series of master's degrees in "Security Sector Management" for 75 Ethiopian officials. In supporting documents, the Department for International Development (DfID) said the country's police and defence forces were "considered amongst the best in the region in terms of effectiveness and with regards to human rights".
In a letter to International Development Secretary Justine Greening, seen by The Independent, Reprieve's legal director Tineke Harris said it was "extremely worrying that UK taxpayers' money appears to be supporting Andy's ill-treatment at the hands of Ethiopian officials".
Reprieve wrote to Ms Greening that "torture is common in Ethiopian prisons at the hands of security staff, who have been known to employ methods such as electrocution, beatings with rifle butts and the tying of bottles of water to men's testicles", Ms Greening replied in a letter highlighting "the part of the DFID programme working to improve the accountability of Ethiopia's security and justice services" and stating that "a key focus is human rights"
In her reply, Ms Greening said that Mr Tsege's welfare was of "great concern" to the Government, adding that DfID's work was "carefully designed and robustly monitored". But his partner of nine years, Yemi Hailemariam, said she had "serious problems" with the Government indirectly funding the training of Ethiopian security forces.
"In principle, the idea of teaching them to be accountable is a very good thing – but in practice, if they are not doing that, then what are you funding? Something, somewhere is wrong," she said.
Maya Foa, strategic director of Reprieve's death penalty team, said: "British taxpayers will be shocked to learn that they have been funding training for the very same Ethiopian security officials who are likely to be responsible for the unlawful kidnap and incommunicado detention of an innocent British citizen.
"Andy Tsege has now spent over three months in secret detention, subject to probable torture, and without access to a lawyer, his family or proper consular assistance. On top of that, he is under sentence of death. His family in London is desperately worried. , the Government should be doing all it can to ensure Andy is returned home without delay."
Mr Tsege's family have not seen or heard from him since he was detained in Yemen, while the British Ambassador to Ethiopia has been allowed to visited him only once in prison, on 11 August. Mr Tsege was recently paraded on the country's state television appearing thin and exhausted, when he was said to have "confessed" to various charges.
A spokesperson for the Foreign Office said: "The British Embassy in Ethiopia remains in contact with the Ethiopian authorities about regular consular access to Mr Tsege in the future so that we are able to continue to monitor his welfare. We also continue to press for reassurances that the death sentence previously imposed on him in absentia will not be carried out."
The description of the Ethiopian master's courses – and the supporting documents – no longer appears on the DfID's website.
DfID said to the Independent, when asked to comment on the content of Reprieve's letter to the Secretary of State for International Development, that while it was funding the courses, the money did not go directly to the police.
"Not a penny of our funding goes to Ethiopia's police or security sector," a spokesperson said. "We work with independent agencies like UNICEF to make the security and justice sector fairer and more accountable, for instance helping women and girls get better access to justice."
Join our new commenting forum
Join thought-provoking conversations, follow other Independent readers and see their replies