G20 summit: Who's there, what will they talk about and will Tony Abbott really shirtfront Putin?
The Australian PM has threatened to attack the Russian Premier. Will he make good on it?
Mark Leftly
Thursday 13 November 2014 16:45 Comments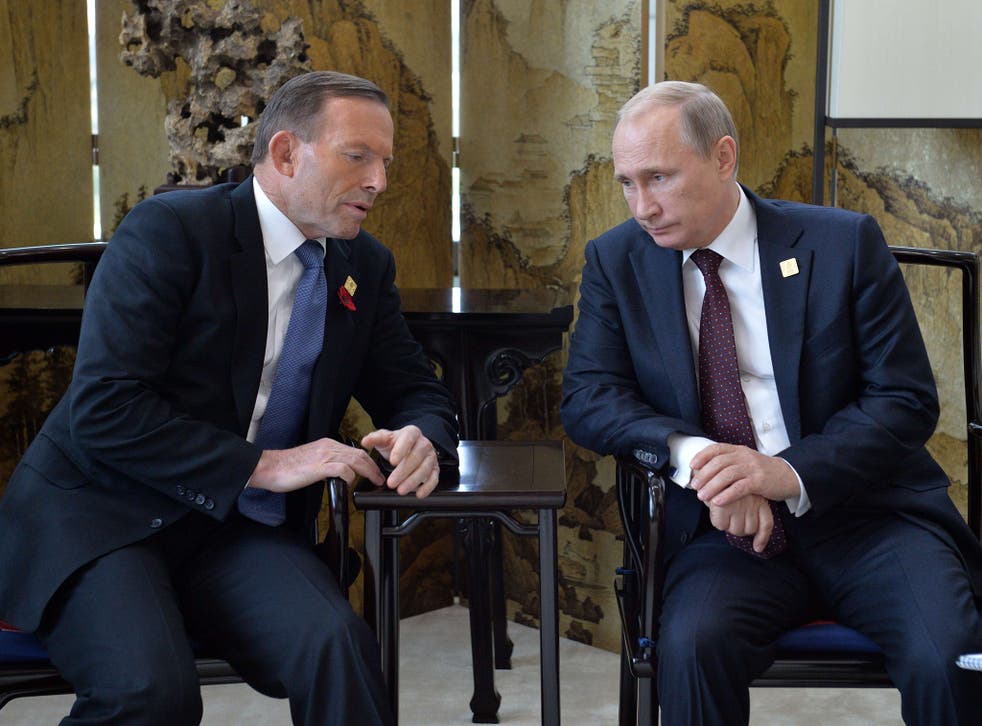 Ostensibly, the G20 Leaders' Summit in Brisbane this weekend should be about the economy. The global financial crisis in 2008 was, after all, what prompted the creation of an annual summit of the big beasts of world politics; previously the G20 was for finance ministers and central bankers.
But the reality is that what is generally a gentle recovery means that this weekend's summit is not really just about the economy.
It's not just the economy, stupid. Who else is there?
The leaders of all the G20 nations, including German chancellor Angela Merkel, Chinese president Xi Jinping, and Saudi Arabia's King Abdullah, will all be there. But all eyes will be on Vladimir Putin.
Because he's such an action man?
No. His relationships with Barack Obama and David Cameron are at an all-time low due to to Russia's intervention in Ukraine. As importantly, this year's president is Tony Abbott, who is furious over Russia's alleged involvement in the downing of Malaysian Airlines flight MH17, which killed 38 Australians.
Wasn't that all sorted earlier this week?
Mr Abbott did see Mr Putin at the Asia Pacific Economic Co-operation (APEC) summit in Beijing this week. His office has briefed domestic journalists that he told Mr Putin to apologise and pay compensation.
How did the Grey Cardinal respond?
Well, he sent some heavily armed ships in the general direction of Brisbane in what most observers are reading as a show of strength.
Fisticuffs at Brisbane, then?
Probably not, but 3,000 of the world's media will be watching the pair's every slight change in body language when they see each other this weekend. They will certainly be hoping that Mr Abbott makes good on his promise to "shirt-front" - charge at - Mr Putin. Our own PM could well face an awkward meeting with the former KGB agent, having pledged to confront him over Russia's "illegal" actions in Ukraine while in Brisbane.
Mr Putin is not Mr Abbott's only problem from APEC, then?
No. The US and China, the world's two biggest greenhouse gas emitters, agreed a breathtaking climate change deal to reduce carbon pollution. Immediately the Australian press seized on Mr Abbott's failure to focus on climate change during his premiership and for not making it a central issue of his G20 presidency.
Wow, sounds like a potentially epic G20?
Not if the scheduled agenda truly takes hold of events. Sessions named The global economy: strengthening growth and job creation and Delivering global economic resilience are not subjects to stir the soul - nor headlines of news sites like this one.
Will the economics win out?
Not a chance. If messers Putin, Obama, Cameron and Abbott somehow, inexplicably fail to provide any bust-ups, there is always the first major appearance of Narendra Modi, the newest star of world politics after his crushing victory in India's general election this year.
But if it's just about personality and star power, is there any real point to the G20 any more?
Many critics feel this way. World leaders combined well to pull the global economy from the brink of disaster, but without that major unifying challenge, the Leaders' Summit is reduced to a rather pointless weekend of political platitudes and pointless posturing.
Surely there's some economic news at the end?
Yes, the G20 members will sign up to a set of policies to achieve the aim of economic growth running at two per cent above current trajectory by 2018. But expect the Brisbane Action Plan to be overshadowed by the Russian hard man.
Register for free to continue reading
Registration is a free and easy way to support our truly independent journalism
By registering, you will also enjoy limited access to Premium articles, exclusive newsletters, commenting, and virtual events with our leading journalists
Already have an account? sign in
Join our new commenting forum
Join thought-provoking conversations, follow other Independent readers and see their replies